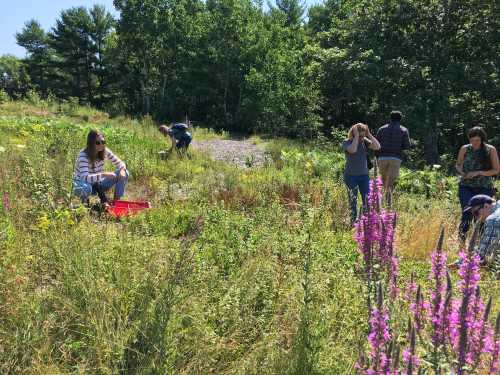 From wild berries to headless women, Undiscovered Maine explores microbusinesses in DownEast Maine
On July 24, 2021, a group of students, faculty and staff representing the Undiscovered Maine project team went on a "trade mission" trip to DownEast Maine to learn about the area and businesses. What we learned from a couple of micro-businesses is important for every business to know.
Burke Hill Farm, 20 Blackwoods Rd, Cherryfield, customerservices@burkehillfarm.com, 207-460-6215
We first visited Burke Hill Farm, owned and operated by Ben Pe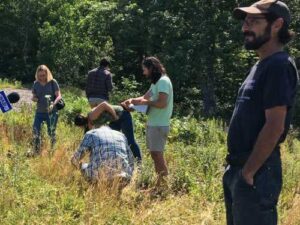 rrin, who started raking blueberries in 1991 and started Burke Hill Farm in 2001. "Burke Hill Farm is a certified organic wild blueberry farm in Cherryfield, Maine, the heart of Maine's blueberry country, farming about 200 acres of organic wild blueberries. We farm the traditional way, harvesting by hand to provide high quality wild blueberries." https://www.burkehillfarm.com/about
What was fascinating was Ben's ability to adapt and innovate to become and remain successful in a difficult commodity business. One differential advantage is being a certified organic blueberry farm, which allows him to market the blueberries as higher-value products. According to Ben, they do all of their harvesting by hand using specially designed hand rakes. This results in fewer damaged blueberries and a higher-value end product. In terms of the "value-added" concept, he also creates some organic blueberry products like jams, and frozen blueberries that command higher prices than the fruit itself.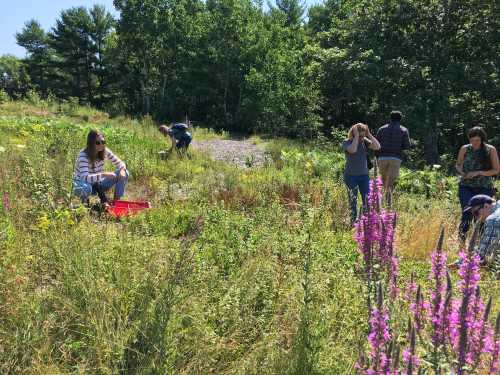 Ben has learned the value of creating a partially "vertically integrated" supply chain. This means that in addition to producing the blueberries, he also created a series of different distribution channels, which has significantly increased his reach in the northeast market. He sells his organic blueberries to large and small retailers as well as distributors who then sell them throughout the Northeast including New Hampshire, Vermont, Massachusetts, Connecticut, New York, New Jersey and Rhode Island.   He also sells locally at farmers markets, has a rather extensive delivery service to specific areas and sells the blueberries in other venues.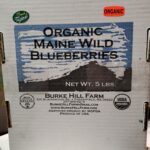 Other marketing strategies include a well-designed website and Facebook page, which is updated regularly, has over 6,000 followers, great testimonials, and a loyal following.
Catherine Hill Winery, 661 Blackwoods Rd, Cherryfield, 207-546-3426 
We then visited Catharine Hill Winery, run by Deb and Walt Schwarz in Cherryfield, Maine.  Eric and Sue Meyer originally developed the winery, which was an old dilapidated barn with an overgrown yard. They slowly transformed it into a beautiful craft winery with a tasting room and vineyard.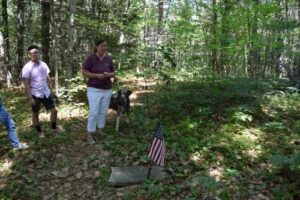 The name "Catherine Hill" is based on the story of a ghost from the 1800's. The woman was Cherryfield resident Catherine Downing, who died in 1862 and whose name can be seen on a stone in a nearby graveyard. They say that she died in a carriage accident near Fox Pond with her boyfriend on the dark, foggy spooky road, now Route 182. She is wearing either a white or pale-blue dress. The story goes that Catherine was decapitated and her boyfriend's body never found. Thus, "Catherine's spirit is doomed to walk the road, looking for help, her lover and her head. If she's seen by a motorist on the road, she sometimes has her head, sometimes not. He or she must stop to help her, lest they risk her curse. One story has a motorist not stopping for the ghost, looking in his rearview mirror, seeing her headless body in the back seat and crashing." (Marcus LiBrizzi, https://bangordailynews.com/2017/10/18/living/a-frightful-drive-on-route-182-2/)
Despite the ghost, Deb and Walt purchased the winery just before the pandemic, which meant that they could not get face-to-face training. Being innovative and determined, they jumped in and quickly mastered the art of winemaking, continuing original wines and adding a variety of new blends and flavors of their own. They use a mix of the freshest grapes from away, grapes grown onsite, and local Maine berries for their berry wines. When we were there, we had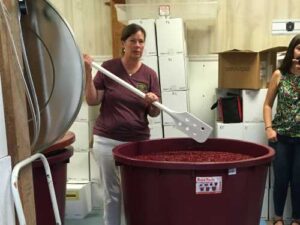 the opportunity to see raspberries fermenting in a giant vat for the delicious raspberry wine.
They have done a great job marketing Catherine Hill winery, with a nice website and consistent use of social media including Facebook, Instagram. Twitter and Trip Advisor. In fact, a recent Facebook post of their new puppy, Winston, a Bernese mountain dog, created an unexpected wave of engagement and likes, and drew new customers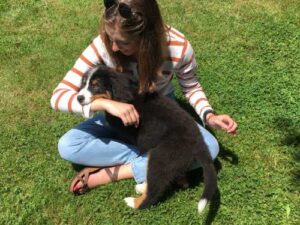 within one day of his photo being posted online. Although this was not their plan, Deb and Walt adapted to this serendipitous development by highlighting this and other dogs in their brand imagery. The owners have a fun-first philosophy about wine
and about their business, and it really shows. Deb is very friendly, outgoing, and a great host. They allow guests to sample any of their lineup of thirteen wines with no snobbery. They are planning on leveraging the Catherine Hill ghost story by creating haunted wine days in the Halloween season and highlighting the old cemetery hidden in the woods behind the winery.
They are also on the Maine wine trail that brings in wine enthusiasts from across the northeast and beyond. This provides them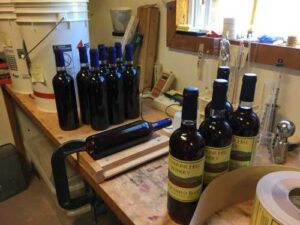 with a steady stream of visitors to the winery where Deb hosts a friendly, funny wine tasting experience! Their sales from these personal visits are profitable since people pay higher value-added prices for the quality, unique product as well as the great experience.
To supplement sales during the off-season, they also distribute their wine in several Hannaford stores and other local retailers.
What can other micro-businesses learn from these two great companies? First, add value to your products and services; differentiate. Ben was certified as an organic grower while Deb created unique wine flavors and a unique fun experience.  Next, diversify. Ben created multiple channels of distributions as well as different products. Similarly, Deb created a line of unique wines with unusual flavors and ingredients. She also interacts with her customers, listens to them, and adapts her products as well as the experience to make it memorable.  Finally, marketing is huge. Ben and Deb both invested in nice, professional websites to enhance the credibility of the businesses to prospective clients. Both actively leverage social media to build their brand and connect with customers as well as reach new customers.
Finally, and perhaps most importantly, Ben and Deb have wonderful pro-active "can-do" attitudes. They continually listen, learn, and adapt to changing customer, supplier and market trends. They are innovative
and not afraid of change, trying something new.  For example, the pandemic exacerbated the labor shortage. For Ben, finding people to pick the blueberries has been extremely difficult and worse now. It is an enormously difficult, backbreaking job. In a recent Facebook video post, he showcased an automatic blueberry raking machine! While they still rake mostly by hand, the raking machine helps! This attitude of continual improvement and innovation is critical for business success!
We appreciate them sharing their insights, lessons learned and fantastic businesses with us! If you are a small/micro business and would like us to promote your business with a blog, success story or social media post, please let us know. undiscoveredmaine@gmail.com or https://www.facebook.com/undiscoveredmaine
Also, take a look at our website for more information: as well as some social media information