Zero-Sort Recycling at UMaine
The University of Maine has joined the growing number of communities that have made the shift to zero-sort recycling, a system that simplifies recycling for the entire campus community. By accepting a wider variety of materials and allowing them to all be placed in one container, zero-sort recycling leads to increased participation and improved recycling rates. Efficiencies gained from the Zero-Sort recycling method, combined with increased diversion of material from the waste stream, provide both economic and environmental benefits to the campus community.
Where to recycle on campus
Campus Zero-Sort recycling has been managed by Casella Waste Systems since July 2011. In residence halls, office buildings, and classrooms, recyclable materials can be placed into any existing blue recycling bin. Non-recyclable waste can be placed in gray trash bins.

Materials accepted by Zero-Sort
PLASTICS 1-7 & RIGID PLASTICS
Bottles and jugs for foods, beverages, beauty, and cleaning products, detergents, dairy tubs (yogurt, sour cream, etc.), 5 gallon pails, laundry baskets, sleds, take-out containers, flower pots and trays, and frozen-food trays.
Minimum size: 2" on any 2 sides. Rinse clean.
No filmy or pliable plastic (grocery bags, bubble wrap, etc.). No foam polystyrene (Styrofoam) products such as cups, take-out containers, packaging blocks and peanuts, etc. No housewares, office products, etc. No motor oil containers or electronics housings. No biodegradable plastics (PLA).
GLASS BOTTLES & JARS
Food and beverage containers only. Rinse clean.
No light bulbs, Pyrex, drinking glasses, window panes, or ceramics.
METAL AEROSOL CANS (EMPTY)
Separate cap from container. Do not puncture cans.
No full or partially-full containers. Deliver paint, cleansers, automotive sprays, and other hazardous fluids to a local hazardous waste disposal site.
ALUMINUM CANS, FOIL, & PIE PLATES
Rinse clean.
No aluminum with stuck-on food or grease.
METAL CANS
Rinse clean. Food and beverage cans only.
Labels are OK. Can lids are OK placed inside the cans.
No oil filters or scrap metal.
BOXBOARD
Cereal, shoe, and dry-food boxes, soda carries, paper egg cartons, tissue boxes, paper towel and toilet paper cores.
Empty. Remove and discard plastic liners.
No stuck-on food or grease. No styrofoam cups.
CORRUGATED CARDBOARD
Empty. Staples, tape, and labels are OK.
No oil, paint, or chemical stained, wet, unclean, or wax-coated cardboard. No strapping or string. No plastic, filmy, or foam packing materials.
ENVELOPES & OPENED MAIL
White, colored, gummed, and window envelopes.
Remove non-paper enclosers (e.g., CDs, plastic cards, etc.) and strings. Labels are OK.
No Tyvek or plastic envelopes. No bubble wrap padded mailers.
MAGAZINES & SOFT-COVER BOOKS
Glue or staple-bound publications, paperback books, catalogs, phone books, etc.
Must be clean and dry.
No plastic wrapping, CDs or plastic covers.
NEWSPAPER
All sections and inserts. Must be clean and dry.
Remove from plastic bags.
Do not tie with string.
None that are contaminated with food, paint, oil, pet waste, etc. No plastic bags.
SHREDDED PAPER
Confidential Documents. Place in clear plastic bags and tie shut.
No shredded plastic (credit cards, etc.).
WHITE & COLORED PAPER
Printed, letterhead, copier paper, glossy flyers and brochures, file folders, craft paper, manila folders, index cards, construction paper, non-metallic wrapping paper, tissue paper and cards.
Must be clean and dry. No need to remove plastic tabs, paper clips and metal hanging-file strips. Staples are OK.
No pressure-sensitive duplication forms. No foil paper. No paper towels or facial tissue. No stickers or sticker backing material.
---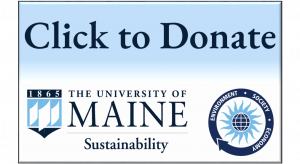 Office of Sustainability
312-314 Corbett Hall
Orono, Maine 04469-5774
Tel: 207.581.1571
sustainability@maine.edu
---