Recycling at UMaine
The University of Maine uses the Casella Zero-Sort recycling system. All recyclable materials can be placed in a blue recycling bin, and all non-recyclable waste can be placed in grey trash bins.
Recyclable materials include: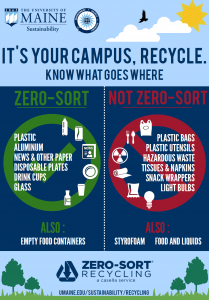 PLASTICS #1-7 (check the bottom for the recycling number!)
But no plastic film, Styrofoam, or plastic utensils.
GLASS BOTTLES & JARS
Food and beverage containers only. Rinse clean!
METAL AEROSOL CANS (EMPTY)
ALUMINUM CANS, FOIL, & PIE PLATES
Rinse clean. No stuck-on food or grease!
METAL CANS
Rinse clean, but labels are okay!
PAPERBOARD
Like cereal, shoe, and dry-food boxes.
CORRUGATED CARDBOARD
Staples, tape, and labels are OK.
ENVELOPES & OPENED MAIL
But no plastic envelopes or bubble wrap padded mailers!
MAGAZINES & SOFT-COVER BOOKS
NEWSPAPER
Must be clean and dry
WHITE & COLORED PAPER
NO paper towels or facial tissues
---
Waste at UMaine
At UMaine we strive to recycle and compost as much of the material disposed on campus as possible. All materials that end up in the waste stream are taken to Coastal Resources of Maine. Coastal Resources is an advanced waste processing facility. Waste taken to the facility is sorted to separate out #1 & #2 plastics, ferrous metals (such as tin and aluminum), and cardboard for traditional recycling markets. Additionally, food waste is extracted and anaerobically digested to create a biofuel. This second stage of recycling significantly increases UMaine's waste diversion rate.
---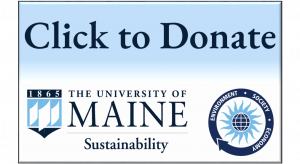 Office of Sustainability
312-314 Corbett Hall
Orono, Maine 04469-5774
Tel: 207.581.1571
sustainability@maine.edu
---