Recycling at UMaine
The University of Maine uses the Casella Zero-Sort recycling system. All recyclable materials can be placed in a blue recycling bin, and all non-recyclable waste can be placed in grey trash bins.
Recyclable materials include: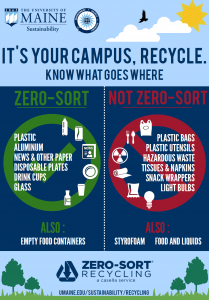 PLASTICS #1-7 (check the bottom for the recycling number!)
But no plastic film, Styrofoam, or plastic utensils.
GLASS BOTTLES & JARS
Food and beverage containers only. Rinse clean!
METAL AEROSOL CANS (EMPTY)
ALUMINUM CANS, FOIL, & PIE PLATES
Rinse clean. No stuck-on food or grease!
METAL CANS
Rinse clean, but labels are okay!
PAPERBOARD
Like cereal, shoe, and dry-food boxes.
CORRUGATED CARDBOARD
Staples, tape, and labels are OK.
ENVELOPES & OPENED MAIL
But no plastic envelopes or bubble wrap padded mailers!
MAGAZINES & SOFT-COVER BOOKS
NEWSPAPER
Must be clean and dry
WHITE & COLORED PAPER
NO paper towels or facial tissues
---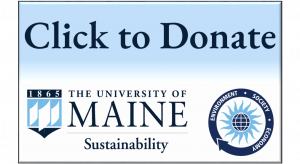 Office of Sustainability
312-314 Corbett Hall
Orono, Maine 04469-5774
Tel: 207.581.1571
sustainability@maine.edu
---