UMaine Green Office Certification Program
---
What is it?
Are you interested in making UMaine a more sustainable campus? You can make a difference by taking part in our Green Office Certification Program. Anyone with an office on campus can complete a green office certification and earn a certified green space badge and sustainable swag.  The process is easy!
You may complete the green office certification survey at anytime. It should take you no longer than 15 minutes. It involves questions about energy efficiency, waste, transportation, and engagement. You must answer yes to 75% of the questions to pass. Check out the questions here!
---
Don't earn enough points to qualify? You can stop and save your survey at any point. See which green practices would be simple for your office to adopt. As you adopt more green office practices, you can change your survey answers. Submit your survey once you have completed your green office makeover.
---
Once you submit your survey:
Following your survey submission, you will be contacted by someone from the Office of Sustainability to arrange a quick office visit. During this visit, we will go over your survey and answer any questions you may have about campus sustainability. Upon verification of your efforts, you will receive a badge to identify your office as a Certified Green Space and some sustainable swag as a thank you for your efforts.
---
---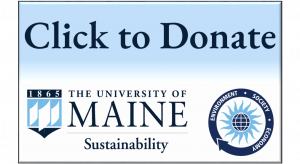 Office of Sustainability
312-314 Corbett Hall
Orono, Maine 04469-5774
Tel: 207.581.1571
sustainability@maine.edu