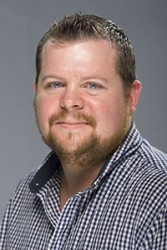 SOE Faculty Andy Crawley and students developing forecasts to help assess the economic impacts of COVID-19
SOE Assistant Professor Andrew Crawley and graduate students are working with the State Economist's Office to develop forecasts for how much COVID-19 will affect Maine's economy. As part of his ECO527 course, graduate students created five models to evaluate potential changes in tourism spending, travel-related spending, cruise ship spending, state revenues and overall sectoral output and to assess prospects for economic recovery. Students presented their work to the State Economist's Office, and Dr. Crawley is working on a summary report that will be shared with the state in last May.  SOE applauds the innovative and responsive work of Dr. Crawley and students. Wonderful to see econonomics expertise in action and strong collaborative work between the SOE community and the state.
For more details on their work, click here to access the UMaine News article.