SCIS students win several top college honors
The 2021-22 academic year saw another record of extraordinary undergraduate achievement in the School of Computing and Information Science. Our students won six university-wide research awards as well as Outstanding Senior in the College of Liberal Arts and Sciences.

SCIS proposals accounted for ten percent of coveted awards from the University of Maine's Center for Undergraduate Research (CUGR). These included all four applications submitted by New Media seniors, building on the record number of awards garnered by New Media last year. Two students mentored by Computer Science faculty also won CUGR awards, bringing the total of SCIS fellowships to six.
The prize for Outstanding Graduating Student in the College of Liberal Arts and Sciences went to Aubree Nygaard of Brunswick, Maine, a double-major in Computer Science and Philosophy whose additional academic awards include the Non-Traditional Student Scholarship and the Roger B. Hill Humanities Scholarship. At the Virtual Environment and Multimodal Interaction Lab (VEMI Lab), Nygaard has worked on an iOS autonomous vehicle ride-sharing app, virtual reality, and projects for blind or visually impaired people. Having served as vice president for the UMaine chapter of the Association for Computing Machinery's Council on Women in Computing, Nygaard also co-authored two peer-reviewed papers in the field of privacy research,
The award-winning New Media proposals included a mobile app for sharing second-hand clothes (Katie Stewart); a handheld percussion instrument that plays custom sounds supplied by the player (Conner Ingalls and Jordan Jawdat); a text-based adventure game that breaks racial stereotypes (Stella Cashman); and a series of TikTok shorts whose narrative is based on testimonies crowdsourced from the Internet (Jake Hotaling).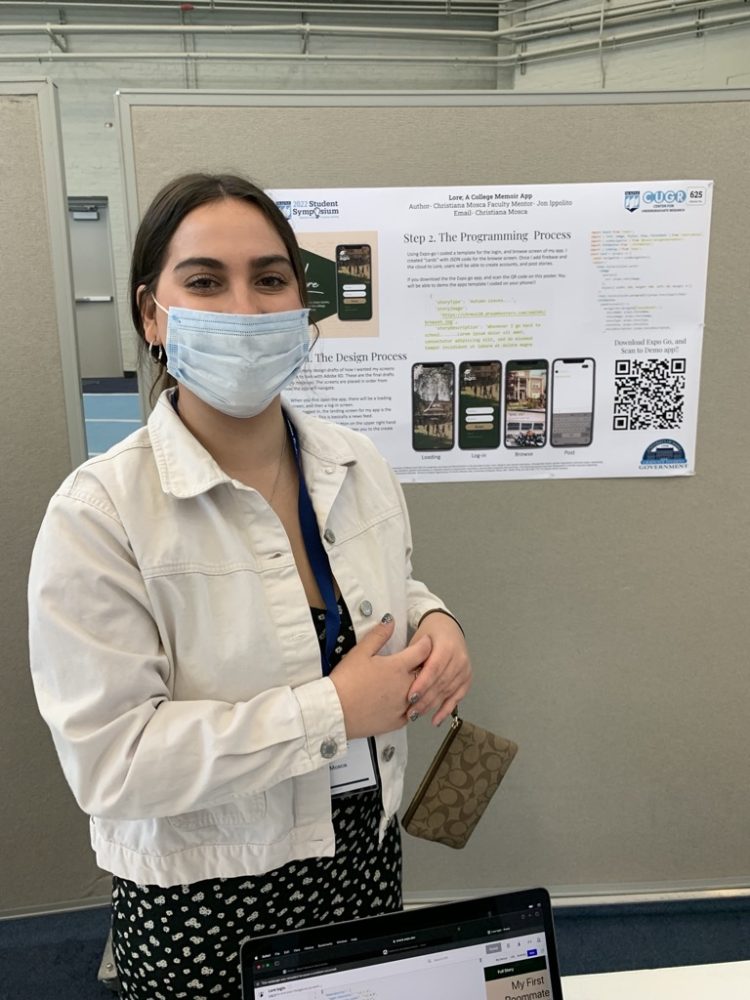 SCIS students were also well represented at the annual UMaine Student Symposium. Computer Science senior Jon Donnelly built an image recognition model that goes beyond simply identifying the subject of an image to explain why the model thinks that something is in a picture, helping humans understand the increasingly complex models of artificial intelligence. Computer Science major Stephen Kaplan developed a framework for analyzing the gap between privacy expectations and policies for online social networks, while New Media major Christiana Mosca created a cross-platform mobile app for students to share stories about their undergraduate experience. Maxwell Prybylo, Gunnar Eastman, and Vijayanta Jain also presented. Jain also received the MSGC Graduate Summer 2022 Fellowship, while Kaplan received the CUGR Summer 2022 Fellowship.
Faculty mentors for those receiving awards include Nate Aldrich, Chaofan Chen, Sepideh Ghanavati, Nick Giudice, Torsten Hahmann, and Jon Ippolito.