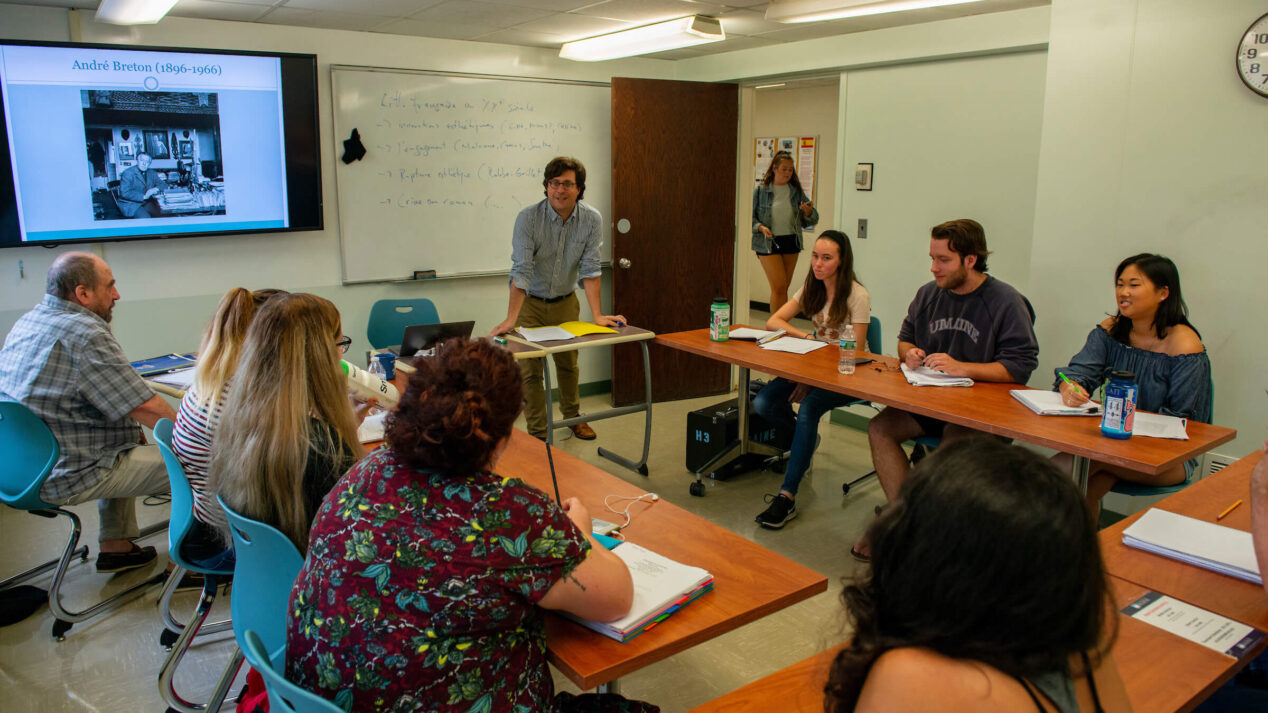 Minors and Certificates
Minor in French
Requirements: A minimum of 18 credit hours in the language, 9 of which are above the intermediate level
Minor in Spanish
Requirements: A minimum of 18 credit hours in the language, 9 of which are above the intermediate level
Minor in Classical Studies
Requirements: 18 credit hours, with either two semesters of Latin beyond the elementary level, or two semesters of Greek at the elementary level or above. The student who takes the general Classical Studies curriculum may wish to concentrate on offerings in Ancient History, Art History, Classical Philosophy, or Political Science. The student may elect to take all courses in the Classics curriculum (below) or the minimum four courses in the Classics curriculum and the remainder of the courses listed
Minor in International Affairs (18 credits)
Requirements:  The minor in International Affairs consists of the following with a grade of C or better:
INA 101, Introduction to International Affairs
One other IA core curriculum course from this list: ANT 102, ECO 121, HTY 241, or POS 120
Three primary courses and one secondary course from a single thematic concentration
Two semesters in the same foreign language or study abroad. For students who study abroad, at least one course must be taught in the host language. Students whose first language is not English may meet the foreign language requirement with their TOEFL score.
Minor in Professional Languages (9 credits French, 9 credits Spanish = 18 credits)
Credits must be at the 200 level or higher and must include FRE 307 French for Business and SPA 309 Spanish for the Professions.  Be better prepared for the global job market of the 21st century.  The minor in Professional Languages is intended for students who would like to develop intermediate or advanced proficiency in French and Spanish, including knowledge of the fundamentals of business-related communication and practices in several of the countries in which French (54 countries) and Spanish (44 countries) are spoken.
Certificates in Spanish, French, or German
A certificate in Spanish, French, or German requires a minimum of nine credits in the target language, at least three of which must be above the intermediate level (300-level or above). A grade of C- or better is required for any 300-level or above course to count toward the certificate
For complete course listings, please consult section on Interdisciplinary Minors located here.
More Information
PROGRAM
MINIMUM CREDIT HOURS
REQUIREMENTS
Minor in French
18+ credit hours
At least 9 credit hours above the intermediate level
Minor in Spanish
18+ credit hours
At least 9 credit hours above the intermediate level
Minor in Classical Studies
18+ credit hours
Requirements: 18 credit hours, with either two semesters of Latin beyond the elementary level, or two semesters of Greek at the elementary level or above. The student who takes the general Classical Studies curriculum may wish to concentrate on offerings in Ancient History, Art History, Classical Philosophy, or Political Science. The student may elect to take all courses in the Classics curriculum (below) or the minimum four courses in the Classics curriculum and the remainder from the courses listed.
Minor in International Affairs
18+ credit hours
A grade of C or better in each of the following:

1. INA 101: Introduction to International Affairs

2. One other IA core curriculum course from this list: ANT 102, ECO 121, HTY 241, or POS 120

3. Three primary courses and one secondary course from a single thematic concentration

4. Two semesters in the same foreign language or study abroad. For students who study abroad, at least one course must be taught in the host language. Students whose first language is not English may meet the foreign language requirement with their TOEFL score.

Minor in Professional Languages

Be better prepared for the global job market of the 21st century. The minor in Professional Languages is intended for students who would like to develop intermediate or advanced proficiency in French and Spanish, including knowledge of the fundamentals of business-related communication and practices in several of the countries in which French (54 countries) and Spanish (44 countries) are spoken.

18+ credits

FRE 307: French for Business
SPA 309: Spanish for the Professions
6+ additional credit hours in French at the 200 level or higher
6+ additional credit hours in Spanish at the 200 level or higher