Quarter-Day
(2-Hour Program)
This group initiatives program is a whirlwind of fun and challenging games and group problem-solving exercises. This program is great to use as an introduction for groups that are just forming or for something a little different to use with established groups.  The emphasis is on fun and building connections within a group.  This program is mobile; we can bring it to your site! Additional fees will be added for travel costs.
University of Maine Groups: $12/person
Non-University of Maine Groups: $15/person

Half-Day Challenge Course
(4-Hour Program)
The day will start with some warm-up activities designed to be fun and to get the group prepared for the day.  This will be followed by some group initiatives which focus on providing a mental and physical challenge for the group to solve.  After that, you will move on to the challenge course low elements which will continue to stretch the group's problem-solving abilities.
If your group's goals are fun, getting to know one another better, and/or doing something different together, choose half day challenge course program, which provides a great alternative to traditional staff training or orientation.
University of Maine Groups: $20/person
Non-University of Maine Groups: $30/person
---
Full-Day Challenge Course
(8 Hour Program)
The full-day challenge course program includes all the elements half-day  program with the addition of the high elements.  After completing the half-day program, your group will move to the high elements which allow individuals within the group to explore their personal limits in a supportive outdoor setting.
If your group wants an opportunity for self assessment, reflection, and an introduction to team-building, a full-day challenge course program goes beyond fun and begins to point out successful dynamics along with broader issues and roadblocks that often challenge a group's success.
University of Maine Groups: $30/person
Non-University of Maine Groups: $50/person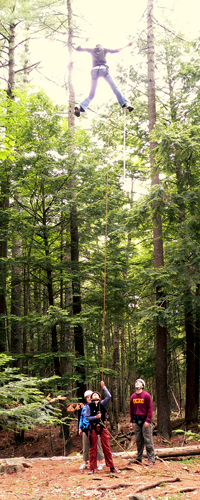 Custom Programs
Maine Bound can customize a challenge course experience to meet the needs and goals of any group. Games, adventure initiatives, and team building  programs can be done anywhere, indoors or outdoors.  We also offer rock climbing, rappelling, canoeing, and more.  Call 207.581.1794 for more information.
Each team-building program is designed to fit the needs of your group.  The descriptions listed above depict a typical program.  However, the facilitator may deviate from the description at his or her discretion in order to best meet the group's goals.