Challenge Course and Custom Program Requests
Please fill out our request form to book a program with us. We will respond within 2 business days. Submit requests 2 weeks prior to your requested date. Please note that late requests may not be accommodated. 
Program Options
Mobile Teambuilding
We can bring our teambuilding program to you! We travel to classrooms on campus and locations in the Bangor area.
In a mobile team building session, our facilitators will take your group through a series of games and activities that will promote group bonding, teambuilding, and problem-solving skills.  Off-campus programs will incur additional travel costs. Book a challenge course experience with us!
2-Hour Program
Over the course of two hours, our facilitators will take a group through a series of games, activities, and low ropes course challenges. Be prepared to participate in fun and challenging problem-solving tasks. A 2-hour program is perfect as an introduction for a group that is just forming or creates team cohesion for an established group. 2-hour programs typically take place on the low ropes course. We can add a high ropes course element upon request.
In the winter months, this program can take place indoors! We'd love to kick start your spring classes with a 2-hour indoor teambuilding session. 
University of Maine Groups: $18/person*
Non-University of Maine Groups: $21/person**

*minimum of $108 or 6 people 
**minimum of $126 or 6 people 
4-Hour Program
A 4-hour program will begin with games and activities and will then move on to the low ropes course. On the low ropes course the group will solve some of our more complex challenges. Groups will have the option to move to the high ropes course where individuals will be able to challenge themselves with the support of their team. A 4-hour block is perfect for a group that is excited to deepen their connection as a team and enhance their communication skills. It is also great for a group that is looking for a new and exciting experience. We'll work with you to create a program that meets your goals.
University of Maine Groups: $29/person*
Non-University of Maine Groups: $37/person**
*minimum of $174 or 6 people 
**minimum of $222 or 6 people 
8-Hour Program
An 8-hour program will include a morning and afternoon session, with a break for lunch. Our facilitators will put together a series of activities that will meet the goals of your group. Full day programs typically spend the morning on the low elements and the afternoon on the high elements. Individuals will have the opportunity to learn to belay and explore their personal limits in a supportive outdoor setting. An 8-hour program is perfect for a group that wants an opportunity for self-assessment, reflection, and leadership practice. This allows lots of fun while creating space to point out positive group dynamics and roadblocks that can challenge a group's success.
University of Maine Groups: $39/person*
Non-University of Maine Groups: $65/person**
*Minimum of $312 or 8 people
**Minimum of $520 or 8 people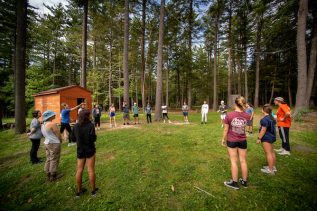 Custom Programs
We develop custom programs to meet the needs of your group. Teambuilding programs can also include outdoor rock climbing, rappelling, hiking, canoeing, stand up paddleboarding, cross country skiing, and ice climbing. Contact us with your ideas and we'll work to design a fun, engaging, and educative program. Fill out our Reservation Request form or give us a call for more information.
We also offer custom contracts at our climbing gym including climbing lessons and birthday parties!
FAQs
What do I need to bring?
Challenge course programs talk place outside. Please come dressed and ready to be outside for the duration of the program. Bring water, snacks (for longer programs), bug protection, sun protection etc. You MUST wear closed-toed shoes (athletic shoes or sneakers) that will stay on your feet. Without closed-toed shoes, you will not be allowed to participate in most activities. 
What if it rains?
We pay attention to upcoming weather forecasts and make rain and severe weather plans. In light rain most programs will still take place outside. In inclement weather we move our programs inside. In some cases we reschedule. If you're concerned about the weather on an upcoming program, call us at 207-581-1794.
Who can participate?
Anyone! Please contact us prior to your program if you have questions or concerns about activities.  We strive to create facilitation plans that accommodate all ability levels and challenge groups appropriately.  All activities are challenge by choice, while we encourage participation, individuals can always opt-out of specific activities.
Challenge Course/ Ropes Course Overview
We offer teambuilding programs on our high and low ropes course located on UMaine's campus. If you can't come to us, we can come to you! Please strive to schedule programs at least two weeks in advance. Book a challenge course experience with us!
What Do We Do?
Maine Bound Adventure Center has a challenge course located behind the New Balance Recreation Center at the University of Maine Campus. Our challenge course includes teambuilding activities and a low and high ropes course. Our programs are designed to challenge groups and individuals in a variety of ways. Through fun, engaging, and tricky activities groups will gain teamwork, problem-solving, and communication skills. Our programs can be adapted to meet all ability levels.
Who Do We Serve?
Maine Bound Adventure Center works with university and non-university based groups. We work with a wide variety of ages, kids, college groups, and adults. Organizations bring groups as small as 6 and as large as 90 people.