Value of ecosystem-based management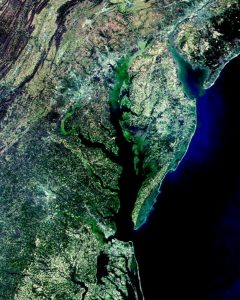 Heather recently authored an invited commentary for Proceedings of the National Academy of Sciences of the United States of America. She reflected of the significance of a recent research article on ecosystem-based management efforts in the Chesapeake Bay.
Heather noted that marine ecosystem-based management (EBM) is not a singular approach, but rather a framework for managing people's interactions with the environment (after McLeod and Leslie 2009). Chesapeake Bay has long been held up as an example of EBM, in part because of the geographic and institutional extent of the initiative. The Chesapeake is also a notable example because of its longevity: citizens, scientists, resource managers, and political leaders within the watershed have pursued many elements of EBM for more than 30 years.
For most cases of marine EBM, we simply don't have this long a track record. Instead, we are dealing with cases of aspirational EBM, where communities have begun to articulate elements of EBM for their particular geography, particularly in terms of innovative institutional arrangements like the Chesapeake Bay Program.
We have examples of such institutional innovations here in Maine, too. Check back soon to learn more about the ecosystem-based management research and practice efforts with which Heather and her students are involved.
Read more at PNAS, and access Heather's related work under 'Publications.'