Faculty and Student News
October 2018
MA alum Tyler Cline's research has been used extensively in an Acadie Nouvelle article on the history of the Ku Klux Klan in New Brunswick. Congratulations, Tyler!
September 2018
At the beginning of each semester, Edge Effects, a digital magazine produced by the Center for Culture, History, and Environment at the University of Wisconsin–Madison, produces a feature in which environmental scholars recommend the books they are most excited to be teaching in the weeks ahead. This fall's version features Dr. Claire Campbell of Bucknell University recommending Dr. Micah Pawling's Wabanaki Homeland and the New State of Maine. Congratulations, Dr. Pawling!
We are very pleased to highlight that a research essay written by History major Jennifer Munson for Dr. Mark McLaughlin's HTY 460: Modern Canada in Spring 2018, on the failed Dieppe Raid during the Second World War, is going to be published in the Armstrong Undergraduate Journal of History in November. Congratulations, Jennifer!
September 2018
Dr. Long just returned from Da Nang, the third largest city in Vietnam. He attended a conference on "The resistance by Da Nang to French and Spanish forces from 1858-1860: Past and Present."
The purpose of the conference was to analyze how and why these attacks led to the conquest of the southern provinces of Vietnam in the late 1860's and the eventual colonization of Vietnam in the early 1880's as well as lessons to be learned for current situations.
There were more than 100 scholars and delegates from all over Vietnam at the conference in Da Nang. A compendium of the papers (404 pages in length) was published and distributed to conference participants and the press. My paper drew the most attention from scholars and the press. It was immediately picked up by many sources inside and outside Vietnam. Here is a link:
https://www.diendan.org/phe-binh-nghien-cuu/vi-tri-dia-chinh-tri-cua-da-nang-nam-1858-va-ngay-nay
The University of Maine and the Department of History were frequently mentioned.
August 2018
For the second year in a row, one of our graduate students, this time PhD candidate Patrick Callaway, is the recipient of a prestigious Fulbright U.S. Student Program award to Canada in History from the U.S. Department of State and the J. William Fulbright Foreign Scholarship Board. As noted in the press release, Patrick "will conduct research at Dalhouise University as part of a project to examine the complex and contradictory relationships between cross-border trade and political change in the late eighteenth and early nineteenth centuries" during the 2018-19 academic year. Congratulations, Patrick!
For more information, see the attached press release.
Dr. Joel Anderson delivered a paper at the 17th International Saga Conference in Reykjavik, Iceland last week. The conference was attended by some 400 scholars whose interests range widely across the Viking and Old Norse worlds. Pictured: 1) Dr. Anderson at Skálholt, the site of Iceland's first bishopric; 2) the reconstructed longhouse of Eric the Red at Eiríksstaðir; 3) the surroundings at Hvolseyri, site of the opening scene of Gisli Súrsson's saga. You can learn lots more about Eric the Red and Gisli Súrsson in HTY 427: Vikings!, next offered in 2019-20.
We are pleased to highlight that Dr. Anne Knowles has been awarded a prestigious three-year, nearly $300,000 Digital Humanities Grant by the National Endowment for the Humanities, for the project titled "The Holocaust Ghettos Project: Reintegrating Victims and Perpetrators through Places and Events." The project will entail "[t]he creation of a spatial model of 1,400 Jewish ghettos during the Holocaust that maps the locations of victims and perpetrators and extracts content from interviews about the experience of living in ghettos, allowing scholars to analyze the relationships between perpetrators and victims using geospatial methods." Congratulations, Dr. Knowles.  For the full NEH press release: https://content.govdelivery.com/accounts/…/bulletins/2044ebe
We are pleased to highlight that History alum Dr. Rachel Snell has secured two new positions: as Lecturer in the Honors College at the University of Maine and lead researcher for the Margaret Chase Smith Recipe Project. Congratulations, Dr. Snell!
July 2018
Dr. Anne Knowles and PhD candidate Justus Hillebrand presented a paper at the International Conference of Historical Geographers in Warsaw, Poland. Their paper presented the first fruits of their Holocaust Ghettos Historical GIS project.
June 2018
Kentucky Historical Society research fellow and History alum Dr. Stefano Tijerina used the Maxwell Waide Smith collection & photography at KHS to examine American capitalist expansionism with the Panama Canal. Exciting research published in Italian journal Iperstoria, accessible here: 
http://www.iperstoria.it/joomla/
June 6, by invitation from Dr. Anna Marmodoro of Corpus Christi College, Oxford, Dr. Jay Bregman, Emeritus Professor, lectured a seminar session on Alexandria in Late Antiquity: "Synesius, Hypatia, Patriarchs Theophilus and Cyril of Alexandria and the Conflict of Religions in Late Fourth and Early Fifth Century Alexandria".
The research of three PhD candidates, Daniel Soucier, Elisa Sance, and Eileen Hagerman, is featured in a large write-up in the Spring/Summer issue of UMaine Today. Congratulations Daniel, Elisa, and Eileen!  For the complete article: https://umainetoday.umaine.edu/stories/2018/then-and-now/
May 2018
Dr. Jay Bregman served on the Scientific Committee and attended the Fourth Annual Conference, Foro Studi Avanzati Gaetano Massa, Renaissance, Ancient and Medieval Patterns: Philosophy, Theology, Aesthetics, Religion, May 27-29/Roma 2018.
Dr. Bregman performed in "On Immortality", A Dialogue by George Santayana set to music by Don Stratton (late UM/UMA Prof. of Music) for Readers, Soprano and Jazz/Funk Quintet, Directed by Dan Barrett (coordinator UM Jazz Program); followed by a Jazz Set he led playing Tenor Sax, with UM  grad. Bob Roman (Bass), UM grad. Colin Graebert (Piano), HUsson Prof. Bobby duron (Drums), Dan Barrett (Trombone).
Dr. Bregman
moderated the panel "Helios"; and on the panel 'Sol Invictus", he presented: "The Imperial Cult of Sol Invictus in Late Antiquity".
MA alum Tyler Cline has published an article, titled "'Orangeism, A Great Protestant Crusade': The Nativist Legacy of the Orange Order in the Northeastern Borderlands," part of his MA research at UMaine, in the American Review of Canadian Studies. To access the article: https://www.tandfonline.com/doi/abs/10.1080/02722011.2018.1468591?journalCode=rarc20
PhD candidate Ian Jesse has published an article, titled "A 'Game War' in the Borderlands: Cross-Border Poaching in the Northeast 1886–1908," in the American Review of Canadian Studies. To access the article: https://www.tandfonline.com/doi/abs/10.1080/02722011.2018.1470185?journalCode=rarc20
Dr. Miller's new co-authored article, "Moral and Legal Prohibitions Against Pillage in the Context of the 1899 Hague Convention and the South African War," is now available at http://journals.sagepub.com/home/wih. It will appear in paper next month.
Dr. Pawling's article, "Wəlastəkwey (Maliseet) Homeland: Waterscapes and Continuity within the Lower St. John River Valley, 1784-1900,"  has been selected by the Canadian Historical Association prize for best article in Indigenous History (2018).
On May 4 and 5, 2018, nine UMaine History faculty and grad students, including Drs. Mark McLaughlin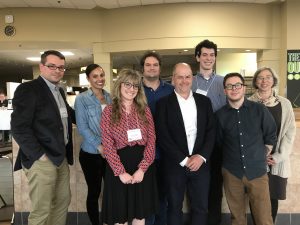 and Liam Riordan, PhD students/candidates Carol Blasi, Patrick Calloway, Brittany Goetting, Ian Jesse, and Sarah Witthauer, and MA students/candidates Eric Toups and Michael White, attended the 2018 Atlantic Canada Studies conference at Acadia University in Wolfville, Nova Scotia. UMaine had the most grad students in attendance, and everyone's papers/comments were very well received. It was also announced that UMaine will be the next host of the Atlantic Canada Studies conference in May 2020! We look forward to hosting this prestigious regional conference. Not pictured: Michael White
Justus Hillebrand, Ph.D. candidate in the History Department, has received a prestigious two-year Ph.D. Scholarship b
y the Gerda Henkel Foundation for his dissertation research on agricultural improvement and education in Maine and Westphalia, Germany, in the late nineteenth century. Active both inside and outside Germany, the Gerda Henkel foundation offers several funding opportunities specifically for the Historical Humanities, including history, archaeology, the history of art, and other disciplines with a historical component. While the financial support is available to all historical scholars and projects without geographic restrictions, several programs especially aim at early career scholars. See here for more information.
April 2018
Professor Howard Segal published the Third Edition of his coauthored (with Alan Marcus) Technology in America: A Brief History. When the first edition appeared in 1989, it was the first history of American technology in decades. An expanded and updated Second Edition was published in 1999. This new edition updates and revises the eleven chapters from the Third Edition and adds a brand-new chapter entitled "American Technology and Globalization in the Twenty-first Century." The book's overarching approach remains exploring the reciprocal relationships between technology and culture and avoiding the traditional and inaccurate approach of technological determinism, or the simplistic assumption that technology shapes the world.
Master's candidate James Cross recently published an article in the journal American Review of Canadian Studies: "Two Solitudes Lost: Comparing and Contrasting Interwar American and Canadian Isolationisms. For the full issue click here.
On Saturday, April 7, UMaine hosted the state championship of Ma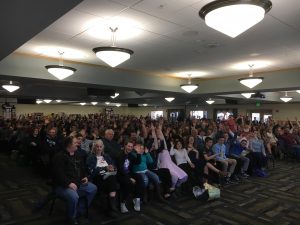 ine National Histo
ry Day. Somewhere in the range of 250-300 middle school and high school students, supported by many family members and friends, competed in a variety of categories, including exhibits, performances, documentaries, and papers. To the right are a couple of photos from the awards ceremony: one where everyone is serious, the other where everyone is being a bit silly. It's great to see kids get so excited about history, and we look forward to hosting again next year! Find out more information about Maine National History Day here.
The latest issue of Chebacco, the annual magazine of the Mount Desert Island Historical Society, features several current and past students of the UMaine History Department, including Joe Miller, Rachel Snell, Tim Garrity, and Sean Cox. For the press release about the issue click here,
March 2018
On Saturday
, March 24, the History Department hosted its annual visit
to the Maine State Museum. Three faculty members (Profs. Judd, Anderson, and McLaughlin) and 10 majors made the trek to Augusta, and toured the museum for two hours, followed by lunch at the local restaurant Bagel Mainea. Already looking forward to next's years adventure!
Faculty member Dr. Mark McLaughlin recently published a crosspost, "The Science before Silent Spring," in the Otter (NiCHE) and Acadiensis blogs as part of the "Soundings" series, a series of articles that consider new approaches to history and the environment in Atlantic Canada. Congratulations, Dr. McLaughlin! Find the full post here.
We are pleased to highlight History major Jennifer Munson, who has been accepted into the Maine Government Summer Internship Program. She will be working in the Maine State Library focusing on archives and cataloging old manuscripts and newspapers. Congratulations, Jennifer!
February 2018
Dr. Anne Knowles was a Visiting Fellow at the Humanities Center, University of Pittsburgh, from January 15-19, 2018. While there, she recorded an interview with the podcast "Being Human," on Dr. Knowles's "life and career, particularly her work with geographical information systems." Check out the full interview here!
Dr. Dick Judd has secured an advance contract with Johns Hopkins University Press for his next book, titled Concord's Poem: Henry David Thoreau and the Deep Experience of Maine. Dr. Judd also has another book forthcoming with University of Massachusetts Press, titled Finding Thoreau: The Meaning of Nature in the Making of an Environmental Icon. Congratulations, Dr. Judd!
Dr. Anne Knowles was recently featured in UMaine Today for her work using geographical information systems (GIS) to map the landscapes of the Holocaust. Congratulations, Dr. Knowles!
For the full article: https://umaine.edu/history/resource/dr-anne-knowles-recently-featured-umaine-today/
January 2018
MA Student James Spruce published his article, Two Solitudes Lost: Comparing and Contrasting Interwar American and Canadian Isolationisms, in the the American Review of Canadian Studies. View the article here.
PhD student Brittany Goetting is the Mount Desert Island Historical Society's 2018 Visiting History Scholar.
PhD candidate Daniel S Soucier is the recipient of the Mount Desert Island Historical Society's Eliot Fellowship for 2018.
December 2017
Dr. Micah Pawling has the lead article in latest issue of Acadiensis: "Walastakwey (Maliseet) Homeland: Waterscapes and Continuity within the Lower St. John River Valley, 1784-1900."
November 2017
Dr. Liam Riordan has published an article in latest issue of The New England Quarterly: "A Loyalist Who Loved His Country too Much: Thomas Hutchinson, Historian of Colonial Massachusetts."
Dr. Stefano Tijerina's recent article, "Canadian Official Development Aid to Latin America", was published by the Journal of Canadian Studies.  
https://umaine.edu/history/resource/canadian-official-development-aid-latin-america-struggle-humanitarian-agenda-1963-1977-stefano-tijerna/
October 2017
Dr. Richard W. Judd Receives a Faculty Excellence Award from the University of Maine Alumni Association and the University Credit Union.
https://umaine.edu/history/resource/judd-receives-faculty-excellence-award/
Delaney Fitzpatrick, a history major, has been awarded a Margaret Chase Smith Library Scholarship.  Delaney's research project is tentatively titled: "Fighting Communism and McCarthy Alike:  Margaret Chase Smith, the Declaration of Conscience, and Anti-Communism."
In late October, Anne Knowles traveled to the USC Shoah Foundation in Los Angeles to take part in Digital Approaches to Genocide Studies, a conference organized by the Center for Advanced Genocide Research. She gave two papers with colleagues from the Holocaust Geographies Collaborative, one about the challenges of digital Holocaust scholarship, the other presenting first fruits of combining GIS and corpus linguistics to study Holocaust ghettos.
September 2017
The Canadian Business History Association/l'association canadienne pour l'histoire des affaires (CBHA/ACHA) announces Dr. Stefano Tijerina as the inaugural recipient of the Chris Kobrak Research Fellowship.
https://umaine.edu/history/resource/cbhaacha-announces-inaugural-recipient-chris-kobrak-research-fellowship/
Dr. Elizabeth McKillen published an article, "Workers, Donald Trump and U.S. Foreign Policy," for International Security Studies Forum and H-Diplo on September 20, 2017. https://umaine.edu/history/resource/workers-donald-trump-u-s-foreign-policy/
Dr. Elizabeth McKillen published an article, "Labor Activists resisted US Internationalism a Century Ago.  It's time for them to step up again," for the Bangor Daily News on September 8, 2017. https://umaine.edu/history/resource/labor-activists-resisted-us-internationalism-century-ago-time-step/
July 2017
Dr. Elizabeth McKillen published an article, "The Socialist Party of America: 1900-1929" for Oxford Research Encyclopedia of American History. http://americanhistory.oxfordre.com/view/10.1093/acrefore/9780199329175.001.0001/acrefore-9780199329175-e-413
June 2017
Dr. Nathan Godfried published an article http://www.tandfonline.com/eprint/Umv9TWTmMa3UKZwUTZ77/full
Dr. Mark McLaughlin has been named to the editorial board of Acadiensis.
May 2017
Dr. Howard Segal named the Maine Heritage Lecturer for 2017 to speak on his book project on UMaine's evolution from 1965-2015.
Rachel Snell, History Graduate Student PhD., has joined the Mount Desert Island Historical Society as Curator of Collections, the press release can be found here.
Delania Toothman, History Graduate Student PhD., awarded a 2017 summer dissertation fellowship.
Daniel S. Soucier, History Graduate Student PhD., received one of five Summer Dissertation Writing Fellowships from the Graduate School here at the University of Maine.  This award is supported by Auxiliary Services and the Provost's Fellowship Fund.
Dr. Anne Kelly Knowles has been appointed Col. James C. McBride Distinguished Professor in History.
April 2017:
Professor Ngo Vinh Long's review of 'Aid under Fire: Nation Building and the Vietnam War' has been published by H-Net Reviews.
Daniel Soucier, History Graduate Student, Ph.D:
Recently organized a panel at the American Society for Environmental History Conference in Chicago titled the "Incidental Landscapes of War:  Military Manipulation, Commodification, and Utilization of Nature" and presented a paper on the panel titled "To Leave Delightful Fields for Barren Wildernesses:  Ordering Wilderness Landscapes during the American Revolution."
Had an article published in The Journal of Military History titled, "Where there were no Signs of Any Human Being": Navigating the Eastern Country Wilderness on Arnold's March to Quebec, 1775.
Has received a Resident Research Fellowship from the New England Regional Fellowship Consortium to conduct research on his dissertation at the Maine Historical Society, the New Hampshire Historical Society, the Rhode Island Historical Society, and the Houghton Library at Harvard University.
March 2017:
Elisa Sance, History Graduate Student, Ph.D:
Was awarded a New England-Atlantic Provinces-Quebec Fellowship. Her research project explores the relationship between teacher training and the education of francophone pupils in Maine and New Brunswick from the mid-nineteenth century to the beginning of the twenty-first century. By comparing the education system in Maine and New Brunswick, she seeks to explore ways in which minorities – in this case French-speaking minorities – were integrated into society, and to identify the challenges to integration, particularly the challenges that pertain to identity. The aim of this research project is to contribute to the debate on education policies by identifying elements of the public school system that facilitated or complicated the integration of minority groups and their participation in the institutional life of their state, province, or country.
Carol Blasi, History Graduate Student, PhD:
Was awarded a Dunn Research Grant. Her Dunn grant will permit her to do further dissertation research directed at establishing how French land tenure was implemented in the French colony of Acadia before the expulsions of 1755. Given the limited number of extant notarial documents from this period, she is also examining legal documents relating to returning Acadian communities, post-1763, to discover what might be described as cultural artifacts that reflect back on law and custom as practiced in 'Old Acadia'. The Dunn grant will permit her to visit the Provincial Archives of New Brunswick as well as at least one county registrar's office to obtain copies of land grants, deeds, leases, mortgages, liens and other agreements relating to land transactions.
Tyler Cline, History Graduate Student, MA:
Was awarded a Dunn Research Grant. He plans to use the Dunn Research Grant to pursue his research into the anti-Catholic rhetoric and activities of the New Brunswick Ku Klux Klan and Orange Order. Using this award, he was able to travel to the Provincial Archives of New Brunswick in Fredericton, a major repository for source material on both groups.
Emma Schroeder, History Graduate Student, PhD:
Was awarded a Dunn Research Grant. Her research focuses on women's experiences in 1970s appropriate technology movement. She received funding to visit the archives of the New Alchemy Institute, an appropriate technology group, located at Iowa State University in Ames, Iowa.
Patrick Callaway, History Graduate Student, PhD:
Was awarded both a Dunn Research Grant and a Hunter Teaching Fellowship. He will be using the Dunn Research Grant to visit the Provincial Archives of Nova Scotia and the Dalhouise University special collections in Halifax to search for the Halifax port records and Legislative Council documents from the late 1700s and early 1800s for information on American grain imports into the colony as well as any information that can be found on grain production in Nova Scotia during this time.
He will be using the Hunter Teaching Fellowship in order to refine his craft in classroom teaching at the university level and to gain skills in creating and organizing a course on the Atlantic World that covers a broader geographic, chronological, and thematic scope then he has previously experienced as an instructor.
Scott See has been named CLAS Outstanding Faculty Member in the area of Service and Outreach for 2017.
Elizabeth McKillen published "Labor and the Legacies of World War I" for Labor Online.
February 2017:
Justus Hillebrand, History Graduate Student, PhD:
Was awarded the Chase Distinguished Research Assistantship. He was very honored to be awarded the Chase Distinguished Research Assistantship by the Graduate School of the University of Maine. The generous monthly stipend, tuition waiver, and half of the costs of student health insurance for the academic year 2017/18 will help him greatly in progressing in his dissertation research. Tentatively titled "To Know the Land With Hands and Minds: How Farmers and Scientists Made Rural Modernities in New England and Westphalia, 1850-1914," his dissertation investigates the modernizations of rural places within the western World through the lens of agricultural knowledge. He wants to find out how farmers experienced and shaped processes of modernization in negotiation with scientists and reformers of agriculture. This dialogue became most pronounced in marginal regions where challenges to agriculture defied innovations emanating from centers of science. Thus, he studies two such regions, Western Maine and the Hochsauerland in Westphalia, Germany, during the configurational period of the twentieth-century system of agricultural knowledge production, 1850-1914.
Was awarded a Dunn Research Grant. He used the Dunn Research Grant to visit archives in Westphalia, Germany, to learn more about agricultural schools and associations in the second half of the nineteenth century. This will be essential for his dissertation on a transatlantic history of agricultural knowledge and modernization in Germany and the USA.
October-November 2016:
Anne Knowles will be presenting her research at a number of venues in Fall 2016:
Center for Geographic Analysis Colloquium, Harvard University (Oct. 7)
German Historical Institute, Creating Spatial Historical Knowledge (Oct. 20-22).
Lessons & Legacies, bi-annual Holocaust conference, Claremont McKenna College (Nov. 3-6)
Elizabeth McKillen recently published an article:  "Divided Loyalties:  Irish American Women Labor Leaders and the Irish Revolution, 1916-23,"  Éire-Ireland, Volume 51, Numbers 3 & 4, (Fall/Winter 2016), pp. 165-187.
October 2016:  Micah Pawling, PhD, published "Wabanaki Homeland and Mobility: Concepts of Home in Nineteenth-Century Maine", by Duke University Press.
Wabanaki Homeland and Mobility: Concepts of Home in Nineteenth-Century Maine
Scott See was invited to give a keynote talk at the Biennial Conference of the Middle Atlantic and New England Council for Canadian Studies, which was held in Portland, Maine in October 2017. His paper, which was based on his research on myths and nationalism in Canadian history, was entitled "Still Relevant After All These Years? Canada's 'Peaceable Kingdom' Ideal in the Twenty-First Century."
September 2016:  Nathan Godfried, Professor of History, University of Maine; Elizabeth McKillen, Professor of History, University of Maine.
http://bangordailynews.com/2016/09/09/opinion/contributors/kids-today-have-grown-up-on-the-war-on-terror/?ref=relatedSidebar
August 2016: Ngo Vinh Long in front of the Prague Castle on August 28, 2016.
August 2016:  Stefano Tijerina, PhD, published his book chapter "Demarcando una Estrategia Latinoamericana: Las Iniciativas del Sector Privado Canadiense en Colombia, 1905-1953" in Maria-Aparecida Lopes and María Cecilia Zuleta's editor book Mercados en Común: Estudios Sobre Conexiones Transnacionales, Negocios y Diplomacia en las Américas (Siglos XIX y XX) published by El Colegio de México.
"Demarcando una Estrategia Latinoamericana: Las Iniciativas del Sector Privado Canadiense en Colombia, 1905-1953"
August 2016:   Daniel S. Soucier, doctoral candidate in the department of history, will be delivering a paper at the annual meeting of the Northeast Atlantic Canada Environmental History Forum, in Halifax, Nova Scotia, entitled "War upon the French, the Fishermen, and the Fishery:  Razing Crops, Cattle, and Built Environment during the Gulf of St. Lawrence Campaign, 1758."