Faculty and Student News
June 2022

Dr. Mary Freeman is participating in an NEH Summer Institute on "Civil War Archives: A New Social and Cultural History" in Gettysburg, PA this month. There is an exciting lineup of visiting faculty and participants! More info at this link:

https://www.gettysburg.edu/academic-programs/civil-war-era-studies/civil-war-archives/

.

PhD candidate Darcy Stevens has been selected as a 2022-2023 David Center for the American Revolution Fellow at the American Philosophical Society Library & Museum in Philadelphia, PA. The one-month fellowship will fund Darcy's upcoming research trip to the institution. Congratulations, Darcy!
May 2022

Dr. Elizabeth McKillen recently published, "Neither Lenin nor Wilson: The Evolving Anti-Imperialism of Three Women of the Transatlantic Irish Left, 1916-1923," as a chapter in The Irish Revolution: A Global History, Patrick Mannion and Fearghal Patrick McGarry eds.(New York: New York University Press, 2022), pp. 289-315. Click here for more information about the full book: https://nyupress.org/9781479808892/the-irish-revolution/.

Recent graduate from the PhD program Dr. Brittany Goetting has accepted a position of Assistant Professor of History at the University of Pikeville in Kentucky. She'll be starting her new position this summer. Congratulations, Brittany!

Congratulations to History alumni Emily Albee (2006), the 2022 Penobscot County Teacher of the Year. Emily is a proud graduate of UMaine, completing a B.S. (2006) double major in History and Elementary Education. Emily received her M.Ed. (2009) in Middle Level Social Studies and her C.A.S. (2012) in Social Studies, Technology, and Innovation Engineering. Emily notes that she thoroughly enjoyed studying with Dr. Nathan Godfried, Dr. Elizabeth McKillen, and Dr. Stephen Miller. She is grateful for the life changing research and education she received at UMaine, especially courses dealing with U.S. labor history, Social Justice history, and Nelson Mandela and liberation movements.


Katherine O'Flaherty, who earned her Ph.D. at the University of Maine in 2010 under the direction of Dr. Elizabeth McKillen, recently won the outstanding Faculty Mentor Award at Arizona State University, where she is a Senior Lecturer and Faculty Fellow at Barrett Honors College. Congratulations, Katherine!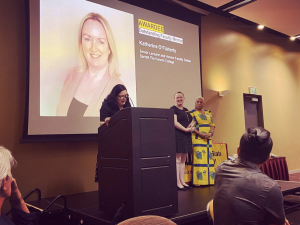 March 2022
On March 24th, Dr. Nathan Godfried and Dr. Elizabeth McKillen participated in a webinar titled "History of Resilience: Using History to Find Hope during Covid in 2022," sponsored by Northern Light Acadia Hospital's Healthy Life Resources.

Dr. Nathan Godfried has published the article "Social Unionism and the Popular Front: The Cambridge Union of University Teachers, 1935-1941" in the Fall/Winter 2021 issue of the journal Left History. The article is an expanded version of the talk that he gave as part of the Fall 2021 Symposium Series. Congratulations, Dr. Godfried!
February 2022

January 2022
Dr. Mark McLaughlin has written a review essay titled "Water and the Expanding Subfield of Canadian Environmental History" for the November 2021 issue of the journal Histoire sociale/Social History. The essay features discussion of four major texts recently published in Canadian environmental history. Congratulations, Dr. McLaughlin!
December 2021
November 2021
We are very proud to announce that the Black Bear Undergraduate History Journal, published by UMaine History graduate students, has received Honorable Mention in the 2021 Gerald D. Nash History Electronic Journal competition, sponsored by the Phi Alpha Theta History Honor Society. As noted in the original announcement: "The time and effort required to produce a historical journal is immense, and your willingness to undertake this task and maintain such a high standard of quality proves the dedication of you and your students to the study of history." Congratulations to all of the graduate and undergraduate students involved!

Dr. Kara Peruccio presented at the CEST (Consortium for European Symposia on Turkey) 6th Annual European Symposium on Turkey: the theme was "Turkey and the Mediterranean: linkages, connectivities, and raptures." It was held at Università di Napoli l'Orientale in Naples, Italy from 25-27 November. She presented the paper "Sisters on the Margins: Turkish and Italian Suffrage Activism, 1923-35." Congrats Dr. Peruccio!
October 2021
Jack Holls, MA '61, has published, The Religious Journey of Dwight D. Eisenhower (Grand Rapids, MI: Wm. B. Eerdmans Publishing Co., 2021) tells the story of how religious convictions ran through every aspect of Eisenhower's public life: his decision to become a soldier, his crusade against fascism and communism, his response to the civil rights movement, his belief that only he as president could lead America through the Cold War, and his search of nuclear peace.
June 2021
The UMS Office of General Counsel has hired Timothy McDermet, Legal Secretary. Timothy is a recent graduate from the University of Maine who majored in History with minors in Political Science and Legal Studies. He has ambition to join the ranks of the legal profession as an attorney and hopes to one day attend the University of Maine School of Law. Congratulations, Timothy!
Prof. Stephen Miller's new book, Queen Victoria's War: British Military Campaigns, 1857-1902, has just been published by Cambridge University Press. Congratulations, Prof. Miller!  As described:  "This is a new history of Britain's imperial wars during the nineteenth century. Including chapters on wars fought in the hills, on the veldt, in the dense forests, and along the coast, it discusses wars waged in China, Burma, Afghanistan, and India/Pakistan; New Zealand; and, West, East, and South Africa. Leading military historians from around the world situate the individual conflict in the larger context of British domestic history and British foreign policy/grand strategy and examine the background of the conflict, the war aims, the outbreak of the war, the forces and technology employed, a narrative of the war, details about one specific battle, and the aftermath of the war. Beginning with the Indian Rebellion and ending with the South African War, it enables readers to see the global impact of British imperialism, the function of the army in the service of British political goals, and the evolution of military technology."For more information click here.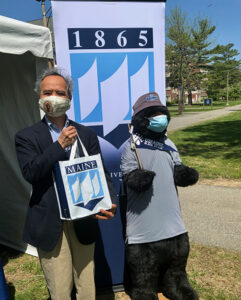 May 2021
Prof. Nathan Godfried has reached a milestone: more than 25 years at the University of Maine! A ceremony was held on Friday, May 21st to honor his and others many years of service to the University community. According to Prof. Godfried, he has enjoyed working with his colleagues over the years, and has really enjoyed working with some great undergraduate and graduate students. Congratulations, Prof. Godfried!
April 2021
March 2021
PhD alum Dr. Adam Lee Cilli has published a book titled Canaan, Dim and Far: Black Reformers and the Pursuit of Citizenship in Pittsburgh, 1915-1945 (University of Georgia Press, 2021). The book is a revised version of PhD dissertation. Congratulations, Dr. Cilli!

PhD candidate An Nguyen has published a powerful piece in the wake of the recent shooting in Atlanta, providing important historical contexts about the "quilt of oppression and injustice" facing Asian and Asian American girls and women. The article appeared in the Greenfield Recorder and on the site Informed Comment. See below for the links for both.
Dr. Nathan Godfried has published an article titled "Organic Intellectuals and Working-Class Organizing: The Case of Sarainne Loewe, 1920-38" in the latest issue of the Journal for the Study of Radicalism (vol. 15, no. 1 [Spring 2021]: 37-74). Congratulations, Dr. Godfried! To access the article: https://muse-jhu-edu.wv-o-ursus-proxy02.ursus.maine.edu/article/785857/pdf.
January 2021
November 2020
We are pleased to announce that history major Elizabeth Dalton has just been awarded an $8,000 McGillicuddy Humanities Center Undergraduate Fellowship. Her project, which she will undertake in the upcoming spring and fall semesters, will explore representations of the Middle Ages in the movies and on television. She will examine why these screen depictions have proved so arresting, how historians should grapple with them, and what kinds of historical content might lead to a more informed public. Congratulations, Elizabeth!
October 2020
September 2020
June 2020
Ph.D. candidate An Nguyen has won the Marilyn B. Young Dissertation Completion Fellowship from the Society of Historians of American Foreign Relations (SHAFR). This highly competitive award funds only one doctoral candidate each year. An, who is working with Professors Long and McKillen, will use the significant support to finish her work on "Third Force: South Vietnamese Urban Opposition to the Nixon Doctrine in Asia, 1969-1975." Congratulations, An!
History major Hailey Cedor has been awarded a 2020-2021 McGillicuddy Humanities Center undergraduate fellowship. Hailey's selection was based upon her proposal "Local Involvement, Memorialization, and Denial: The Complexities of the Holocaust in Lithuania." Congratulations, Hailey!
May 2020

The History Department is honored and proud to announce that Professor Liam Riordan is the recipient of the College of Liberal Arts and Sciences 2020 award for Outreach and Service. The College described his accomplishments: "Riordan was commended for his commitment to public engagement, including his efforts in May 2019 to host the Maine Statehood and Bicentennial Conference, his early stewardship of the annual Bangor Humanities Day, and his work organizing Maine National History Day—a statewide contest for students in grades 6-12 that annually brings over 350 people to the University of Maine campus. In 2019 alone, Riordan gave over 36 public talks at historical societies and sites around the State of Maine, from Madawaska to Scarborough, expertly weaving general political contexts with specific histories of the towns in which he speaks. As one observer described it, 'Dr. Riordan's work has encouraged the community to think more deeply about their personal histories, connections to one another, and the larger history of statehood and national politics.'" Of course, we in the History Department have known about this for years, and we are very gratified to see Professor Riordan awarded this much deserved distinction.
https://umaine.edu/las/2020/05/04/2020-clas-faculty-awards/
On May 2nd, the statewide National History Day in Maine contest for students in grades 6-12 was held as a virtual event. The History Department normally helps to host the event at UMaine each spring, but plans changed due to the ongoing pandemic. In spite of not being able to interview students and not benefiting from the energy of 350+ students, parents, and teachers in Wells Commons for the awards ceremony, the shift to virtual was surprisingly smooth and even had some advantages. Congratulations to all involved, and thank you to the more than dozen Department-affiliated folks who volunteered as judges and organizers.
You can view all student projects as well as watch the awards ceremony video at the links below.
NHD in Maine recorded Award Ceremony (34 minutes):
https://drive.google.com/file/d/1X9LYHOnfCtPuO6xLRaAsTwtARc53rd2z/view
NHD in Maine virtual showcase of all student research projects:
https://sites.google.com/maine.edu/nhd-in-me-state-contest/categories
Dr. Edward (Ned) Martin, UMaine History Ph.D. in 2014, has just published "Defining the Acceptable Bounds of Deception: Policing the Prize Game in the Northeastern Borderlands, 1812-1815." It is the opening chapter in Holly Karibo and George T. Diaz, eds., Border Policing: A History of Enforcement and Evasion in North America (University of Texas Press, 2020). Congratulations, Dr. Martin!
PhD student Darcy Stevens has received a generous research grant from the Massachusetts Society of the Cincinnati to support four weeks of research in residence at the Massachusetts Historical Society in the upcoming year. Her dissertation examines the meaning of "neutrality" over a long period of contested allegiance in the Northeastern Borderlands from Acadian removal in the 1750s to the American Revolution. Congratulations, Darcy!
April 2020
Brittany Kucera, double major in History and Anthropology, has been named one of the ten 2020 Outstanding Graduating Students at the University of Maine. Originally from Toronto, Ontario, Canada, Brittany is the Outstanding Graduating International Student in the College of Liberal Arts and Sciences. Congratulations, Brittany!
For the associated press release: https://umaine.edu/news/blog/2020/04/29/meet-the-2020-outstanding-graduating-students/
It has been announced that the New England Historical Association has awarded the 2020 NEHA Graduate Student Paper Prize to PhD candidate An Nguyen for her presentation entitled, "Peace Combatant: Mrs. Ngo Ba Thanh and the Quest for Vietnamese Independence and Women's Liberation," delivered last spring at the University of Southern Maine. According to the prize committee, it was particularly impressed with the rigorous depth of her research, her rich commitment to historiography, and the elegance of her writing. Congratulations, An!
Senior History major Hannah Deschenes will start an MA in History Museum Studies in the fall at the Cooperstown Graduate Program in New York, one of the oldest museum studies programs in the US. Hannah focussed on Indigenous-settler relations in the colonial period in her HTY 311 and HTY 498 independent research projects. Congratulations, Hannah!
We are pleased to announce that PhD student Hannah Schmidt won a very competitive external grant from the Society of Colonial Wars and Massachusetts Historical Society (MHS). The award supports four weeks of research, and includes a public presentation at the MHS in Boston. Hannah will be researching her dissertation topic "Identities Held Captive: Geography and Forced Migration in the Captivity Narratives of the Colonial Northeast." Congratulations, Hannah!
PhD alum Dr. Daniel Soucier, a research associate with the Margaret Chase Smith Policy Center, is the host of a new podcast titled "Maine Policy Matters," launched by the Center on April 6th. According to the press release, the aim of the podcast is to "inform public policy processes and promote civil discourse, integrity and societal decision-making to solve the critical issues facing the state and nation. The center also hopes to foster inclusive communication that will advance relationships between policymakers, community leaders, students, faculty and staff in the University of Maine System."
For the official announcement, see the full press release: https://umaine.edu/news/blog/2020/04/06/policy-center-launches-maine-policy-matters-podcast/
March 2020
The work of Dr. Micah Pawling and his collaborator James Francis, the Penobscot Nation's tribal historian, on the journey of Joseph Treat and John Neptune in 1820 was recently featured in a Bangor Daily News article. Congratulations to both!
For the full article: https://bangordailynews.com/2020/03/14/news/state/in-1820-one-man-journeyed-into-maines-great-unknown-the-other-paddled-through-home/
The History Department's work-study student Ivy Flessen, a third-year political science major, with minors in legal studies, ethics and political philosophy, has been chosen as one of the spring–fall 2020 Clement and Linda McGillicuddy Humanities Center undergraduate fellows. Fellows receive $4,000 a semester for two consecutive semesters while they work on their chosen humanities projects and serve as humanities ambassadors to peers, the campus and beyond. Congratulations, Ivy!
February 2020
Dr. Micah Pawling's research on Penobscot women and the tribal land tenure system in 19th-century Maine was recently featured on UMaine News. Be sure to check out this important research. Congratulations, Dr. Pawling!
January 2020
On Friday, January 31, the McGillicuddy Humanities Center hosted the "2020 Visions: The Humanities at UMaine" event at Buchanan Alumni House. The History Department was well represented by two undergrads, one graduate student, and two faculty members who all shared their research. Pictured is History/Math double major Matthew Ryckman discussing his poster about an 18th-century translator and popularizer of Euclid's geometry. Matthew will also be part of a panel on the history of Math at the Maine Science Festival in Bangor on Saturday, March 21.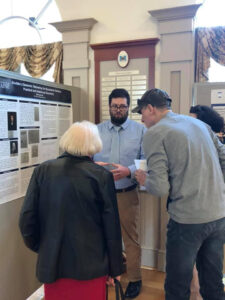 January 2020
We are delighted to share the news that History PhD student An Nguyen has received a Chase Distinguished Research Assistantship in support of her research on peace groups in South Vietnam and their efforts to function as a "third force" in bringing peace between communist insurgents and the South Vietnamese government. Graduate students from across UMaine apply for this prestigious award. It is a major accomplishment for An to have been chosen. Congratulations, An!
December 2019
In December 2019, PhD candidate Joseph Miller started a new job with the National Guard. He is now a senior historian for the National Guard in Northern Virginia, responsible for active historical collecting, writing monographs on contemporary contingency operations, executive-level advisement, and support for state-level research initiatives. Congratulations, Joseph!
MA alum Tyler Cline has published his third scholarly article, titled "'A Dragon, Bog-Spawned, Is Now Stretched O'er This Land': The Ku Klux Klan's Patriotic-Protestantism in the Northeastern Borderlands During the 1920s and 1930s," in the latest issue of the journal Histoire sociale/Social history. The article features research from his MA thesis, completed at UMaine. Congratulations, Tyler!
UMaine History's Fall 2019 Undergraduate Research Celebration was held on December 9 in the Bodwell Lounge of the Collins Center for the Arts. It was an opportunity for undergraduates at various points in their program of study to show the Department the research posters they have been working on throughout the semester. The event was well attended, with lots of fascinating poster projects for attendees to check out. Congratulations to all involved!
November 2019
Dr. Liam Riordan continues to do regular community engagement work supporting local planning to commemorate the bicentennial of the state of Maine. He gave a lecture to the Coastal Senior College at the Camden Public Library on Oct. 29, and led the opening session of a daylong event hosted by Downeast Acadia Regional Tourism, the Abbe Museum, and Castine History Partners on Oct. 30. Keep up the good work, Dr. Riordan!
October 2019
On Friday, Oct. 4, Dr. Liam Riordan helped to organize the annual UMaine student bus trip to attend the ARTober Kickoff event at the Bangor Arts Exchange, followed by a pizza reception and tour of the current shows at the UMaine Museum of Art. The event was well attended and deemed a great success.
Dr. Stephen Miller, currently on sabbatical, recently attended the 120-year Commemoration of the Anglo-Boer (South African) War International Conference in Bloemfontein, South Africa on 9-11 October 2019. The photo below, consisting of Dr. Miller and his colleagues, is some of the local press coverage of the conference.
This past weekend, Oct. 18-20, Dr. Mark McLaughlin and Dr. Mary Freeman led a group of UMaine History graduate students to the 20th annual UMaine-UNB International History Graduate Student Conference in Fredericton, NB; Dr. Freeman also gave the keynote lecture. Seven UMaine graduate students attended the conference, with six of them delivering papers. Those in attendance were MA students Erin Best, Sean Cox, and Dakota Gramour and PhD students Maggie Kontra-Emmens, Dylan O'Hara, Hannah Schmidt, and Darcy Stevens. The general consensus was the UMaine students delivered terrific and fascinating papers. We look forward to hosting this amazing event next year!
September 2019
The annual HTY 130 field trip to Mount Desert Island took place on Sunday, September 29. Organized by Dr. Mary Freeman and HTY 130 instructors Dr. Daniel Soucier and Lucretia Grindle, approximately 35 students from History and other academic units visited the MDI Historical Society, had free time in Bar Harbor, and then went on a historical walking tour of the town. From all accounts, it was a great success! A big thank you to the MDI Historical Society for all of their help in executing the event.
The accompanying photos are the students at the MDI Historical Society and on the walking tour.
Dr. Liam Riordan delivered opening comments on September 12 at a stakeholders planning meeting to discuss elevating public awareness of the exceptionally well-preserved site of Fort George from the American Revolution. The meeting was convened by the Castine Historical Society and held at the Wilson Museum in Castine, Maine.
The images provide a view of the fort drawn by a British engineer in 1780, and a detail from a landscape painting of the view from the fort by Fitz Henry Lane in 1856.
Dr. Mary Freeman will be giving a lecture in Boston at the Old South Meeting House next Tuesday, Sept. 17 as part of the Paul Revere Memorial Association's Lowell Lecture Series. The theme of the series is "Maine, Massachusetts, & Missouri: The Crisis that Reshaped New England and the Nation," and her lecture is titled "The Politics of Slavery in Maine Statehood." For more info: https://www.osmh.org/event/prma-lowell-lecture-series-maine-massachusetts-missouri917?fbclid=IwAR2Jv07NEyls-8xEQ9wNaAbnibhSJ6CtcPHDVoRJfg5f8xse1vB5oi1q4YQ
Elizabeth McKillen recently published:"The Irish Sinn Féin Movement and Radical Labor and Feminist Dissent in the United States, 1916-1921," Labor: Studies in Working-Class History 16:3 (September 1919): 11-37 and "Labor and U.S. Foreign Relations," Oxford Research Encyclopedia of American History, (August 2019): 1-29 at https://oxfordre.com/americanhistory/view/10.1093/acrefore/9780199329175.001.0001/acrefore-9780199329175-e-732?rskey=P6F4Nl&result=1
August 2019
PhD candidate An Nguyen has reviewed Olga Dror's Making Two Vietnams: War and Youth Identities, 1965-1975 (Cambridge University Press, 2018) for H-Net Reviews. Check out this excellent review here: https://www.h-net.org/reviews/showpdf.php?id=53615.
On August 14, Dr. Nathan Godfried, along with Dr. Gregory Bush (retired history professor, University of Miami), delivered a public lecture titled "Public Works and Crisis Management: FDR and the Legacy of the New Deal" at the the Blue Hill Public Library. The event was moderated by David Weiss, Executive Director, Northeast Historic Film.
"PhD candidate Elisa Sance has published a piece titled "Public schools and ratepayers in late 19th century New Brunswick: a linguistic divide?" on the Acadiensis blog. It is a sampling of some of her PhD research. Congratulations, Elisa!
For the full piece: https://acadiensis.wordpress.com/2019/08/09/public-schools-and-ratepayers-in-late-19th-century-new-brunswick-a-linguistic-divide/#more-2143"
July 2019
Dr. Long went to Porto, Portugal, to attend a conference entitled "The role culture, knowledge, and ideas in modernization and sustainable development" held on July 18 and 19 at the Great Hall (Salão Nobre) of the "Reitoria Univsersidade do Porto." Reitoria means rectory, or the administrative building of the University of Porto.
Below is a photo of Dr. Long presenting his paper in the Great Hall, which covers the entire area behind the facade of the Rectory where the banners are hung in the second photo.
Summer 2019 has been a busy research season for Dr. Anne Knowles. She had working meetings in Maine and Washington, DC, with members of the Holocaust Geographies Collaborative and directed the ongoing research of the multi-institutional Holocaust Ghettos Project. In July, Dr. Knowles attended two conferences in Europe, the International Conference on the History of Cartography in Amsterdam and "Cities and Regions in Flux," a specialist workshop on border changes and their impact in Southern and Central Europe. At "Cities in Flux," held in Rijeka, Croatia, Dr. Knowles gave the concluding keynote lecture, titled "How to Map People and Places in Extremis?"

May 2019

"On May 10, PhD candidate An Nguyen presented at the International Conference on War and Social Movements at the City University New York. Her presentation was titled "The Vietnam War and Women's Social Movement in Southern Vietnam (1968-75)." Congratulations, An!"
"With help from a McGillicuddy Faculty Grant, Dr. Joel Anderson traveled to Denmark in May, where he delivered an invited lecture at Aarhus University and conducted research on medieval manuscripts housed at the Arnamagnaean Institute in Copenhagen. Pictured: 1) late-medieval chalk paintings inside Aarhus' Cathedral, 2) at the Viking Ship Museum in Roskilde. You can learn more about the fascinating worlds of Viking and medieval Scandinavia in HTY 427: Vikings!, which will be offered this coming spring (2020)."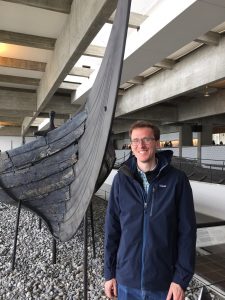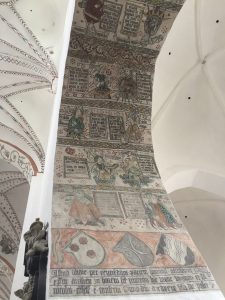 "Maine's official 200th birthday is coming up on March 15, 2020. As part of the commemoration of the statehood process, Professor Liam Riordan organized the Maine Bicentennial Conference, which was held at UMaine from May 30 to June 1, 2019. The multi-day program was very well attended and included two concerts, scholarly panels on a diverse range of topics, and the Maine History Festival (a community engagement event for non-academics) that was co-hosted by the Osher Map Library at the University of Southern Maine and by the Maine Folklife Center at UMaine.
Lots of material from the Bicentennial Conference has been archived at Fogler Library's Digital Commons and is available online. For example, abstracts of panel papers and complete video footage of the opening concert on early Maine music by the DaPonte String Quartet, the keynote, and all seven scholarly panels. For conference resources, please visit: https://digitalcommons.library.umaine.edu/me200/
We anticipate a special state bicentennial issue of Maine History to be published in 2020 as well as a collection of essays in book form that will give continued attention to the statehood process and its commemoration."
April 2019
On April 27, the annual Maine National History Day State Competition was held at the University of Maine. Close to 300 students, ranging from grades 6 to 12, participated in the competition, in a variety of categories, from website to performance. It's great to see so many young people get excited about history! And a big thank you goes out to all the volunteers and funding institutions. We look forward to next year's competition!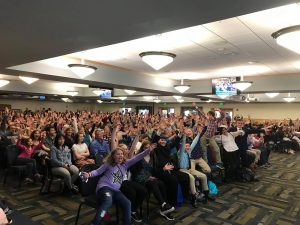 On May 1st, recently-defended PhD candidate Daniel Soucier started his new position of Research Associate with the Margaret Chase Smith Policy Center at the University of Maine. Congratulations, Daniel!
Dr. Nathan Godfried's article, "'Voice of the People': Sidney Roger, the Labor/Left, and Broadcasting in San Francisco, 1945-1950," has been published in American Communist History.  The online version is available now, and the print issue will appear later in the year. Congratulations, Dr. Godfried!
MA alum Tyler Cline will be joining the PhD in History program at the University of Florida in Fall 2019. He will be working on the intellectual roots of nativism in the North Atlantic (US, Canada, and Britain) during the 18th and 19th centuries with Dr. Jessica Harland-Jacobs. He's also received a Graduate School Funding Award, a top-up fellowship that will fund him year-round for both teaching and research years. Congratulations, Tyler!
Dr. Anne Knowles and her co-author Levi Westerveld, a cartographer and data analyst at GRID-Arendal (Norway), have won first place in the 2019 Avenza Cartography Competition for their map I Was There: Places of Experience in the Holocaust. The four judges were Cynthia Brewer, Penn State University; Ted Florence, Avenza Systems; Debbie Gibbons, National Geographic; and Lauren Tierney, The Washington Post. The map was published earlier this year online at https://visionscarto.net/i-was-there. Congratulations, Dr. Knowles!
The South African Historical Journal has just published the online edition of Dr. Stephen Miller's article, "Edgar Wallace's War: Reporting and Making the News in South Africa, 1898–1902." Congratulations, Dr. Miller!
For the online version of the article: https://www.tandfonline.com/eprint/u45wdDIN5DTzztJrz3Qt/full?target=10.1080/02582473.2019.1601249
March 2019
Dr. Ngo Vinh Long has been selected as the UMaine College of Liberal Arts and Sciences Outstanding Faculty Member in the area of Research and Creative Achievement for 2019. There are many exceptional faculty members within CLAS, so this is a notable recognition. Congratulations, Dr. Long!
We are pleased to highlight that Dr. Michael Lang has been awarded a fellowship at the Schusterman Center for Israel Studies at Brandeis University. This summer, he will be studying the history of Zionism at Brandeis and in Israel. Congratulations, Dr. Lang!
We are very pleased to highlight that History alum Dr. Rebecca White has accepted a tenure-track Assistant Professor of History position at the University of Maine at Augusta. Her focus will be U.S. and Women, Gender, and Sexuality history. Congratulations, Dr. White!
February 2019
We are pleased to highlight that former MA student Thomas MacMillan has been accepted into the PhD program at Concordia University in Montreal for the 2019-2020 academic year. He has proposed a transnational look at labor unions in the US and Canada and their various approaches and/or opposition to socialism and communism. His advisor will be Dr. Steven High, and he has received the Faculty of Arts and Science PhD Fellowship, the Concordia International Tuition Award of Excellence, and a Teaching Assistantship for their History Skills Workshop courses. Congratulations, Thomas!
On Tuesday, February 5, Dr. Mary Freeman represented the Department at the 2019 Maine Museums Day in Augusta. Maine Museums Day is an opportunity to celebrate and advocate for our state's many museums, historical societies, and archives. The UMaine History Department was a sponsor of the event, and it was a great chance for us to connect with local historical institutions and meet some of our state's representatives. We look forward to working together on future projects and internship opportunities for our undergraduate and graduate students!
In the photos, the UMaine History table/display is the one with the red table cloth, with a prime location beside the Maine Country Music Hall of Fame!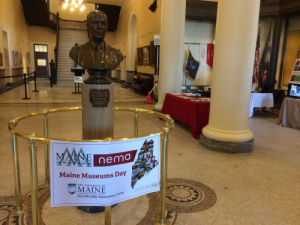 Dr. Mark McLaughlin has published an article, titled "'Not An Easy Thing to Implement': The Conservation Council of New Brunswick and Environmental Organization in a Resource-Dependent Province, 1969-1983," in the edited collection Environmental Activism on the Ground: Small Green and Indigenous Organizing (University of Calgary Press, 2019). Congratulations, Dr. McLaughlin!
For an open-access (free) version of Dr. McLaughlin's article: https://prism.ucalgary.ca/ds2/stream/?#/documents/8f23f29f-4cf6-4a9e-97b6-4bd9c5ac3402/page/1
We are pleased to highlight that History major Ryan Byers has won a Center for Military History Cadet Internship for the Summer of 2019. Ryan will be cataloging primary source documents at Fort Eustice, Virginia. Congratulations, Ryan!
January 2019
Prof. Stephen Miller has published an article (online version) titled "British Surrenders and the South African War, 1899–1902" with the journal War and Society. Congratulations, Prof. Miller!
For the full article: https://www.tandfonline.com/eprint/rGbneWKW6sRTjXMivp5N/full?target=10.1080/07292473.2019.1566980
November 2018
We are pleased to highlight that PhD student An Nguyen has been has been awarded a Samuel Flagg Bemis Dissertation Research Grant by the Society for Historians of American Foreign Relations. Congratulations, An!
Earlier this year, we announced that a paper written by History major Jennifer Munson, titled "The Dieppe Raid: Avoidable Disaster or Lesson in Amphibious Assault?", for Dr. Mark McLaughlin's HTY 460: Modern Canada in Spring 2018 had been accepted for publication in the Armstrong Undergraduate Journal of History. It has now been published, and you can find a copy of the paper here: https://armstronghistoryjournal.wordpress.com/…/the-dieppe…/
Congratulations again, Jennifer!
We are excited to announce that the American Indian Quarterly published the work of one of our esteemed faculty, Dr. Micah Pawling! His article, titled "A Labyrinth of Uncertainties," was featured in the most recent issue in its entirety. Our congratulations go out to Dr. Pawling!
To read the article, click here: https://muse-jhu-edu.prxy4.ursus.maine.edu/article/708887
The History Department was thrilled to hear that the work of one of our own graduate students, An T. Nguyen, was recently published Critical Asian Studies Journal! Entitled "The Vietnam Women's Movement for the Right to Live: a Non-Communist Opposition Movement to the War in Vietnam," her piece explores the socio-political challenges of urban South Vietnam through the lens of activist Vietnamese women in wartime. Congratulations, An!
The full article can be downloaded and read here: https://www.tandfonline.com/eprint/8QFEIUXfvyA4Hk2rUfzB/full
We are pleased to highlight that Dr. Asif Nawaz, one of the new faculty members with the Department, has been awarded more than $2,000 for faculty development by the Bangor Savings Bank/LoRusso Review Committee. He will use the money to travel to academic conferences, including the 60th meeting of the International Studies Association in Toronto, Ontario in March 2019. Congratulations, Dr. Nawaz!
October 2018
MA alum Tyler Cline's research has been used extensively in an Acadie Nouvelle article on the history of the Ku Klux Klan in New Brunswick. Congratulations, Tyler!
For the newspaper article, in French, and potentially behind a paywall, click here: https://www.acadienouvelle.com/actualites/2018/09/28/les-beaux-jours-du-ku-klux-klan-au-nouveau-brunswick/
September 2018
At the beginning of each semester, Edge Effects, a digital magazine produced by the Center for Culture, History, and Environment at the University of Wisconsin–Madison, produces a feature in which environmental scholars recommend the books they are most excited to be teaching in the weeks ahead. This fall's version features Dr. Claire Campbell of Bucknell University recommending Dr. Micah Pawling's Wabanaki Homeland and the New State of Maine. Congratulations, Dr. Pawling!
For the complete list of books: http://edgeeffects.net/faculty-favorites-fall-2018/
We are very pleased to highlight that a research essay written by History major Jennifer Munson for Dr. Mark McLaughlin's HTY 460: Modern Canada in Spring 2018, on the failed Dieppe Raid during the Second World War, is going to be published in the Armstrong Undergraduate Journal of History in November. Congratulations, Jennifer!
September 2018
Dr. Long just returned from Da Nang, the third largest city in Vietnam. He attended a conference on "The resistance by Da Nang to French and Spanish forces from 1858-1860: Past and Present."
The purpose of the conference was to analyze how and why these attacks led to the conquest of the southern provinces of Vietnam in the late 1860's and the eventual colonization of Vietnam in the early 1880's as well as lessons to be learned for current situations.
There were more than 100 scholars and delegates from all over Vietnam at the conference in Da Nang. A compendium of the papers (404 pages in length) was published and distributed to conference participants and the press. My paper drew the most attention from scholars and the press. It was immediately picked up by many sources inside and outside Vietnam. Here is a link:
https://www.diendan.org/phe-binh-nghien-cuu/vi-tri-dia-chinh-tri-cua-da-nang-nam-1858-va-ngay-nay
The University of Maine and the Department of History were frequently mentioned.