Faculty and Student News
April 2019
On April 27, the annual Maine National History Day State Competition was held at the University of Maine. Close to 300 students, ranging from grades 6 to 12, participated in the competition, in a variety of categories, from website to performance. It's great to see so many young people get excited about history! And a big thank you goes out to all the volunteers and funding institutions. We look forward to next year's competition!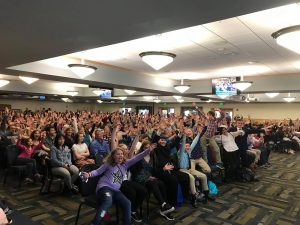 On May 1st, recently-defended PhD candidate Daniel Soucier started his new position of Research Associate with the Margaret Chase Smith Policy Center at the University of Maine. Congratulations, Daniel!
Dr. Nathan Godfried's article, "'Voice of the People': Sidney Roger, the Labor/Left, and Broadcasting in San Francisco, 1945-1950," has been published in American Communist History.  The online version is available now, and the print issue will appear later in the year. Congratulations, Dr. Godfried!
MA alum Tyler Cline will be joining the PhD in History program at the University of Florida in Fall 2019. He will be working on the intellectual roots of nativism in the North Atlantic (US, Canada, and Britain) during the 18th and 19th centuries with Dr. Jessica Harland-Jacobs. He's also received a Graduate School Funding Award, a top-up fellowship that will fund him year-round for both teaching and research years. Congratulations, Tyler!
Dr. Anne Knowles and her co-author Levi Westerveld, a cartographer and data analyst at GRID-Arendal (Norway), have won first place in the 2019 Avenza Cartography Competition for their map I Was There: Places of Experience in the Holocaust. The four judges were Cynthia Brewer, Penn State University; Ted Florence, Avenza Systems; Debbie Gibbons, National Geographic; and Lauren Tierney, The Washington Post. The map was published earlier this year online at https://visionscarto.net/i-was-there. Congratulations, Dr. Knowles!
The South African Historical Journal has just published the online edition of Dr. Stephen Miller's article, "Edgar Wallace's War: Reporting and Making the News in South Africa, 1898–1902." Congratulations, Dr. Miller!
March 2019
Dr. Ngo Vinh Long has been selected as the UMaine College of Liberal Arts and Sciences Outstanding Faculty Member in the area of Research and Creative Achievement for 2019. There are many exceptional faculty members within CLAS, so this is a notable recognition. Congratulations, Dr. Long!
We are pleased to highlight that Dr. Michael Lang has been awarded a fellowship at the Schusterman Center for Israel Studies at Brandeis University. This summer, he will be studying the history of Zionism at Brandeis and in Israel. Congratulations, Dr. Lang!
We are very pleased to highlight that History alum Dr. Rebecca White has accepted a tenure-track Assistant Professor of History position at the University of Maine at Augusta. Her focus will be U.S. and Women, Gender, and Sexuality history. Congratulations, Dr. White!
February 2019
We are pleased to highlight that former MA student Thomas MacMillan has been accepted into the PhD program at Concordia University in Montreal for the 2019-2020 academic year. He has proposed a transnational look at labor unions in the US and Canada and their various approaches and/or opposition to socialism and communism. His advisor will be Dr. Steven High, and he has received the Faculty of Arts and Science PhD Fellowship, the Concordia International Tuition Award of Excellence, and a Teaching Assistantship for their History Skills Workshop courses. Congratulations, Thomas!
On Tuesday, February 5, Dr. Mary Freeman represented the Department at the 2019 Maine Museums Day in Augusta. Maine Museums Day is an opportunity to celebrate and advocate for our state's many museums, historical societies, and archives. The UMaine History Department was a sponsor of the event, and it was a great chance for us to connect with local historical institutions and meet some of our state's representatives. We look forward to working together on future projects and internship opportunities for our undergraduate and graduate students!
In the photos, the UMaine History table/display is the one with the red table cloth, with a prime location beside the Maine Country Music Hall of Fame!
Dr. Mark McLaughlin has published an article, titled "'Not An Easy Thing to Implement': The Conservation Council of New Brunswick and Environmental Organization in a Resource-Dependent Province, 1969-1983," in the edited collection Environmental Activism on the Ground: Small Green and Indigenous Organizing (University of Calgary Press, 2019). Congratulations, Dr. McLaughlin!
For an open-access (free) version of Dr. McLaughlin's article: https://prism.ucalgary.ca/ds2/stream/?#/documents/8f23f29f-4cf6-4a9e-97b6-4bd9c5ac3402/page/1
We are pleased to highlight that History major Ryan Byers has won a Center for Military History Cadet Internship for the Summer of 2019. Ryan will be cataloging primary source documents at Fort Eustice, Virginia. Congratulations, Ryan!
January 2019
Prof. Stephen Miller has published an article (online version) titled "British Surrenders and the South African War, 1899–1902" with the journal War and Society. Congratulations, Prof. Miller!
For the full article: https://www.tandfonline.com/eprint/rGbneWKW6sRTjXMivp5N/full?target=10.1080/07292473.2019.1566980
November 2018
We are pleased to highlight that PhD student An Nguyen has been has been awarded a Samuel Flagg Bemis Dissertation Research Grant by the Society for Historians of American Foreign Relations. Congratulations, An!
Earlier this year, we announced that a paper written by History major Jennifer Munson, titled "The Dieppe Raid: Avoidable Disaster or Lesson in Amphibious Assault?", for Dr. Mark McLaughlin's HTY 460: Modern Canada in Spring 2018 had been accepted for publication in the Armstrong Undergraduate Journal of History. It has now been published, and you can find a copy of the paper here: https://armstronghistoryjournal.wordpress.com/…/the-dieppe…/
Congratulations again, Jennifer!
We are excited to announce that the American Indian Quarterly published the work of one of our esteemed faculty, Dr. Micah Pawling! His article, titled "A Labyrinth of Uncertainties," was featured in the most recent issue in its entirety. Our congratulations go out to Dr. Pawling!
To read the article, click here: https://muse-jhu-edu.prxy4.ursus.maine.edu/article/708887
The History Department was thrilled to hear that the work of one of our own graduate students, An T. Nguyen, was recently published Critical Asian Studies Journal! Entitled "The Vietnam Women's Movement for the Right to Live: a Non-Communist Opposition Movement to the War in Vietnam," her piece explores the socio-political challenges of urban South Vietnam through the lens of activist Vietnamese women in wartime. Congratulations, An!
The full article can be downloaded and read here: https://www.tandfonline.com/eprint/8QFEIUXfvyA4Hk2rUfzB/full
We are pleased to highlight that Dr. Asif Nawaz, one of the new faculty members with the Department, has been awarded more than $2,000 for faculty development by the Bangor Savings Bank/LoRusso Review Committee. He will use the money to travel to academic conferences, including the 60th meeting of the International Studies Association in Toronto, Ontario in March 2019. Congratulations, Dr. Nawaz!
October 2018
MA alum Tyler Cline's research has been used extensively in an Acadie Nouvelle article on the history of the Ku Klux Klan in New Brunswick. Congratulations, Tyler!
September 2018
At the beginning of each semester, Edge Effects, a digital magazine produced by the Center for Culture, History, and Environment at the University of Wisconsin–Madison, produces a feature in which environmental scholars recommend the books they are most excited to be teaching in the weeks ahead. This fall's version features Dr. Claire Campbell of Bucknell University recommending Dr. Micah Pawling's Wabanaki Homeland and the New State of Maine. Congratulations, Dr. Pawling!
We are very pleased to highlight that a research essay written by History major Jennifer Munson for Dr. Mark McLaughlin's HTY 460: Modern Canada in Spring 2018, on the failed Dieppe Raid during the Second World War, is going to be published in the Armstrong Undergraduate Journal of History in November. Congratulations, Jennifer!
September 2018
Dr. Long just returned from Da Nang, the third largest city in Vietnam. He attended a conference on "The resistance by Da Nang to French and Spanish forces from 1858-1860: Past and Present."
The purpose of the conference was to analyze how and why these attacks led to the conquest of the southern provinces of Vietnam in the late 1860's and the eventual colonization of Vietnam in the early 1880's as well as lessons to be learned for current situations.
There were more than 100 scholars and delegates from all over Vietnam at the conference in Da Nang. A compendium of the papers (404 pages in length) was published and distributed to conference participants and the press. My paper drew the most attention from scholars and the press. It was immediately picked up by many sources inside and outside Vietnam. Here is a link:
https://www.diendan.org/phe-binh-nghien-cuu/vi-tri-dia-chinh-tri-cua-da-nang-nam-1858-va-ngay-nay
The University of Maine and the Department of History were frequently mentioned.