Maine National History Day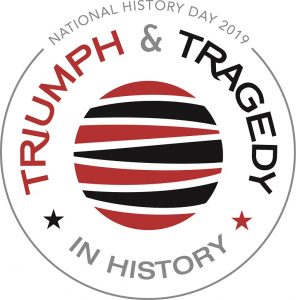 Maine National History Day (NHD) is an annual event for teachers and students in grades 6-12 that promotes critical thinking skills through project-based learning.  The 2019 contest theme is "Triumph & Tragedy." The next state contest will be hosted at the University of Maine campus in Orono on Saturday, April 27, 2019. Top award winners in the state contest qualify for the national contest in Washington, DC, in June.
2019 Regional County List–Final
2018 NHD Maine State Contest Winners
2018 NHD in Maine Special Contest Winners
More Information on 'Triumph & Tragedy'
National History Day Winners List
For more information please contact Maine NHD State Coordinator John Taylor:
Phone: 207-474-7133
Email:  john.m.taylor@maine.edu 
UMaine History Scholarship Award
What makes Maine NHD Possible?
Maine National History Day is co-organized by the University of Maine and the Margaret Chase Smith Library.  This year-long educational program for grade 6-12 students is made possible by the support of organizations and individuals throughout the state.  The major financial contributors this season are the Margaret Chase Smith Foundation, Museum LA, John Bapst Memorial High School, four units from UMaine, Orono (the College of Liberal Arts & Sciences, the College of Education and Human Development, the UMaine Humanities Center, and the Department of History), the Maine Masonic College, the Maine Humanities Council, and the Maine Historical Society. In addition, donations of time and money from scores of schools, teachers, parents, students, and local historical societies and cultural organizations from across the state make the program possible.
Please Donate to Support Maine NHD
To make a tax-deductible financial contribution to Maine National History Day, please make your check payable to the University of Maine, add National History Day to the memo line, and mail it to:
University of Maine Foundation
Buchanan Alumni House
Two Alumni Place
Orono, ME 04469-5792