Prof. Ngo Vinh Long
Photograph taken by Long's youngest son, Nhan.
It is with great sadness that we announce the passing of UMaine History Professor Ngo Vinh Long who died after a brief illness on 12 October 2022.
Long was born and grew up in Vietnam and in 1964 won a scholarship to study at Harvard University where he completed his Ph.D dissertation on modern Vietnamese history.  While pursuing his graduate studies, Long joined the Anti-Vietnam War movement and played a leading role in the protests against that war. He spoke at many rallies, appearing along major figures including Noam Chomsky, Howard Zinn, and Jane Fonda.
Long was an internationally reputable expert of Vietnamese history and Asian contemporary politics.  In 1968, while still a graduate student he published his first book, Before the Revolution: The Vietnamese Peasants Under the French (M.I.T. Press, 1968; Re-issued by Columbia Press in 1991.)  He appeared in many international forums and authored numerous books and articles in English and Vietnamese.  He returned regularly to Vietnam to research and conduct interviews, to teach at the University of Hanoi, and to organize workshops, focusing on questions of current economic development and government policies.
In 1985, Long joined the University of Maine where he taught a variety of courses on East Asian and Southern Asian history. He is best remembered for his popular course on the US War in Vietnam.  He also taught graduate seminars and mentored several graduate students. Long regularly shared his expertise with the University community, delivering many lectures on contemporary East Asian politics on the campus of the University of Maine and in Bangor.
Long was a dedicated member of the University Maine History Department, devoted to his students and his family.  He was a gifted photographer, poet, guitarist, cook, and had a great sense of humor – always ready to deliver a pun!
We will miss him very much.
Alex Grab, Professor Emeritus
History Department
The History Department at the University of Maine offers both undergraduate and graduate programs leading to the degrees of Bachelor of Arts, Master of Arts, and Doctor of Philosophy.
We offer a wide variety of chronological, geographical, and thematic courses that enhance individuals' understanding of themselves and the contemporary world by expanding their experiences to include the experiences of other peoples, both past and present. These courses range from ancient times to the present, cover most geographical regions of the world, and allow topical specialties ranging from women's and environmental history to military and labor history. History graduates find employment in a wide range of occupations. Traditionally, they have gone into teaching and education careers in primary and secondary schools and, with appropriate graduate-level training, colleges and universities. More recently, increasing numbers of history graduates are finding their way into private and public non-profit organizations and agencies, such as museums, archives and libraries, research and service institutions, legislative bodies, and planning agencies. Others find career opportunities in the private sector, including publishing, journalism and broadcasting, and law firms; in fact, history is an ideal pre-law major.
__________________________________________________________________
Please click below to see what our faculty and students are doing.
Fall 2022 History Department Poster Event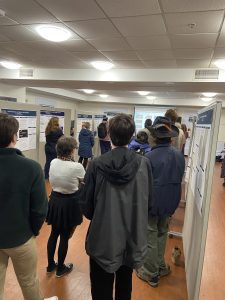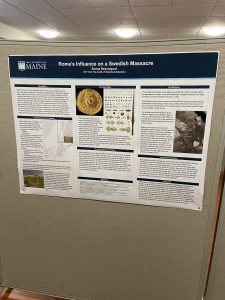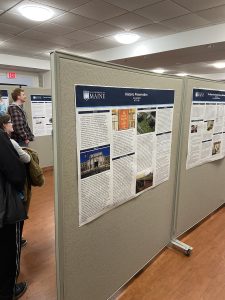 Statement Regarding the Protests Against Racism and Police Violence
History is Not a Useless Major by Paul B. Sturtevant
Congratulations to the 2023 Phi Alpha Theta Inductees!
Dustin Alward, Konner R. Boucher, JG Connolly, Kjersti Conway, Maura Cavo, Anthony Fabrizio, EA Feeney, Timothy Lake, Katy Misiaszek, Lydia Pease, Sean Pigott, Lauren Potter, Katharine Poulin
Department of History 2023 Awards and Scholarships
Undergraduate Awards:
The Ronald F. Banks Scholarship
Jack Lander
The John J. Nolde Memorial Prize
Tom Pinette
The Caroline Colvin Scholarship
Julian Malkin
The Roger B. Hill Scholarship
Madison Humphrey
The Laurence Evans and Elizabeth Taylor Evans Award
Lauren Potter
Charles J. Dunn Scholarship
James Bilella
Outstanding Senior Theses
James Jarvis, Lauren Potter, Rory Burmeister
The Nancy R. Johnson Memorial Prize in Ancient History
Chappy Hall
Graduate Awards:
The Chase Distinguished Assistantship
Dylan O'Hara, Maja Kruse
The Ipsen-Weiner Memorial Scholarship
Greg Gaines
New England-Atlantic Provinces-Quebec Fellowship
Darcy Stevens
Bowen Scholarship in Canadian History
Maggie Kontra-Emmens
Frances Robinson Mitchell Schlolarship

James Bilella
History Department Gift Account Award
An Nguyen
Photos from Award Ceremony: