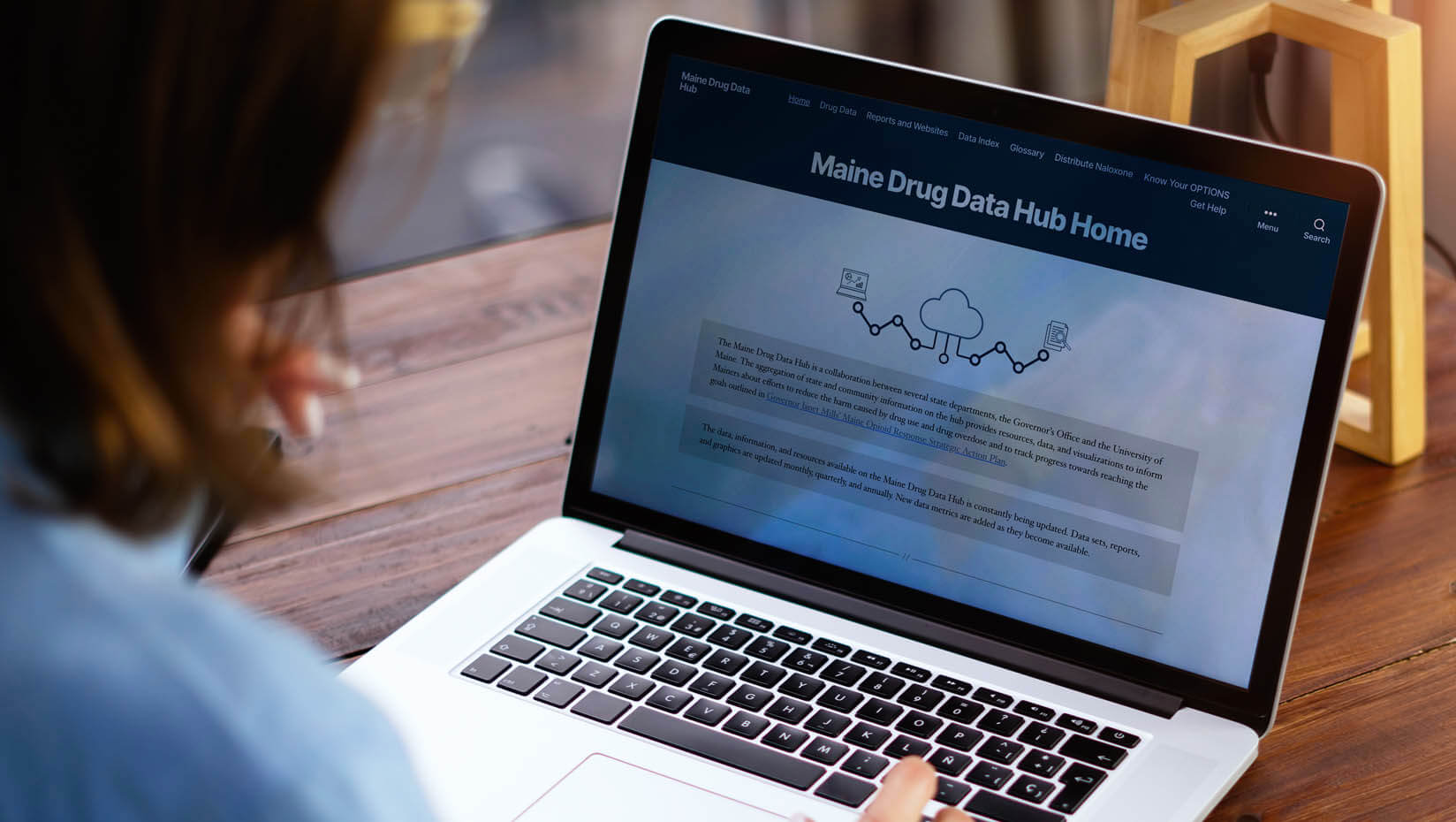 Governor's Office of Innovation, UMaine, DHHS launch Maine Drug Data Hub  
A new online drug data hub for Maine with the potential to improve care, inform policy and ultimately save lives is the latest impactful tool in response to the state's opioid epidemic.
Maine Drug Data Hub, designed to maximize the collection of actionable data and evaluate the impact of interventions, was established through a partnership among the Governor's Office of Policy Innovation and the Future, the Office of the Attorney General, the University of Maine, and several state agencies. A presentation on the new website at 11:30 a.m., May 7, as part of the Governor's Opioid Response Summit webinar series, will introduce the benefits to clinicians, researchers, grant writers, policymakers and anyone interested in how the state is addressing the epidemic of substance use disorders. Registration is online.
"Our Opioid Response Strategic Plan highlights data collection, analysis and timely communication as one of five crosscutting values that are foundational to each of our areas of focus: Prevention, Treatment, Harm Reduction and Recovery Support," says Gordon Smith, the state's director of opioid response, who led the creation of Maine Drug Data Hub in partnership with UMaine's Margaret Chase Smith Policy Center's Drug and Alcohol Research Program, and the Maine Department of Health and Human Services, Office of Behavioral Health.
"This project would not have been possible without the efforts of Marcella Sorg, Ph.D., and the University of Maine team, and Rebecca Taylor, deputy director for research and evaluation at the Office of Behavioral Health within DHHS," Smith says.
Maine Drug Data Hub links to data, reports and other dashboards related to drug problems and related Maine policies. It integrates data from public health, public safety, corrections and the judicial system using the 2021 Maine Opioid Response Strategic Plan as a framework. It also provides special "use-case" portals for ease of use by policymakers, media and clinicians.
The site is a dynamic, interactive hub for monthly data updates, policy analyses and public communication. This summer, it will include a GIS story-maps approach, with narratives geared to substance use problems, and policy solutions and evaluation. In addition, interactive and static policy briefs will provide temporal and spatial analysis of the data provided by the various state agencies involved in the opioid response, and foster greater transparency and understanding of the meaning of the data and how the state is addressing drug-related issues.
The Maine Drug Data Hub is maintained by UMaine's Drug and Alcohol Research Program, led by Sorg, a UMaine research professor. Funding for the website comes from the DHHS Office of Behavioral Health through the Overdose Data to Action grant.
"We are excited to partner with the Office of Behavioral Health in their efforts to integrate the data from the many agencies working on substance use issues, and leverage that information to create better understanding and better solutions," says Sorg, whose team includes website project manager Daniel Soucier, a research associate at the Margaret Chase Smith Policy Center.
"The aggregation of state and community information on the hub provides resources, data and visualization to inform Mainers about efforts to reduce the harm caused by drug use and drug overdose and to track progress toward reaching the goals outlined in the state's Maine Opioid Response Strategic Action Plan," Soucier says.
Since 2003, UMaine's nationally recognized Drug and Alcohol Research Program has issued monthly, quarterly and annual drug overdose reports. It also manages the State Unintentional Drug Overdose Reporting System (SUDORS) and has relationships with many of the data gatekeepers that reside across the public safety and public health sectors of the state government. As a result, UMaine was able to provide a technological solution to how to establish data flows with various data gatekeepers, where the data was to be housed and how to best represent that data for public consumption, Soucier says.
"By combining easily discoverable data from across public health and public safety partners, the Hub provides insights for the public and to policymakers that are not available by viewing one data source by itself," Soucier says.
For more information, contact Marcella Sorg, mhsorg@maine.edu or Rebecca Taylor, rebecca.a.taylor@maine.gov.
Contact: Margaret Nagle, nagle@maine.edu