The Clement and Linda McGillicuddy Humanities Center Undergraduate Fellowship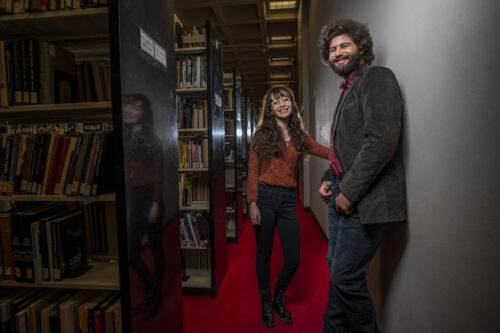 Overview
The McGillicuddy Humanities Center Undergraduate Fellows program offers junior and senior humanities students the support needed to concentrate on their coursework and develop research projects, work collaboratively with a select group of peers, participate in interdisciplinary humanities programs, and gain professional skills. Fellows attend, help plan, and promote the Center's various programs, putting them in meaningful contact with their peers and faculty, as well as the public. Fellows also act as student representatives of the Center's mission on campus and in the community.
Benefits
Fellows will receive $4000 each per semester for two consecutive semesters. Fellows will work individually with Financial Aid to ensure their eligibility to accept the MHC Undergraduate Fellowship. An MHC Undergraduate Fellowship can be rescinded after the first semester if the Fellow does not fulfill the duties as outlined above.
Duration and Duties
Fellowships last two consecutive semesters (fall/spring or spring/fall, to create ongoing overlap of activity and personnel). In addition to attending MHC events and programs, fellows participate in a bi-weekly group meeting with a Fellows Coordinator (MHC humanities professional, faculty member, MHC Director) to discuss their coursework, research, and MHC's programs. Fellows must give one live presentation to a campus audience on their research, and attend an annual Fellows luncheon or dinner event (TBA). Fellows are selectively permitted use of the Center's space in South Stevens Hall for study or other research-related purposes.
Application Process
We have recently updated the fellowship application process. Guidelines for what information should be included in your proposal, and how it should be formatted, are available below. The document also includes guidelines and instructions for your faculty advisor's letter of support, which is to be mailed separately from your application to mhc@maine.edu. Applications are invited annually in October and March, and are evaluated by a team of faculty advisors based on the rubric available below. Fellowships are competitive but are based on the strength of one's ideas and research plans, not the strength of one's GPA.  We fund up to eight MHC Undergraduate Fellows at a time.
DEADLINE EXTENDED!!
Applications and proposals for Spring/Fall 2021 Fellowships are now due October 28.
The application portal can be found following the application instructions and rubric below.
We also advise reading over the below rubric that our selection committee will use to determine which projects receive funding. Use this rubric as a guide to ensure you are submitting a competitive, concise, and clear proposal.
Once a pdf of your proposal is ready to submit, with the appropriate sections and formatting requirements, you can apply below through our application portal. After answering a few basic questions about yourself and your research, you will be prompted to upload your proposal pdf and any supporting documents.
Questions regarding the application process? Email us!
MHC Director, Michael Socolow, michael.socolow@maine.edu
MHC Humanities Specialist, Karen Sieber, karen.sieber@maine.edu