The Clement and Linda McGillicuddy Humanities Center Undergraduate Fellowship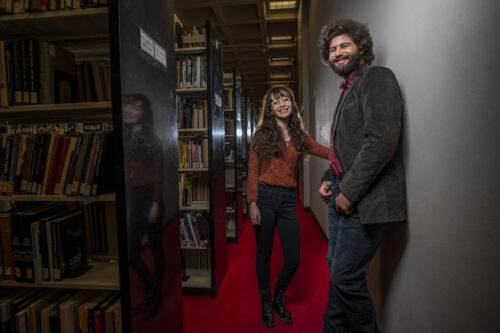 The McGillicuddy Humanities Center Undergraduate Fellows program offers juniors and seniors the opportunity to work on independent research or creative projects in the humanities. Fellows are also expected to attend meetings, collaborate and build relationships with their cohort, participate in interdisciplinary humanities programs, and act as student representatives of the humanities on campus. Fellowships last two consecutive semesters (fall/spring or spring/fall) to create overlap.
We fund up to eight MHC Undergraduate Fellows at a time. Fellows receive $4000 each per semester, or $8000 in total, and must present the outcome of their work to a public audience upon culmination of their fellowship term. Fellows will work individually with Financial Aid to ensure they are eligible to accept the MHC Undergraduate Fellowship. An MHC Undergraduate Fellowship can be rescinded after the first semester if the Fellow does not fulfill the duties as outlined above.
There are two opportunities to apply each year, on March 17 and October 17. We have recently updated the fellowship application process. Guidelines for what information should be included in your proposal, and how it should be formatted, are available below. The document also includes instructions for your faculty advisor's letter of support, which is to be mailed separately from your application to mhc@maine.edu. Applications are evaluated by a team of faculty advisors based on the rubric available below. Fellowships are competitive but are based on the strength of one's ideas and research plans, not the strength of one's GPA. Use the formatting instructions and rubric below as a guide to ensure you are submitting a competitive, concise, and clear proposal.
Applicants for the MHC Fellowship should follow the steps outlined below:
Complete the Google Form linked below (note that if the form is inactive, the application cycle has not yet begun), and upload your Fellowship Proposal. Instructions and formatting guidelines are available below.
Arrange for your faculty mentor/project supervisor to send a letter of support to mhc@maine.edu.
Once a pdf of your proposal is ready to submit, with the appropriate sections and formatting requirements listed above, you can apply through our application portal below. If no portal appears, the cycle has not opened yet. The application portal generally opens one month prior to the deadline. After answering a few basic questions about yourself and your research, you will be prompted to upload your proposal pdf and any supporting documents.
The Spring 2023 MHC Undergraduate Fellowship Competition is closed.
Check back in Fall 2023!
Questions regarding the application process and how to craft a winning proposal? 
Email our Humanities Specialist Brian Jansen at brian.jansen@maine.edu.