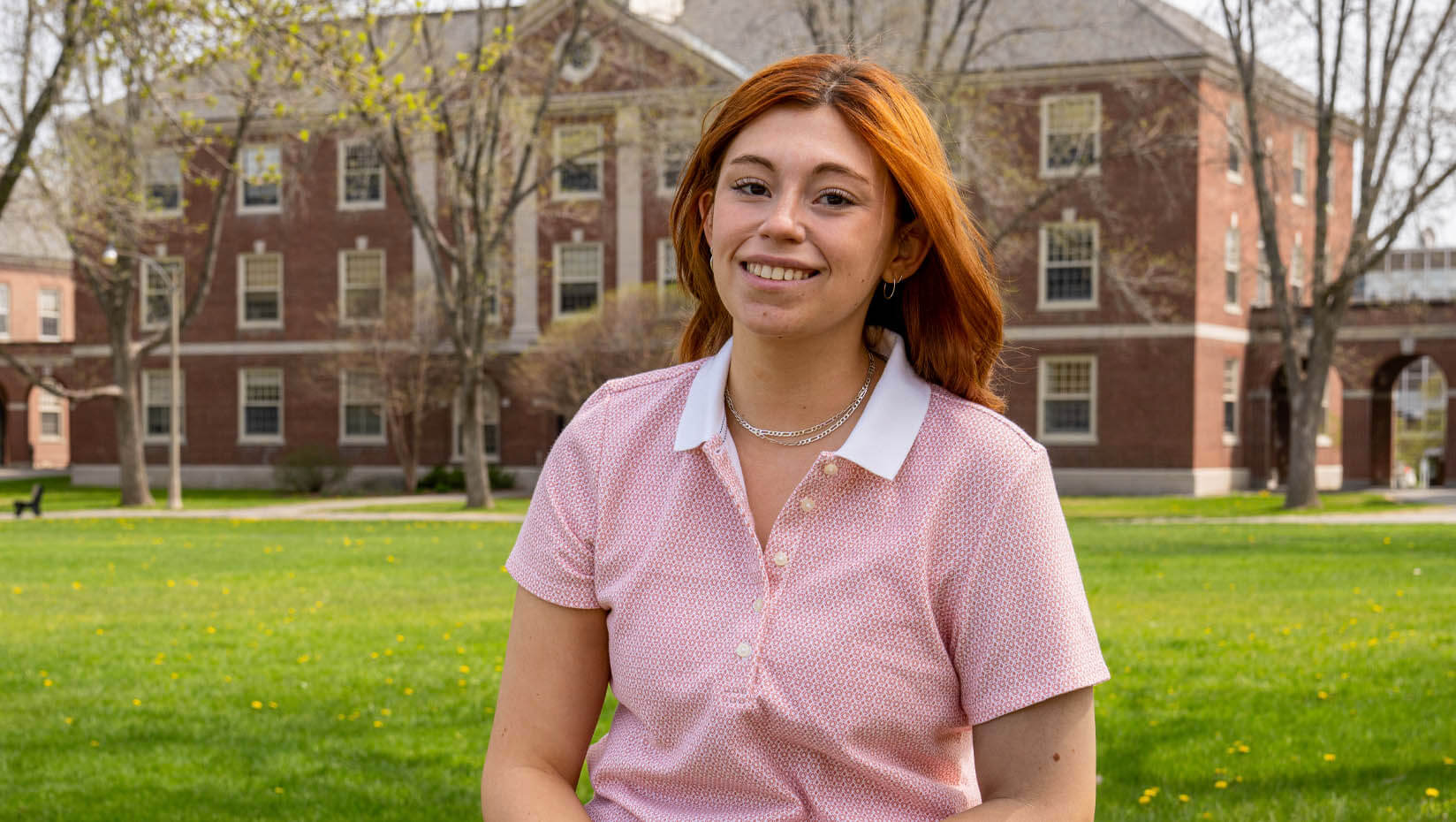 Laura Curioli: Madison Fellow learning how to teach the Constitution 
As an aspiring high school teacher, Laura Curioli, a University of Maine master's student in history, wants to educate future students about the Constitution so they can learn their rights and become effective voters and leaders.
"A lot of people underestimate high schoolers, in my opinion," she says. "They also fail to remember that these kids, who are 14- to 15-years-old, will be adults and will be voting pretty much right after they graduate."
In recognition of her passion and talent, Curioli was awarded the $24,000 James Madison Graduate Fellowship, which will help finance her master's degree and attend an in-depth institute about the principles, framing and impact of the Constitution in summer 2024 at Georgetown University in Washington, D.C. The James Madison Memorial Fellowship Foundation was established by Congress in 1986, and every year provides the opportunity for one student or in-service teacher applying from the state of Maine to receive the fellowship. Curioli is the third UMaine student since 2003 to earn it.
The James Madison Memorial Fellowship Foundation Summer Institute, a monthlong, six-credit program held from June to July, will feature lessons from constitutional scholars from across the U.S., tours of the capitol, meetings with political leaders and visits to the Supreme Court, the White House and various monuments. Curioli says she hopes to gain knowledge and experiences she can later apply in the classroom.
"I think going to Georgetown offers a new perspective and allows me to get to meet different people," she says, "I'll be able to learn about educators from other states and how they teach in their classrooms, and that can help me move forward as an educator."
Curioli earned her undergraduate degree in history and secondary education from UMaine in the spring, and participated in the 2023 commencement.
Curioli's passion for history stems from growing up in Eastport, Maine and finding pieces of old pottery, utensils, fossils and other relics in her backyard and around the city. She has also always enjoyed reading historical fiction and nonfiction.
Her desire to become an educator came from a fifth and sixth grade teacher she had at Eastport Elementary school who always supported students and engaged with their individual interests and talents. Curioli says she has a natural inclination to help others, and enjoys assisting her classmates with coursework and tutoring at TRIO Student Support Services.
"I'd like to be a very interactive and immersive teacher," Curioli says. "I just don't want kids to just have to read a textbook and memorize things. I want kids to really make connections and see how history has shaped our world, how it even affects them today. I want them to think critically about the past and the present and then the future."
While at UMaine, Curioli won a history writing award for her essay titled "Bridging the Gap Between Popular and Elite Catholic Practices," which was published in the Black Bear Undergraduate History Journal. She received another award from the Center for Undergraduate Research (CUGR) for an essay titled "A Study in The Evolution of Educational Philosophies Across Three Centuries," which she also presented during the 2023 UMaine Student Symposium.
She has also served on the Class of 2023 Student Council as history and secretary, designed the 2023 Summer University poster, worked as a photographer for UMaine Auxiliary Enterprises and the Division of Marketing and Communications, and was a counselor for Summer RAD campus. Additionally, she was chosen to be the 2023 class correspondent for the UMaine Alumni Association.
Curioli says she came to UMaine because it's affordable, close enough to home to allow her to commute from her hometown in Hampden and exhibited a "great sense of community." Her older sister, Sarah Curioli, also attended UMaine.
She credits Joel Anderson, an assistant professor of history, for serving as a mentor during her undergraduate career and helping expand her love of history with the class he taught. Anderson now serves as her graduate advisor.
"UMaine offers a very large variety of degrees and opportunities to all of their students," she says. "It's also very individualized, and you can have a very immersive experience. You also have the opportunity, despite your major, to experience other classes, or you can practice your other interests."
Political Science Professor Mark Brewer, UMaine Faculty Representative for the James Madison Graduate Fellowship says that "Laura was an excellent candidate and is a very deserving recipient of the Madison Fellowship. This will be very beneficial in her future career as an educator."
Students interested in learning more about the James Madison Graduate Fellowship and in applying to major external scholarships and fellowships can reach out to the Office of Major Scholarships' Director Nives Dal Bo-Wheeler at nives.dalbowheeler@maine.edu.
Contact: Marcus Wolf, 207.581.3721; marcus.wolf@maine.edu