Franco American Centre Occasional Papers
The OCCASIONAL PAPERS series is produced by the Franco American Centre in order to foster research and scholarship about Franco Americans, and to offer a frank understanding of the history and people of Maine and its region.
Occasional Paper No. 2
Fall 2018
"Bibliography of Franco-American Life, Language, and History"
by Patrick Lacroix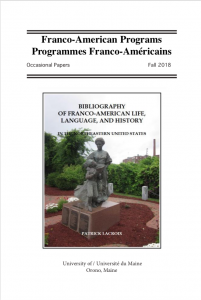 ( Download PDF here. PDF best viewed in Adobe 7.0.)
"There is no obvious starting point to the history of Franco-Americans. French Huguenots found refuge in the Thirteen Colonies and other migrants from metropolitan France came to the United States during and in the wake of the American Revolution. This bibliography, as with much of the field of Franco- American studies, is concerned with the more sizable migration of French- heritage people from Canada to the United States. In this regard, scholars might begin with the Acadians who were forcibly relocated to the Thirteen Colonies beginning in 1755, or with the Canadiens who served in the Continental Army and settled in northern New York in the aftermath of the Revolutionary War. Both of these movements of population resulted from the specific and limited circumstances of wartime. Political allegiance, real or alleged, determined the fate of thousands who, in the context of Anglo-Saxon political ascendency, were set apart by their cultural identity."
Occasional Paper No. 1
Spring 2013
"Contemporary Attitudes of Maine's Franco Americans"
by Christian Potholm, Yvon Labbé, Tony Brinkley, and Jacob Albert
 (Loan from a library here. Download PDF here. PDF best viewed in Adobe 7.0.)
"There has  long been a need for a significant, in-depth look at the attitudes of the Franco American communities in Maine. This occasional paper is only an initial step in addressing that need. It is based on a comprehensive overview of the opinions, circumstances, conditions, and standpoints that occur within these communities, and among Franco American people in this state.In the pages that follow, we shall be providing some of the initial highlights of a 2012 demographic survey – commissioned by the Maine Legislature's Franco American Task Force and conducted by Command Research – broken down by cultural subgroup classification, economic conditions, and political areas of interest."
"Occasional Paper #1 represents a first step in the analysis of the rich mine of data that the demographic study has produced. It is designed to give the interested reader a sense of what the total survey contains, with certain examples selected to provide insights into the depth of the survey response's cross tabulations."
For more information or for your own copy of the papers, please contact the Franco American Centre.
Your donations help cover the costs of printing.