Sydni Cosgrove: Student Development in Higher Education Excellence Award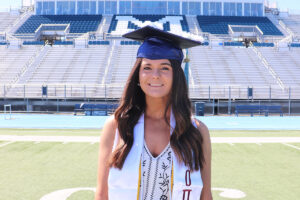 The Student Development in Higher Education Excellence Award is presented to a graduating master's student who has most exemplified combined academic and professional excellence with consistently exceptional classroom performance alongside outstanding service to the higher education graduate program, the university and the field.
This year's recipient is Sydni Cosgrove, from Bangor, Maine. Sydni graduated from the University of Maine in 2019 with a B.S. in secondary education, and now from UMaine again with her master's degree.
During her undergraduate career, Sydni says she was fortunate to have some great academic advisors guide her during her first four years at UMaine. That sparked her interest in higher education and working in advising, which led her to the student development in higher education masters program with a concentration in academic advising.
During her master's program, Sydni was fortunate to work as a graduate assistant in the College of Education and Human Development's Advising Center, the same advising center that inspired her to pursue a career in academic advising. She also completed an internship with Academic Support Services for Student Athletes.