UMaine professor brings giant map of Europe to Leonard Middle School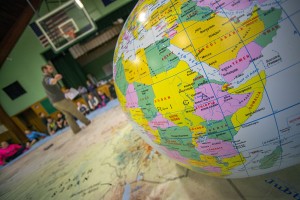 A giant map of Europe is currently taking up a portion of the gymnasium floor at Leonard Middle School in Old Town, where students are using it to study the geography and culture of the continent.
It's the second consecutive year that University of Maine College of Education and Human Development Assistant Professor Patrick Womac has brought a giant map to the school. Last year, he obtained an oversized map of Africa, which occupied the Leonard Middle School gym floor for two weeks. The 26-foot by 26-foot map of Europe is part of National Geographic's Giant Traveling Maps Program. It comes with a tub filled with lessons, activities and games designed to build students' social studies knowledge.
Leonard Middle School teachers and students will be using the map through Monday Nov. 21. The school will hold a European Culture Fair on Tuesday Nov. 22.
Womac is currently seeking local businesses to help pay all or part of the map's $610 rental fee.