Zikomo Barr: Master's student focused on leadership, first-generation college experience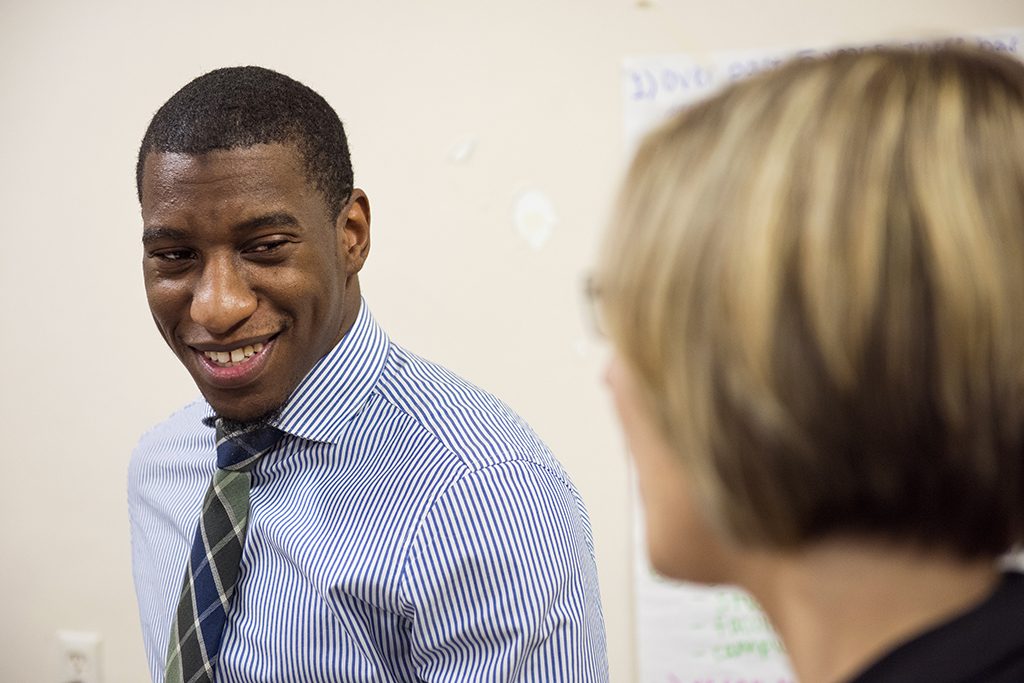 Growing up in New York City, Zikomo Barr had no notion that he'd one day end up in Maine, pursuing a degree and career in post-secondary student affairs.
"It's not an industry or a field that you aspire to go into when you go to college. It's something that you stumble upon or realize that it exists as a career through your undergraduate experience," says Barr, now in his second year as a higher education master's student at the University of Maine.
As an undergraduate at the New York Institute of Technology, near where he grew up in the Bronx, Barr bounced between majors. He started out studying information technology, before deciding it wasn't for him. Ultimately, he earned his degree in business administration with a concentration in management. But he credits his experiences outside of the classroom in campus activities for getting him interested in working with college students.
"Student government, president of my fraternity chapter, and just a plethora of different experiences that kind of allowed me to realize that I wouldn't mind working in a collegiate atmosphere with students, and giving them the same opportunities," Barr says.
When it came time to apply to graduate school, Barr looked at some of the top schools for higher education in some more highly populated areas — among them Indiana University, University of Pennsylvania and University of Connecticut. But he still wasn't sure if he wanted to go directly from his undergraduate education to a graduate program, so he missed the priority deadline to apply to any of them. Then he got an email from the University of Maine, complete with an offer to apply for a graduate assistantship that would cover his tuition costs.
"That was a big thing, because my entire undergrad was afforded to me through a program that allowed low-income students to pursue an education. So, as long as I kept my grades up I had that opportunity. The same thing is afforded to me with the graduate assistantship," Barr says.
The other major benefit of the GA position is that it's helping prepare him for the workforce. His job with the office of Campus Activities and Student Engagement has given him invaluable experience, Barr says. He attends student government meetings and advises other student-led organizations. Last year, he attended two conferences put on by national organizations involved with college student activities and student workers. In the spring, he helped organize a leadership summit at UMaine, attended by students from throughout the state.
"The intent of the conference was to get people to understand that there are different types of leadership and to identify what kind of leader they are," Barr says. "Leadership in society is typically viewed as something that's associated with a position of power. But understanding yourself and knowing what qualities you bring to your current role or position can help people become leaders, even if they aren't in a position of power."
Leadership is one area that Barr is interested in academically, as well as professionally. Another is the first-generation college student experience. As the first in his family to attend college, Barr says it's important to him personally. He hopes to one day earn his doctorate in the field of higher education, and says he'd like to do research that helps first-generation students in some way.
"I'm just in a fortunate position right now, and I try to wake up every day and be as humble as I can and realize that I'm better off than I was the day before. And also, try to reach a hand back and help those who aspire to be in the same position," he says.
Why UMaine
It gave me the opportunity to pursue a master's degree with financial assistance. And, it gave me the opportunity to gain work experience while I pursue that master's degree, because I know that's something that a lot of potential employers down the line are going to want — two year's work experience and a master's degree.
How would you describe the academic atmosphere at UMaine?
It's great. Dr. Elizabeth Allan is amazing. Dr. Leah Hakkola, she's great. Susan Gardner, she's amazing as well. The College of Education and Human Development does a good job of providing the support to students that they need, realizing that students are coming from different backgrounds. But also, allowing those students to be challenged.
Have you worked closely with a mentor, professor, or role model who has made your UMaine experience better? If so, how?
The higher education program has the SDA — Student Development Association — that's run by second year master's students. Last year I was matched with a second-year student, Meredith Hassenrik, who was there as a resource to answer any questions that I had related to the academic experience, or with the graduate assistantship, any committees that I may be involved in around campus. And then, academically, Dr. Allan, she's my faculty adviser. So she's definitely an amazing resource as far as reaching out to her network and letting them know that I'm looking for internships, that I'll be looking for jobs later. In all aspects, she's been a great help.
Have you had an experience at UMaine, either academically or socially, that has changed or shaped the way you see the world?
I'm appreciative of the fact that my master's cohort is extremely diverse — ethnically, sexual orientation-wise, geographically. Just in terms of how people identify and where people come from, we have a good mix of students, and we all support and learn from each other.
Describe UMaine in one word
I'm between two words right now. The first one I'm thinking of is prideful. The second I'm thinking of is community. There's a strong sense of community here, but I feel like pride can also encompass that. So, I'm going to go with prideful.
What's your most memorable UMaine moment?
I think it was developing the leadership program, and being able to pitch that to student government. I attend their meetings every Tuesday, and being able to get that out there to them and hear what they think about it, I think that's definitely one of the most memorable moments, because I worked really hard on it, taking into account everything I'm learning in the classroom so putting theory to practice.
What do you hope to do after graduation, and how has UMaine helped you reach those goals?
Ideally, get a job on the East Coast. I have family between New York and South Carolina, so somewhere in there. But also, being open to different opportunities elsewhere, because I realize that student affairs is a nomadic profession. So working with first-generation students, maybe as a TRIO program director, or doing student activities as a director or assistant director, maybe even Greek life, or admissions. Eventually I'd like to earn my Ph.D., as well.
I think UMaine has helped in a lot of respects. I feel academically prepared, so I have the knowledge base. And then I have two years' of work experience through my graduate assistantship.
Have you participated in any internships related to your major?
I did an internship last summer at Julliard in the housing office. A lot of people who come into student affairs have background in housing, being a resident assistant in a dorm or something like that. I commuted all four years of my undergrad, so I didn't have that experience. But at Julliard, I was working under the director of housing, and my main responsibilities entailed making sure I was in contact with the head person of a conference group that would come in during the summer. I was making sure linens were in their rooms, making sure they had access cards, being on-call if there was an emergency. And then also, supervising three student staff members.
I also interned last semester with Dr. Allan and her Stop Hazing organization. That was more of an independent research kind of internship.
What's the most interesting, engaging or helpful class you've taken at UMaine?
I would say "the American Community College." We talked about how students are increasingly going to community college before they go to a four-year university, and how everybody's circumstances are different, and a lot of people who go to community college, it may serve them better to do that before they go to a four-year institution. And then we had one class where we visited Eastern Maine Community College, and we got a tour from the dean of students and we talked with him later. I think actually being at the campus was beneficial, because I got to see it and make that connection in my mind. But just in general, that class was so engaging. Oftentimes we would go over the class time 10, 20 minutes and just kind of talk.
What difference has UMaine made in your life?
UMaine has taught me to appreciate stepping out of my comfort zone. Since it was the opportunity for me to live in Maine for two years, I now have somewhat of a foot in the door to kind of explore other places and be more comfortable with moving around and readjusting. And I think if I can master that, or be OK with that, then regardless of whatever opportunity presents itself at another university wherever, I'll be able to be successful.