The Commuter Lounge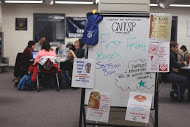 The Commuter Lounge is both a study and social lounge reserved for commuter and non-traditional students.
The Commuter Lounge and  staffed  Monday through Thursday 8AM to 9PM and Fridays 8AM to 7PM  on weekdays when  classes are in session. The Commuter Lounge is open but not staffed Saturday and Sunday 8:00 AM- 8:00 PM.  Open hours  are dependent on the hours that Memorial Union is open. These may vary especially over university breaks and holidays.
SUMMER HOURS  The Commuter Lounge is open when the Memorial Union is open.  This is generally 8AM to 5PM Monday – Friday and  noon to 5PM Sat & Sun during the summer period.  CNTSP staff are  not available over the summer.  No Coffee/tea service and no locker rentals are  available over the summer session.
Located on the ground floor of the Memorial Union in the Wade Center , the  Commuter lounge has microwave ovens, a toaster, can opener,  and a refrigerator for student use.  CNTSP also provides paper goods  to help prepare your meals.
Free coffee, tea and hot chocolate are  available during the day while the Commuter Lounge is staffed. But bring your own coffee travel mug because we do not provide disposable cups.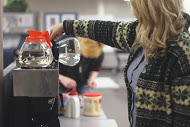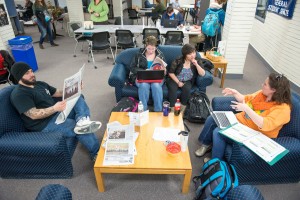 The Commuter Lounge offers  computer stations with printing available through the computer cluster which is on the first floor of Memorial Union.  large movable white boards are available for study groups.  Lounge couches and chairs offer comfortable meeting and socializing space and  newspapers are available each day.
The lounge also serves as an information center, with a bulletin board and brochure rack full of student information and notices of upcoming events. Community Connector and Black Bear Express bus schedules are available in the lounge.
Various programs and events are held in the Commuter lounge. Some  programs, like First Friday Bagels and Commuter Week are regularly scheduled. But  you never know what you'll find when you visit the lounge. Check out our  upcoming events.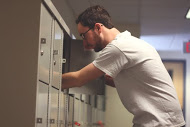 Commuter lockers are available  for students to store their materials.  CNTSP lockers are in the corridor outside the Commuter Lounge / Wade center and are accessible whenever the Memorial Union is open. There is a fee of $10 for the semester plus a $5 refundable key deposit. Lockers are only available Fall and Spring semesters not over the summer.  Locker rentals are available by speaking to any of the  CNTSP staff.