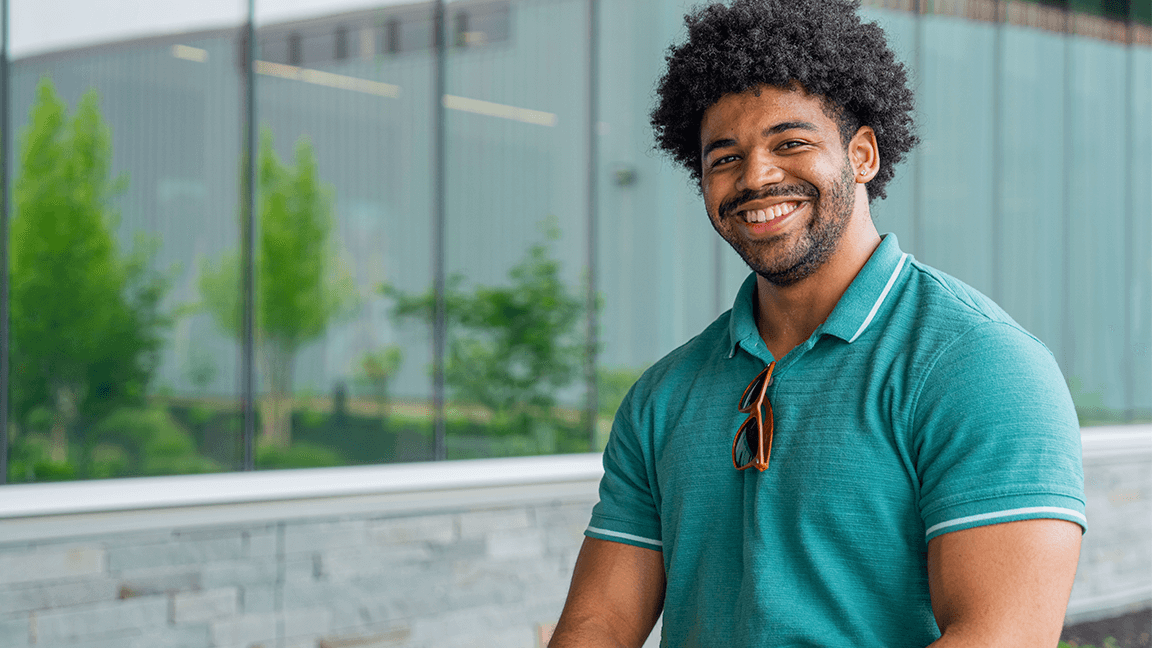 Internship Story: Jason Gil at L.L. Bean
Jason Gil from Sanford, Maine, heard about the L.L. Bean internship experience at the Maine Business School Explore Careers Casually event held in the fall of 2022. "I met two wonderful individuals from talent and recruitment," Gil says. "We had a great conversation about the progressive work culture at LL Bean."
Why did you choose to intern at L.L. Bean?
Last fall, I attended the Bear Treks trip to Portland to explore different businesses and potential internship and job opportunities. Though L.L. Bean wasn't a part of this trip, this experience was the catalyst for me to decide I should be more diligent in pursuing my professional development. This decision led to attending more MBS events, including the Explore Careers Casually event hosted in our business building. One can fulfill a technical role in many spaces. Still, it was (and continues to be) vital that any organization I invest myself into demonstrates similar excitement in providing opportunities as I do in seeking them out.
What were your internship tasks?
My tasks as an IS Wholesale intern included cross-referencing our SQL Server database to find information about size and color codes for different products we would use in offered assortments. Similarly, alongside my mentor, I played a significant role in aiding some of the wholesale business users in managing issues that may arise in the Active Catalog product interface. I was also responsible for various documentation types and the location of these items in our sustain site for IT Wholesale Support. Some of these documents included Statement of Purpose documentation, Active Catalog Error Handling, and Mapping for interfaces. Along with Wholesale tasks, I was also a significant contributor to an IS intern research project regarding generative AI and the potential opportunities this could bring in the workplace. Myself and a handful of other IS interns would go on to present this project to our CIO and the entire IS sector.
What did you like most about your internship?
If I were to describe my favorite thing about this internship in one word, it would be 'exposure.' As an IS Wholesale intern, there's a high degree of technical action. But there's also a lot you get introduced to from a business perspective. I was fortunate to be in a space where I had the opportunity to learn about business requirements and alignment between business partners. I learned many technical aspects from an applications sense, a process-driven sense, and a data-driven sense. This position introduced me to several areas I wasn't even aware of from an information services standpoint. It was evident in conversations with other interns that the work I was fulfilling in my intern role in wholesale was vastly unique despite still using SQL databases like many of my peers.
What were the biggest challenges you faced as an intern?
I faced a few challenges in this intern role at L.L. Bean. One of which can be seen as positive and negative is that I ask many questions. Curiosity is great, and I lean on this when I'm invested in just about anything. Getting more specifics and gathering more information to improve your understanding is always great. Still, there are times when taking a moment or two to dig deeper before asking for clarity can be beneficial. However, I realized that being encouraged to ask as many questions as needed doesn't necessarily mean getting answers from one source. I tend to ask questions I could answer with a Google search, but I would turn to my mentor instead. Fortunately, she was pretty patient with me and encouraged me to continue asking questions if they came up.
Another big challenge was just how new all of this information was. I asked my mentor what I could do to prepare for this internship in March, well before the internship began. The challenge here is partially in letting go, knowing I would not be well-versed in something I'd never experienced.
How will this experience help you as you move forward in your career?
This experience will help significantly as I progress towards my future career. I'm always going to use the skills of mapping and establishing table requirements as I continue my path in IT. My L.L. Bean internship was the first I've completed, which stands for something in my mind. Getting a feel for different organizations and their day-to-day gives great insight into the direction you may want to take in your career. Continuing on that note, the time I spent referencing tables and records in the SQL database and sifting through Excel sheets offers perspective in the coursework I've done in my major by applying these concepts. This work, to me, is the equivalent of getting reps done in the gym. Anyone who knows me is aware of my affinity for the gym. This work experience can be the same concept, as repetition is the main factor in improvement.
Any advice to share with other students considering an internship?
The advice that I would give any students considering an internship would be to think of this as an investment. You must take the initial step to move forward in any space you take in life. This can often be the most challenging part. I had a fortunate sense of self-awareness and reflection, knowing I needed to get my foot in the door from an IT perspective. With that mindset of getting your foot in the door, there is also just representing your brand to people in business that can go a long way for making meaningful connections and even future opportunities. Time continues ticking whether you make your move towards a professional space or not. If what you do today can enhance your life in a year or even six months, pose the question of what is stopping you from acting.
Why did you decide to study business at the Maine Business School?
I have a few justifications for this. On one end, buying decisions and what makes people inclined or persuaded towards purchasing behavior spiked my curiosity in Marketing. Regarding my second major in Business Information Systems, I've spent years considering the changes in how the world works from a technical standpoint. The technological landscape is ever-changing. I have always viewed myself as a curious person who will remain a student for life. There is no "knowing it all" regarding technology, and I see lots of opportunities from that point of view. Lastly, my parents always told me that they want their children to become professionals in whatever spaces they choose. I am fully aware of all the sacrifices my mother and father have put forth for me, even to have the odds that I do, and I truly believe this reflects highly in how I present my brand.
Hometown: Sanford, Maine
Majors: Marketing & Business Information Systems and Security Management
Year of Graduation: 2023
Internship Title: IS Wholesale Intern