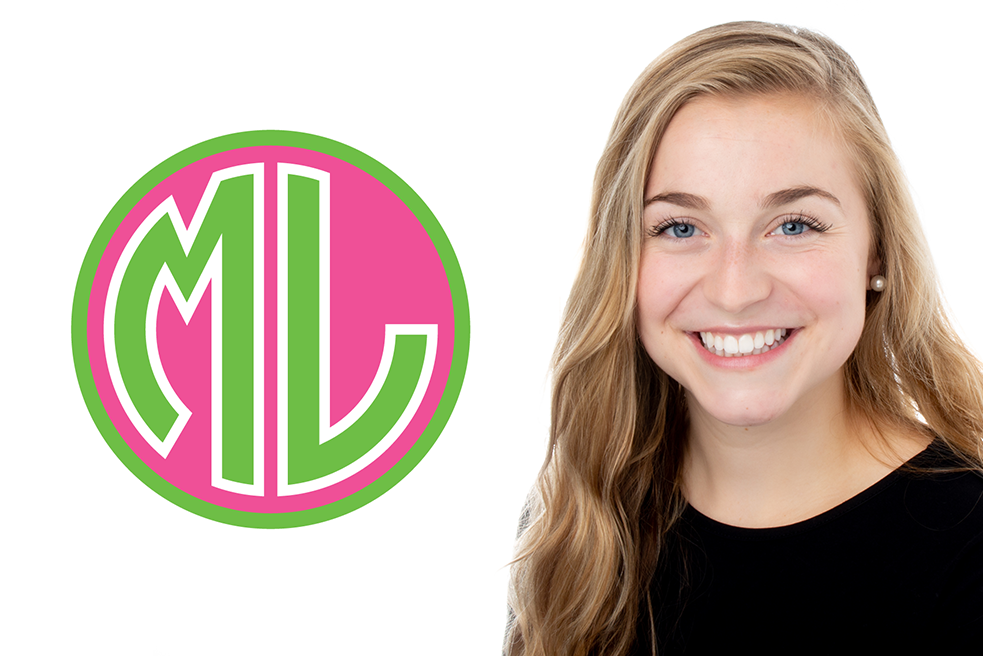 Internship Stories: Maria Maxsimic at Marleylilly
Name: Maria Maxsimic, Class of 2022
Major: Marketing
Internship Placement: Marleylilly
Why did you choose to participate in an internship at Marleylilly?
I have always been interested in fashion. My dream is to eventually work for a clothing company.

Marleylilly is an e-commerce clothing and gift company based in Greer, South Carolina. I was familiar with Marleylilly and liked their products before I applied for an internship. Their brand is known for its fun, casual style. After coming across a blog post that one of their previous marketing interns had written on the company's website, I knew that this internship would be something I would enjoy and relevant to my studies. All of the Marleylilly employees that I spoke to during the application and interview process were so kind. We had conversations about business and goals that made it very apparent that I shared similar values and interests.
What were you tasked with as a Marleylilly intern?
I was able to intern in-person for the marketing department, creative team, and customer service department. I rotated between these areas every few weeks, and my tasks would vary.
My marketing department tasks most directly correlated with what I have learned from the courses required for my major. I wrote blog posts using search engine optimization data to promote the company's products to their target customers. Additionally, I communicated with customers on our social media pages, created graphics and posts for our social media pages, and I made updates to the products on the company's website that correlated with the marketing team's social media promotion strategy for the week.

Working under the creative team, I assisted the company's photographers and stylists in creating flat-lay photographs with our products for our social media pages and websites. I learned about the technical side of photography and videography in this position and how to prepare products to look their best in promotional photos. I also created several videos featuring our products and promoting Marleylilly's brand for social media accounts. These tasks allowed me to practice using graphic design applications to produce deliverables.

While working for the customer service team, I communicated with customers who had inquired about their orders. Every customer inquiry was unique. I had to learn how to navigate the company's administrative server that controlled customer's orders and the details of their customer accounts. My time in this department helped me gain more experience in conversing and problem solving with customers that positively represented our company.
What did you like most about your internship?
My internship experience was great because it validated my effort to get a marketing degree at the University of Maine. I could clearly see the connection between what I had learned in my courses as I completed tasks and projects for Marleylilly. Additionally, this experience allowed me to make connections with industry professionals that I now consider to be professional and personal mentors. The employees of Marleylilly were always eager to help and answer any questions I had regarding their position and career path. I am so appreciative of their advice. I know that if I need any guidance in the future, they would be more than happy to assist me and provide their wisdom!
What were the biggest challenges you faced while interning?
The biggest challenge I faced while interning was balancing my full-time course load and my full-time internship. Working 40 hours a week left little time for studying, specifically on weeknights. This situation required me to get much better at time management and make great use of my planner.
What did you learn during your internship at Marleylilly that you couldn't have learned in the classroom?
I gained so much knowledge during my internship about what my life would be like if I pursued a career in this industry. Specifically, I learned about the day to day tasks that a marketing professional completes for a fashion company. Many of these tasks are unique to a company, their computer and administrative systems, and what they sell.

I now have a much better idea of what type of organization I want to work for. During my internship I quickly realized the importance of working for a company that you share values with. I liked how executives recognized and celebrated causes, holidays, and significant dates. I appreciated the respect, kindness, and consideration management showed to employees.
How do you think this experience will help you after graduation?
I feel more confident in myself and what I have learned about business and marketing at the Maine Business School. I could apply what I have learned in the classroom for a real company. All of the tasks I completed validated what I learned in lectures and what my professors taught me. The networking that I was able to do while at my internship will likely come in great use once I graduate and start looking for a job, a recommendation, or career advice.
Any thoughts to share with other students considering an internship?
I couldn't recommend doing an internship enough! I feel like I have grown more in one semester at my internship than in the two years of college before my internship. Being in a workplace setting challenged me to apply my classroom knowledge in a way that no activity or simulation could have ever challenged me. I was continuously facing unpredictable situations and tasks unique to Marleylilly and the fashion industry. Being far away from home and living independently was another challenge and a great learning experience. It helped me practice self-discipline and work on my time management as I navigated balancing a full-time job and being a full-time student.
Read more internship stories:
Connor Williams at Tyler Technologies
Maggie Healy at the Advanced Structures Composites Center
Tate Porter at Unum