Driver Training Program
What Does a UVAC Driver Do?
The driver on duty is responsible for the general welfare of the ambulance, as well as the safe transport of the crew and patients. All UVAC drivers have are required to complete AVOC (Ambulance Vehicle Operators Course) as well as meet University of Maine System requirements to operate University vehicles and in addition, complete a specialized UVAC training regiment.
Driver Training Program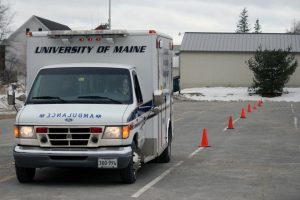 The driver training program requires that all trainees demonstrate comfort behind the wheel of an ambulance in a non-emergent and emergent setting. To demonstrate this, the trainee must be observed by designated driver trainers (those who have shown extensive knowledge of an ambulance, and are aware of all rules pertaining to their safe operation). The program also requires that the trainee safely transport a minimum of three patients to the hospital while on duty and demonstrate competent driving ability and awareness. Once cleared by the Captain of Operations, trainees are able to work any shift in the "Driver" position.