Gouldsboro
Welcome to Gouldsboro!
"Gouldsboro, Maine, located in Hancock County, does not have a town center in the usual sense. It covers a large geographical area that consists of the varied and distinct fishing villages of Birch Harbor, Corea, Prospect Harbor, South Gouldsboro, and West Gouldsboro. The land often referred to as Gouldsboro Peninsula is the land mass that juts out into the ocean along the Maine coastline just south of Coastal U.S. Route One and includes those villages."  https://acadiamagic.com/gouldsboro-maine.htm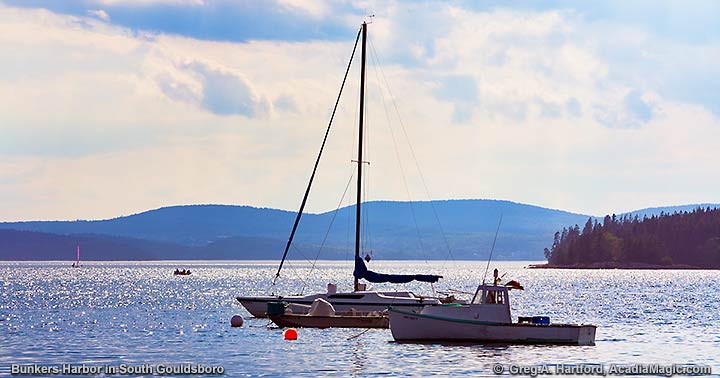 "The Village of South Gouldsboro, Maine is located on the western side of Gouldsboro Peninsula about four miles south of U.S. Coastal Route One. It is a small fishing village on the Schoodic Scenic Byway, midway between West Gouldsboro on the north side and Winter Harbor to the south. The western shore faces Frenchman Bay and Mount Desert Island which is only about 4.5 miles across the bay. Schoodic Peninsula, home to the only part of Acadia National Park on the mainland, covers the whole southern part of the peninsula." https://acadiamagic.com/schoodic/south-gouldsboro.htm
Activities
Dining
Bartlett Maine Estate Winery and Distillery 161 Chicken Mill Pond Rd, Gouldsboro, ME 04607 | (207) 546-2408

A touch of wine and you'll be hooked with this amazing winery. Homemade and sold right on site, stop here for your perfect treat for the night.

Downeast Mexican Takeout

22 Old Rte 1,

Gouldsboro, ME 04607 | (207) 963-4043


With a touch of spice to your menu, Downeast Mexican Takeout is the perfect place to grab a bite to eat when craving Mexican food!

For more dining alternatives visit nearby Steuben, Milbridge, and Winter Harbor!
Lodging
Acadia East Campground 574 US-1, Gouldsboro, ME 04364 | (510) 296- 3658

Located outside of Acadia National Park, this is the perfect destination for camping near the national park for a vacation with the family!
Acadia View Bed & Breakfast 175 US-1, Gouldsboro, ME 04607 | (207) 266-7292

Offering a view of Acadia National Park and Bar Harbor, plan on staying a night at this air bed and breakfast for a comfortable experience.
Bluff House Inn 57 Bluff House Rd, Gouldsboro, ME 04607 | (207) 963-7805

Enjoy this cozy inn that overlooks the beautiful sunrises seen at Acadia National Park!
Maine Oceanfront Cottages 14 Robbins Point Rd, Gouldsboro, ME 04607 | (207) 460-0740

Pet friendly and right by the water, this cottage is the best place for you and the family to take a vacation away from home!
Shops and Services
Dulse & Rugosa 337 US-1, Gouldsboro, ME 04607 | (207) 812-0947

A healthier alternative for health and beauty care! This company that uses natural seaweed ingredients providing aromatherapies, soap bars, and hair treatments making it the perfect place for a stop while here.

Maine Kiln Works 115 South Gouldsboro Rd, Gouldsboro, ME 04607 |

(207) 963-5819

Stonecraft and personally made for each individual, if you're looking to remodel or have a craft of your own reach out to this business for more information!

Mandala Farm 46 Youngs Farm Rd, Gouldsboro, ME 04607 |

(207) 963-2984

All natural, organic produce and meats can be found here. If you're looking for a farm experience, this is the perfect place!
Young's Market 161 Chicken Mill Pond Rd, Gouldsboro, ME 04607 | (207) 546-2408

With an emphasis on quality not quantity, you'll be hooked with this local winery and their selection.