Mandala Farm
Mandala Farm– Gouldsboro, Maine   
During our tour of Mandala Farm, Sara and Genio told us about the story of how the farm began. Their story begins at the College of the Atlantic in Bar Harbor, Maine. Neither Sara nor Genio studied farming, agriculture, nor business at school, but both were interested in making change. It was at the H.O.M.E. Co-op of Orland, Maine, where Sara and Genio discovered they wanted to get involved in the food system and preserving land.
Sara and Genio began to look for a farm and came across a patch of land with a beautiful view of Jones Pond on the Schoodic Peninsula. In 2002, it was here they established Mandala Farm. Both had to learn how to farm through on-the-job experience and book-learning. Sara and Genio wanted to see if they could successfully manage an early 1900s inspired horse-powered farm.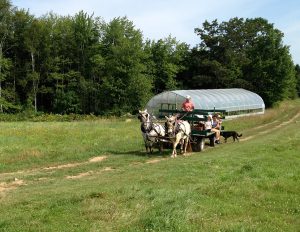 Sara had prior experience and passion working with horses and liked the idea of using draft animals on their farm. In their time with H.O.M.E, Sara and Genio encountered the Norwegian Fjord horse breed, which are known for their versatility. They can perform many jobs including: plowing, pulling, and riding. According to Sara and Genio, the Norwegian Fjord is ideal for small family farms.
During our tour of Mandala Farm, we had the pleasure of seeing the beautiful Norwegian Fjords, adorable mini-horses, cows and more as well as the vegetables grown on the spectacular vistas of pasture-land. Today, Sara and Genio farm 2 acres of land producing various vegetables, and raise a variety of animals including: sheep, cashmere goats, and pigs, ducks, dairy cows, dogs, rabbits, cats, and bantams. There is also a vacation rental on the farm, where you can stay, participate in farm activities, and enjoy delicious food! Mandala Farm also engages with their local community by selling produce to restaurants in the Schoodic Peninsula area, at the Winter Harbor Farmers' Market, at their farm stand. The Mandala Farm also participates in Community Supported Agriculture (CSA), which provides community members an opportunity to have a stake in Mandala Farm.
What makes Mandala Farm unique is their ability to create an organic food ecosystem with collaborations along the entire supply chain. As producers (the first step in the supply chain), they collaborate with distributors, even inviting fellow farmers to distribute their products with them. Similarly, they developed a collaborative farmers market (the retail step of the supply chain), providing variety by inviting other farmers to participate. They also have developed relationships with restaurants and specialty retailers to carry their products as well as having their own on-site farm stand. Finally, they even work directly with local consumers who visit their farm stand or purchase CSA shares that people purchase before the season and receive produce throughout the growing season.
Sara and Genio's passion and dedication to local organic farming is inspiring. They live the principles of sustainability, collaboration and supporting their fellow farmers and the community, and demonstrating that a small business like this can succeed and thrive! For more information about Mandala Farm of Gouldsboro, Maine, please visit their website linked here.