Small Business Success Story, Sewall House Yoga Retreats
Donna Davidge, the creative mind behind Sewall House Yoga Retreats, describes it as a place where people can find healing, both physically and emotionally.
Sewall House rose with the Aroostook County town of Island Falls when it was founded in 1845. Owner Donna Davidge's great grandfather, William Sewall, built the home, and history immediately began to fill it. A young Theodore Roosevelt who suffered from asthma was sent to live and study under William. The immense nature of Aroostook, the shores of Mattawamkeag Lake, and the shelter of Sewall House formed young Roosevelt's first adventure into the American wilderness. William Sewall imparted all the wisdom he drew from the land surrounding Island Falls onto Theodore Roosevelt. The latter found himself leaving the area cured of the asthma that limited him.
As for Donna's history, she began immersing herself in and teaching yoga in New York City in the 1980s, long before it entered mainstream culture. In 1997 she purchased Sewall House to keep her family history alive and create a space for healing through yoga.
On a visit to Sewall House Yoga Retreats, you can expect two yoga lessons each day of your stay! Along with this, there is time for meditation and self-study. This time can be organized or individual. Guests can also expect to enjoy delicious vegetarian meals, an essential part of Donna's lifestyle. There is always time to become immersed in nature when at Sewall House. There are countless ways to get out when staying at Sewall House, including hiking and canoeing along with day trips. The healing found in nature is just as emphasized as that found through yoga.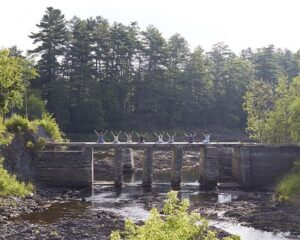 Donna splits her year between Maine and New York City, although she prefers her time in Maine and works towards being in Island Falls full time. The house requires a lot of work, and too her maintaining it is the same as maintaining her history. 
Donna has learned a lot while running Sewall House and had a few pieces of advice for other small business owners. First saying it is vital to have the right temperament for your work. She remarked that no one will care about your business as much as the owner but, that is not by any means a bad thing as long as one fully lives into their passion because the vision is theirs alone. 
She has a lot of vision! Donna hopes that Sewall House will continue to be a place for people to come and heal, a place to open internal wounds among the Aroostook wilderness, a place for physical and mental transformation. Her passion shines in her words about Sewall House. She never gets tired of hearing people talk about their healing, or how a visit feels like a step back in time. 
Find out more on the Sewall House website!
~Samuel Mills, Undiscovered Maine Project