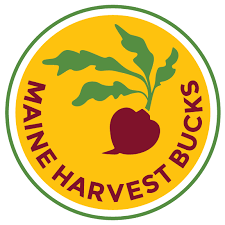 Our Regions Farmers Markets and Harvest Bucks
One of the great things about our state is that we are never very far from natural beauty, clean open spaces, and fresh food! Maine's agricultural industry works to bring fresh produce, meat, and prepared items to our state and the country throughout the year. On the local level, one can usually come face to face with these folks through our towns and city's countless farmer's markets.
Just like everything else that makes Maine great, farmer's ma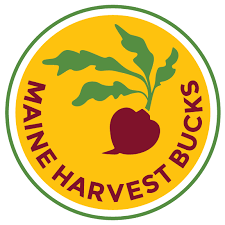 rkets are accessible for every Mainer. The state's SNAP/ EBT programs include something called Harvest Bucks. Mainers who benefit from these programs can now spend SNAP/ EBT dollars at participating Farmers Markets and even earn bonus Harvest Bucks to spend on fruits and vegetables. So, as the weather starts to change and stands trade their lobster tanks and wildflowers for hot chocolate and apple cider doughnuts it is a perfect time for all Mainers to visit their local farmers market!
Below are just some of the local markets that accept Maine Harvest Bucks. For a full list and more information visit their website using this link: http://www.maineharvestbucks.org/maine-harvest-bucks-at-farmers-markets/
DownEast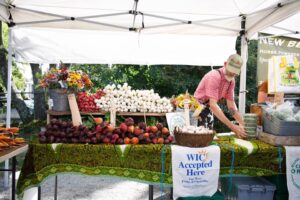 The Belfast Farmers Market at 256 High Street, Belfast is open Fridays 9:00-1:00. One of the vendors is Burke Hill Farms, a certified organic blueberry farm dedicated to tradition. All the blueberries are handpicked and brought right to the market! You can also expect to see Go-En Fermented Foods. This family farm hand creates a variety of Japanese inspired fermented foods from local, organic, and even wild ingredients.
The Ellsworth Farmers Market runs from 9:30-12:30 Saturday Mornings in the Acadia Realty Parking Lot. Middle Earth Mushrooms has a stand full of log ground shiitakes perfect for the top of a pizza or the main course! Also present is Mountain Foot Farm. This family farm out of Dedham, Maine is committed to sustainable and humane processes of bringing pasture-raised meat to their community. 
Western Maine
On Saturdays from 9:00-12:00, the Farmington Farmers Market is held at 129 Main Street. Rustic Roots Farm grows lots of vegetables and is based right in Farmington! My Pie is a local bakery that uses simple ingredients to make any pie flavor you could think of, including all the Maine classics. 
If you are in Norway, Maine on a Summer night, the Alan Day Community Market is the place to be. From 5:00-8:00 pm, this farmers market features live music, a pizza oven, and ready-to-order food in addition to the usual selection of vendors and groceries!
Aroostook County
At the appropriately named Market Square in Houlton, Maine their community Farmers Market is held Saturdays from 9:00-1:00. With an assortment of fresh produce, meats, and cheeses it is a place anyone can go and find great foods. 
The Madawaska Farmer's Market is open from 10:00-4:00 two days a week! Visit them Wednesdays and Saturdays at 188 Main Street in Madawaska.