Grants Academy Program Goals
The Grants Academy program supports faculty members from across the University of Maine System in the process of writing a significant external grant proposal to fund their research, scholarship, and/or creative activity. This program is an academic-year-long developmental experience designed for faculty members to increase their capacity to receive extramurally funded grants.
The academy serves faculty across the spectrum, including those that are writing a first-time single investigator grant or sponsored fellowship to those looking to build institutional capacity with public programming, community-engagement, or curriculum development grants. Faculty identified by their department chairs, unit supervisors, and/or deans are eligible to apply if they have not yet been the PI on a significant grant award.
Grants Academy Program Metrics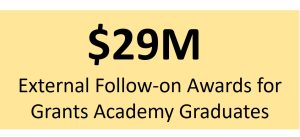 Grants Academy Program Design
Oct-Dec: whole cohort biweekly meetings: a mix of presentations and interactive discussions providing grant-writing basics, institutional resources, and peer learning/ mentoring/networking opportunities. 

Jan-Mar: Mini cohort monthly meetings–created around specific funding agencies: consists of interactive meetings providing technical expertise, support, resources, and mentoring. 

Apr: whole cohort biweekly meetings: present funding goals and concept paper/letter of intent, future support. 

Individualized coaching and proposal reviews, support the completion and submission of an external grant proposal.