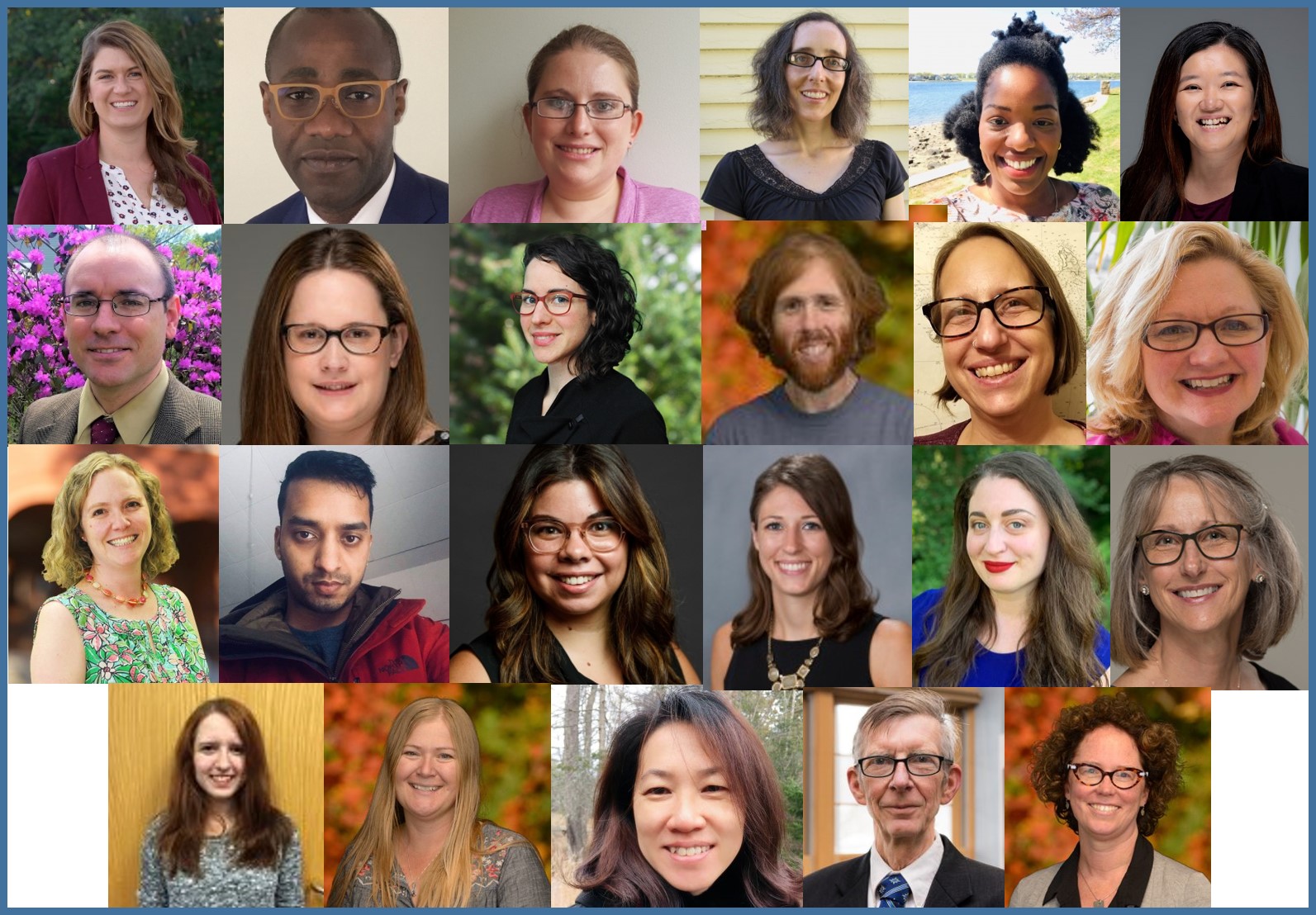 UMS Research Ambassadors
Expanding the reach, capacity, and collaboration of research across UMS.
Nicole Achey– UMF Assistant Professor Rehabilitation Services; research interests include diverse cultures, survivors of modern day slavery, human trafficking, sexuality of adults with disabilities, advocacy, professionalism and undergraduate support for transition.
Eklou Amendah– USM Assistant Professor Business; research interests include technology and consumer attitudes, mobile payments, augmented reality and retail marketing, physician and patient relationship/decision-making, services and healthcare delivery, shared services cooperative
Jennifer Blossom– UMaine Assistant Professor Psychology; research interests include evidence-based child & adolescent psychology, youth internalizing concerns-anxiety, depression & suicide prevention, improving service delivery, access & efficiency, service provision at schools and primary care facilities
Jen Bonnet-UMaine Social Sciences & Humanities Librarian; areas of research include anthropology, communications & journalism, Native American Studies, nursing, PD
Tara Casimir– USM Assistant Professor Nursing; research interests include global and public health, community health, simulation- based nursing education, telehealth, community-academic partnerships, community-based participatory research
Bee Chim- UMPI Assistant Extension Professional; research interests include potato research, soil health, cover crops
Scott Eaton- USM Assistant Professor Mechanical Engineering; research interests include energy conversion and thermodynamics, combustion & fuels, K-12 outreach-high altitude balloons, engineering design, design for accessibility, fire and fire safety, spacecraft systems engineering
Sara Flanagan- UMaine Assistant Professor Special Education; research interests include learning disabilities, ADHD, literacy, written expression
Rachel Hovel- UMF Assistant Professor Aquatic Biology; research interests include aquatic ecology, phenology in lakes and river systems, climate change, acidification, arctic fish migration (high elevation ME lakes)
Dan Jackson- UMF Associate Professor Math; research interests include mathematics, computing, education
Tora Johnson– UMM Associate Professor GIS; research interests include GIS, rural community resilience, environmental resources, emerging community needs, rural health and well being
Lois-Ann Kuntz– UMM, Professor of Psychology; research interests include what we can do to improve people's lives, especially in how to improve human relations within our physical, biological, social, occupational and technological environments
Shannon Larsen– UMF Associate Professor Elementary Education; research interests include how teachers learn to teach, mentoring & coaching, STEM education
Libin Louis– UMFK Assistant Professor of Forestry; research interests include the economic constraints of timber harvesting, developing a novel model for the small diameter tree market scenario for the region, and exploring the perspectives of forestry stakeholders in the Northeastern states
Emily Newell– USM Assistant Professor Sport Management; research interests include support systems for student athletes with special needs & minorities, link between sports & education, retention issues, career development, universal design, culturally sustaining pedagogy
Amanda Nowak– UMA Director of Prison Education Partnership; research interests include prisoner education and services
Valerie Rubinsky– UMA Assistant Professor Communication; research interests include interpersonal communication, relationship research, sexuality and reproductive health, diagnostic communication, community health communication
Deborah Saber– UMaine Associate Professor Nursing; research interests include PPE, environmental and financial costs, microbial movement in the healthcare environment, sustainable solutions for PPE creation, food waste
Emily Scarpulla– UMM Psychology
Donelle Schwalm– UMF Assistant Professor Environmental Biology; research interests include wildlife biology and ecology, endangered species conservation, conservation genetics, wildlife responses to climate change, student engagement in STEM
Juyoung Shim– UMA Assistant Professor Biology; research interests include biochemistry, environmental toxicology, arsenic assays, C. elegans modeling, Planaria assays, aging research
Fred Strickland– UMPI Assistant Professor of Cybersecurity and Computer Science; research interests include computer science, cybersecurity, collaboration with rural schools, radio spectrum, battlefield communications, AI
Kathryn Will– UMF Assistant Professor Literacy; research interests include curriculum and assessment design, literacy teacher preparation, communities of practice, rural education, literacy development and technology
Program Goals: 
Coordination of research and research learning opportunities within UMS, facilitated by recognized cohorts of researchers working together.
Coordination of expertise for interdisciplinary research and development of research and academic partnerships to increase engagement with local, state, and federal government sponsors.

Enhance external funding potential, creating new revenues for UMS and broadening the portfolio of externally-sponsored projects.