Facilities Available for Use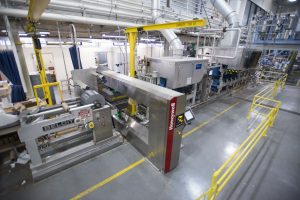 The Process Development Center is available to companies, educational institutions and non-profit organizations for process and product development work. We work with clients on any research project, large or small. Check out the pages below to find out about the services we offer.
Nanocellulose Facility – The PDC's cutting-edge nanocellulose pilot plant manufactures cellulose nanomaterials in several different forms to meet the varied needs of our academic and research clients.
Pulping – Our researchers can perform pulping studies to evaluate wood and non-woody raw materials, chemical additives, and any stage of chemical or mechanical pulp production.
Stock Prep/Refining – The PDC has a high-capacity refiner loop with double disk and conical refiners, allowing for a wide range of refining treatments to compare the benefits provided by each.
Papermaking – The PDC's pilot paper machine is available for raw material and process operations studies, as well as to evaluate equipment components. Steady state can be reached in under thirty minutes, allowing multiple trials in a single day.
Coating and Finishing – Pilot-scale coating trials are available with our Cylindrical Laboratory Coater (CLC), which has the ability to coat samples at 6000 feet per minute. We can also perform image analyses for characterization of paper surfaces and ultrastructure.
Materials Testing – The PDC's Controlled Environment Room has the capacity to perform more than twenty-five tests to characterize the properties of pulp and fibrous raw materials. Additional test devices and wet laboratory facilities, ranging from the standard to the state-of-the-art, are available to serve the needs of our clients.
Keep in mind that visitors to the PDC are expected to review our Safety Information. For information on pricing or to schedule a trial, contact Pros Bennett, our Managing Director.