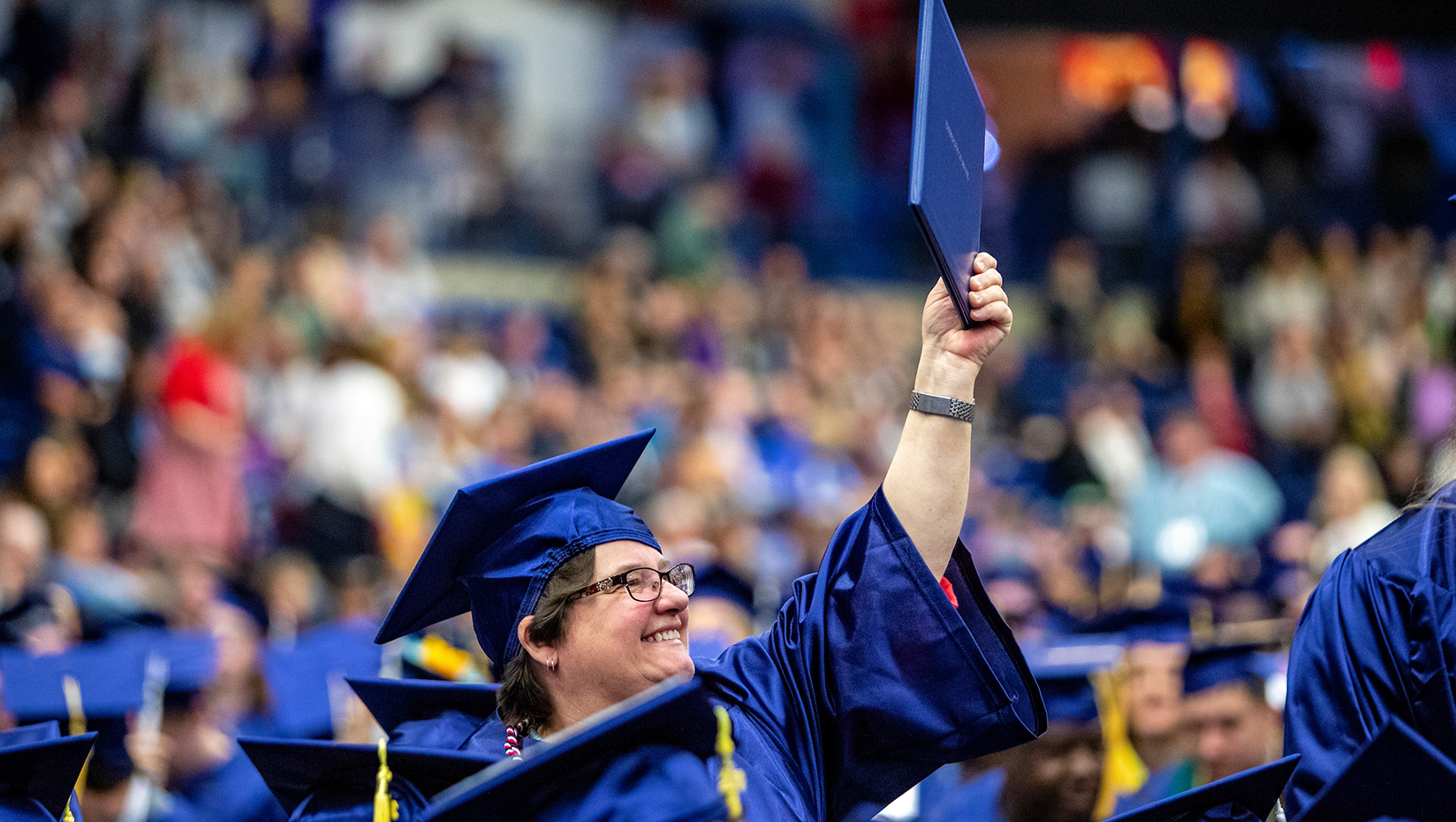 UMaine 2023 commencement ceremonies are May 5–6
The University of Maine's 2023 commencement ceremonies for graduate and undergraduate students will be May 5–6 at Harold Alfond Sports Arena.
The Graduate School Commencement begins at 4 p.m. May 5, featuring an address by Suzanne Ortega, president of the Council of Graduate Schools. An estimated 424 graduate students are expected to be on hand to receive advanced degrees, including 37 doctoral candidates. This year's ceremony, which will be livestreamed, will recognize the Graduate School's centennial anniversary.
On May 6, 1,660 undergraduates are expected to participate in the 221st commencement ceremonies at 9:30 a.m. and 2:30 p.m., with a total of nearly 10,000 expected to attend. The Saturday ceremonies are ticketed events. Both ceremonies will be livestreamed, with additional on-campus viewing in the North Pod of Memorial Union.
The morning ceremony on Saturday is for students in the College of Liberal Arts and Sciences, College of Education and Human Development, Maine Business School and the Division of Lifelong Learning. The afternoon ceremony is for students in the College of Engineering and the College of Natural Sciences, Forestry, and Agriculture.
Alumna and retired U.S. ambassador Anne Hall will address the two undergraduate ceremonies and honorary degree recipient Carl Wieman, Nobel Prize-winning physicist and educator, will be recognized.
Mechanical engineering major Lara Chern of Bow, New Hampshire is the 2023 University of Maine valedictorian. UMaine's two 2023 salutatorians are Mikayla Reynolds of Winslow, Maine, a double major in business management and marketing, and biomedical engineering major Zoe Vittum of Brewer, Maine. A news release about all of them is online.
This year's 12 Outstanding Graduating Students are expected to attend their respective ceremonies on Saturday.
The 2023 Distinguished Maine Professor, Roberto Lopez-Anido, the Malcolm G. Long '32 Professor of Civil Engineering, will address graduates at all three commencement ceremonies. In addition, at each ceremony, the 2023 Presidential Award winners will be recognized: Sally Molloy, associate professor of genomics, the Presidential Outstanding Teaching Award; Ali Abedi, professor of electrical and computer engineering, the Presidential Research and Creative Achievement Award; and Catharine Biddle, associate professor of educational leadership, the Presidential Public Engagement Achievement Award. Gregory Porter, professor of agronomy, is the inaugural recipient of the Presidential Innovation Award.
UMaine's regional campus, the University of Maine at Machias, will hold its 112th commencement ceremony at 11 a.m. on May 5 for 75 graduates. The ticketed event will be livestreamed, with two additional viewing areas available on campus — Science 102 and the Reynolds Center conference room. No tickets are required in the livestream viewing venues. A news release about UMaine Machias commencement is online.
Tips for attending all commencement ceremonies are online.
Contact: Margaret Nagle, nagle@maine.edu