UMaine names 2023 valedictorian, two salutatorians
Mechanical engineering major Lara Chern of Bow, New Hampshire is the 2023 University of Maine valedictorian. UMaine's two 2023 salutatorians are Mikayla Reynolds of Winslow, Maine, a double major in business management and marketing, and biomedical engineering major Zoe Vittum of Brewer, Maine. The three will graduate May 6 at UMaine's 221st commencement ceremonies.
"We are incredibly proud of the outstanding contributions that Lara, Mikayla and Zoe have made to UMaine and the state as members of our university community," says Joan Ferrini-Mundy, president of the University of Maine. "Their leadership and success in and out of the classroom are inspirational.
"Lara's multidisciplinary work included project management in our internationally recognized, state-of-the-art Advanced Structures and Composites Center and exceptional achievement in the Honors College. Mikayla has demonstrated outstanding leadership in community engagement on and off campus, including multifaceted peer education and multiple community service initiatives to meet needs. Zoe started her experiential learning in our Advanced Manufacturing Center as an Early College student and discovered her passion for biomedical engineering that has the potential to make a difference in peoples' lives.
"We are excited to see just how far the talents of these three will take them."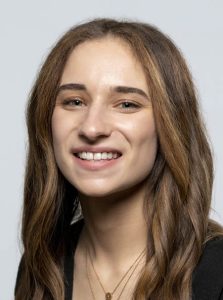 Chern is an Honors College student with minors in engineering leadership and management, and mathematics. She graduated from high school two years ahead of her class and enrolled at UMaine when she was 16. As a UMaine junior, she defended her honors thesis, "An Automated Process to Produce Rebar Reinforced Concrete Parts Using Additive Manufacturing." Her many scholarships and awards include the 2022 Servant Heart Award and the Ouellette Honors Thesis Fellowship.
In her first year at UMaine, Chern was a special projects assistant at the Franco American Center. During her sophomore year, she collaborated in the laboratory of UMaine professor Yingchao Yang on nanomaterials research and on research with professor Bashir Koda on biobased gels for human organ growth and timed drug-release capsules. With professor Richard Kimball, Chern collaborated on research in large-scale additive manufacturing for use in wave energy converters.
Since 2020, Chern has worked in the Advanced Structures and Composites Center's Project Management Office. In summer 2021, she was a project management intern with Weyerhaeuser Lumber Mill in Cottage Grove, Oregon and, in 2019–20, served as a mathematics instructor/tutor with Mathnasium in Manchester, New Hampshire.
Chern has served as president of the UMaine chapters of Pi Tau Sigma and Engineers Without Borders, and vice president of the UMaine chapter of Circle K International. In the community, her volunteer work has included the Bangor Humane Society, Telstar Regional High School Think Tank Project and Hirundo Wildlife Refuge.
In June, Chern will begin a job as a project manager at Procter & Gamble in Iowa City, Iowa. She plans to pursue an MBA and take a Law Certificate program.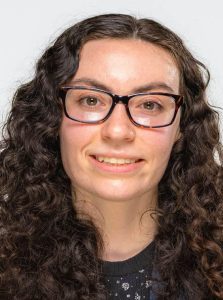 Reynolds is a first-generation Honors College student. Her numerous honors include a 2022 Outstanding Student Leader award from the Division of Student Life, a Thomas E. Lynch '38 Honors Thesis Fellowship, and a Center for Undergraduate Research Fellowship. In 2021, she was named the UMaine, state, and regional Student Employee of the Year.
Reynolds has participated in the Maine NEW (National Education for Women) Leadership program and the Olympia Snowe Women's Leadership Institute (OSWLI). She now serves as operations chair for OSWLI's Alumni Council.
Her honors thesis is: "Exploring the Influence of Work From Home and On-Site Benefits on Perceptions of Organizational Attractiveness." She was recently named the 2023 Business Research Category award winner for her UMaine Student Symposium research poster.
Reynolds is a certified peer educator. Since 2020, she has been the lead peer coach in TRIO Student Support Services. Reynolds recently co-presented at the 2023 New England Educational Opportunity Association Conference, where she discussed the power of peer relationships. In addition, she has been a student ambassador and a teaching assistant in the Maine Business School, and a program leader in the Center for Student Involvement. She has been the Student Success Initiatives Intern with the Maine Business School, and this semester, she is a student consultant with the Black Bear Consulting Corps in the Foster Center for Innovation.
Reynolds is president of All Maine Women, co-president of the UMaine chapter of Beta Gamma Sigma, and vice president of the 2023 Senior Class Council. She also is a founding officer and vice president of the UMaine chapter of Sigma Alpha Lambda. She was inducted into the Dirigo Leadership Society and is a mentor in the Emerging Leaders Program of the Center for Student Involvement. Reynolds also was appointed to the Maine Day Task Force. Reynolds served as the food bank liaison on the 2022 Maine Day Meal Packout Committee.
She has been a core organizer of the Black Bear Mutual Aid Fund and is the food bank liaison for the 2023 Maine Days Food Drive Committee. She has served as the director of programs and outreach for Sunrise Creative Youth Theatre in Waterville since 2018. She founded the Vassalboro Mill Clothing Exchange Closet in 2016. In 2019, she was awarded the Hardy Girls Healthy Women Community Organizer award for her commitment to community service and creating change.
Reynolds has been selected to be a Graduate School of Business Alfond Ambassador and will pursue a MaineMBA in the fall, concentrating her studies in sustainability, and public and nonprofit management.

Vittum, who minors in bioinstrumentation and neuroscience, is a UMaine Presidential Scholar, and a 2022–23 Helen Louise Stinchfield '18 Memorial Scholar and Tau Beta Pi Scholar. Her numerous academic and research awards include two National Science Foundation Research Experiences for Undergraduates (REUs) — Sensor Science and Engineering at UMaine and Functional Genomics at The Jackson Laboratory. She ​also ​received a UMaine Center for Undergraduate Research Fellowship and the Overall Best Poster Award at the Onshape Research Symposium.
As an Early College student, Vittum was a student research assistant in the Advanced Manufacturing Center, where she collaborated with UMaine experts and industry clients on solution manufacturing and implementation. In addition to her REU at The Jackson Laboratory as a student research fellow, developing computational methods and workflows to analyze genetic architecture and translate large-scale data into genetic models, Vittum was a clinical engineering intern with Northern Light Eastern Maine Medical Center. Most recently, in her REU in the laboratory of professor Karissa Tilbury, she collaborated to develop and implement a polarization control module within a two-photon microscope and conducted cell culture assays to investigate collagen remodeling.
On campus, Vittum has had leadership roles in the UMaine chapters of the Society of Women Engineers, Tau Beta Pi and the Biomedical Engineering Society, UMaine Black Bear Robotics and UMaine's NASA Lunabotics Mining Challenge Team, which competed at the Kennedy Space Center in 2022. Her volunteer efforts have included work at Challenger Learning Center, VEX Robotics and FIRST Robotics, and as a UMaine Cooperative Extension 4-H STEM Ambassador.
Vittum plans to pursue a Ph.D. in biomedical engineering, concentrated in women's health, at Worcester Polytechnic Institute.
Contact: Margaret Nagle, nagle@maine.edu