UMaine names its 2023 commencement speakers
The president of the Council of Graduate Schools and a retired U.S. ambassador and career diplomat with 32 years of experience with the State Department in Europe, Asia and Latin America will address graduates at the University of Maine's 221st commencement ceremonies on May 5–6.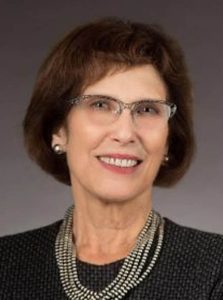 Suzanne Ortega, president of the Council of Graduate Schools (CGS), will address the Graduate School Commencement that begins at 4 p.m. May 5. Alumna and retired U.S. ambassador Anne Hall will address the two undergraduate ceremonies that begin at 9:30 a.m. and 2:30 p.m. May 6. The three ceremonies in Harold Alfond Sports Arena will be livestreamed on the commencement website.
"It will be wonderful to have the leader of the nation's higher education association devoted solely to graduate study addressing our ceremony for the Graduate School, which is celebrating its centennial," says UMaine President Joan Ferrini-Mundy. "And we will welcome Anne to her alma mater, where she will share her insights and worldview at our undergraduate ceremonies. We appreciate the leadership and vision of Dr. Ortega and retired ambassador Hall, are honored to have them join us."
Ortega leads CGS, which has nearly 500 U.S. and Canadian members, and 29 international affiliates. A sociologist by training, her research focuses on social inequality, mental health and graduate education. Prior to joining CGS, Ortega served as the University of North Carolina senior vice president for academic affairs (2011–14). Previous appointments included the executive vice president and provost at the University of New Mexico, vice provost and graduate dean at the University of Washington, and the University of Missouri.
She has served on review panels for the National Science Foundation and National Institutes of Health, has been the principal investigator or co-investigator on grants totaling more than $13 million in state, federal and private foundation funds.
Ortega also has served on a number of professional association boards and committees, including the Graduate Record Exam (GRE), the National Academies of Science Committee on Revitalizing Graduate STEM Education for the 21st Century, and the National Science Foundation's Human Resources Expert Panel. In addition, she is currently a board member of the American University of the Emirates, serves on Advisory Councils for the Vanderbilt University Graduate School and the Societies Consortium on Sexual Harassment in STEMM.
She is the author of numerous articles and book chapters, and holds master's and doctoral degrees in sociology from Vanderbilt University.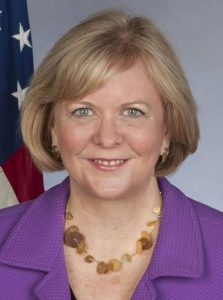 Hall was Ambassador to Lithuania from 2016–19, leading a multiagency team focused on strengthening Baltic defense and security. From 2014–16, she served as the principal deputy assistant secretary of state for oceans and international environmental and scientific affairs, and prior to that as director of the Office of Central European Affairs in the Bureau of European and Eurasian Affairs. Other overseas leadership positions included deputy chief of mission, Embassy Vilnius, Lithuania, and consul general of the U.S. Consulate General in Krakow, Poland. She also served in China, Brazil and Colombia.
Earlier in her career, Hall served as special assistant to Secretary of State Warren Christopher, in the Executive Secretariat of the Secretary of State, and worked on Nordic and Baltic as well as Southeastern European affairs.
She is the recipient of several Department of State Superior and Meritorious Honor awards. In 2019, the president of Lithuania awarded her the Commander's Cross of the Order of Merit for Service to the Republic of Lithuania. In 2009, she was decorated by the president of Poland with the Knight's Cross of the Order of Merit of the Republic of Poland.
Hall holds master's degrees from the LBJ School of Public Affairs and the Institute of Latin American Studies at University of Texas. She graduated from UMaine with a bachelor's degree in international affairs in 1981. Her languages are Polish, Chinese, Spanish, Portuguese and some Lithuanian.
Currently, she chairs the Board of Advisors of the School of Public and International Affairs at UMaine. She enjoys supporting the next generation of diplomats and leaders.
Contact: Margaret Nagle, nagle@maine.edu