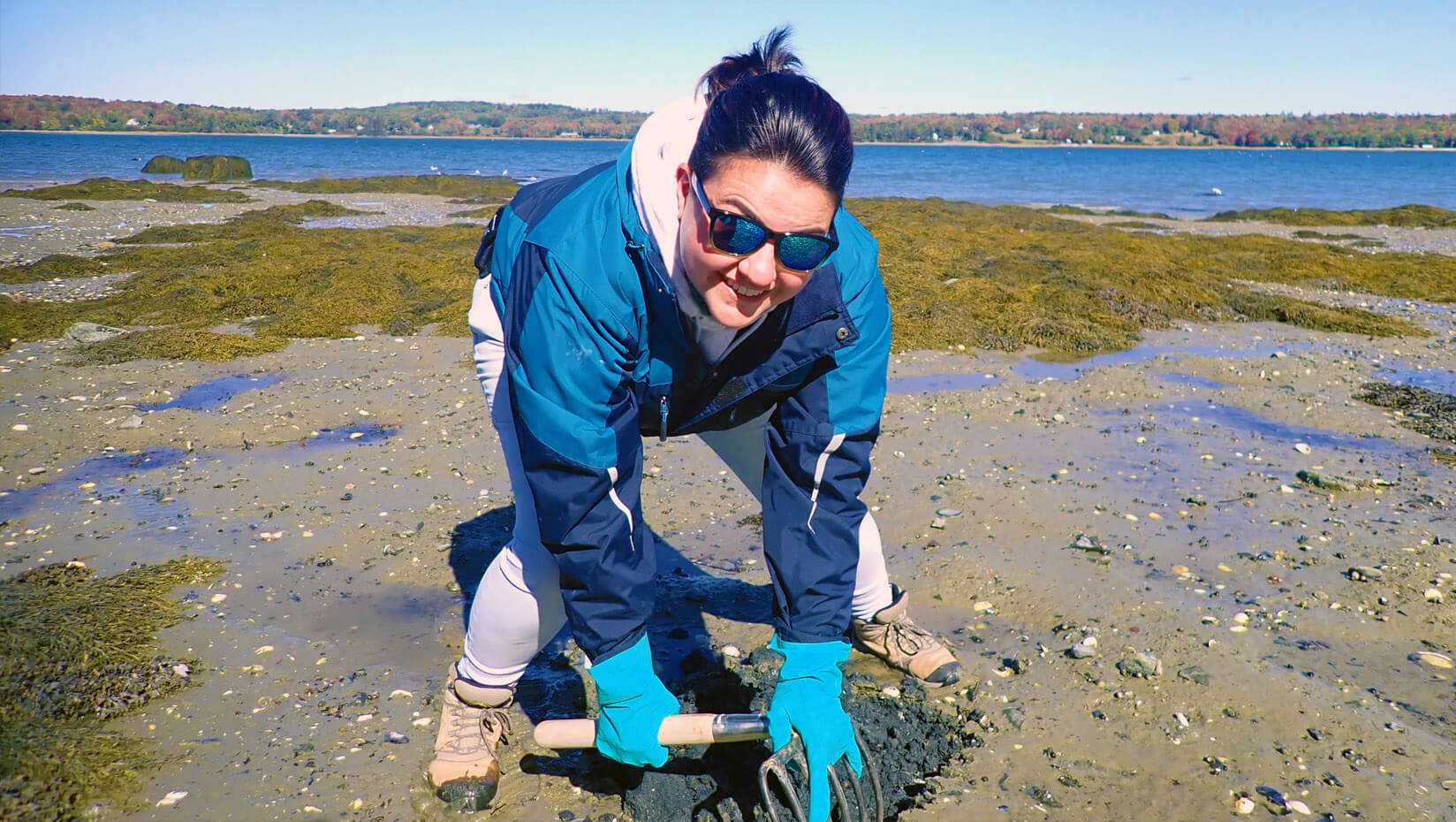 Hillyer's environmental leadership earns her a Brookie Award
Gabrielle Hillyer is one of six recipients of the first-ever Brookie Awards for her leadership on environmental issues.
The University of Maine doctoral student in ecology and environmental sciences was chosen for the honor by NRCM Rising, a Natural Resources Council of Maine project that engages and mobilizes the state's emerging generation of environmental leaders and advocates.
At UMaine, Hillyer applies principles from ecology, population genetics, economics, political science, and other areas to preserve nature as part of the National Research Traineeship (NRT) Enhancing Conservation Science and Practice program.
The program is designed to equip graduate students with skills to address challenges presented by global and local changes in the environment, economy, society and climate.
Hillyer also is gaining considerable skills and experience with the Maine Shellfish Learning Network (MSLN). She co-developed the network with her adviser, associate professor of environmental communication Bridie McGreavy.
The MSLN emerged from Hillyer and McGreavy's ongoing work with the Senator George J. Mitchell Center for Sustainability Solutions to strengthen and support coastal economies.
This first-of-its-kind network connects people across multiple projects from 20-plus coastal communities from Lubec to Yarmouth. Harvesters, researchers and people from state agencies share knowledge to promote learning, leadership, and equity for the health and sustainability of coastal shellfisheries.
"We want to understand issues that the entire shellfish community cares about, define our action items based on stakeholder feedback and continue to make progress," says Hillyer.
Those issues, she says, can vary from seeding clams, to invasive green crabs to pollution DNA.
"Partnerships are at the heart of the learning network, and Gabby really gets what that means in practice," says McGreavy. "Her ability to listen to the interests and concerns of our partners and shape the learning network efforts to match these interests is central to her leadership style."
Hillyer has been fascinated by, and appreciative of, the ocean and its inhabitants since she was a child.
"As a young girl, going to the ocean was the biggest treat in the whole world," says Hillyer, who grew up in Las Vegas, Nevada.
These days, Hillyer likes working on large-scale healthy ocean issues, including fisheries, oceanography and ecology.
Toward that end, when she was pursuing a dual master's degree in oceanography and marine policy at UMaine, Hillyer designed a device called a Bucket Drifter for the Medomak Water Quality Partnership.
"Think of a 10-gallon bucket you'd get at Home Depot with science equipment in it," says Hillyer.
The Bucket Drifter measures tides and collects other data with the goal of better understanding how harmful bacteria is flushed out of the tidal river estuary near in Waldoboro.
Currently, after it rains an inch or more, levels of noxious bacteria in the water can elevate, triggering a mandatory closing of the clam flats, which negatively impacts harvesters.
Hillyer wants to have as many tools in her belt as possible to help reshape how the public understands environmental issues. "Science can solve problems and create connections," she says, which she adds is needed as the world faces repercussions of climate change.
The six "Brookies" include students, artists, and scientists ranging in age from 15 to 30. Each is creatively implementing solutions to a variety of environmental challenges. The recipients receive a $1,000 cash prize and an invitation to attend a nature-based skill-building retreat.
Because brook trout are small, strong and captivating to watch, the award is named to "recognize the young and mighty individuals whose positive impact on Maine's environment ripples beyond themselves, much like true brookies."
NRCM leadership giving director Fiona Gordon, who helped create the Brookie Awards program, says these six people lead with powerful words and effective action that brings Mainers together to create long-lasting beneficial change.
"I can't say 'thank you' enough. I'm really excited to be honored," says Hillyer. "But this is a team award. All this work represents a team effort."
Hillyer and the other award recipients will take part in a free 90-minute webinar from 11 a.m. to 12:20 p.m. Tuesday, June 30. Each recipient will talk about their motivations and why their work is critical and answer listeners' questions. Register here.
Contact: Beth Staples, beth.staples@maine.edu