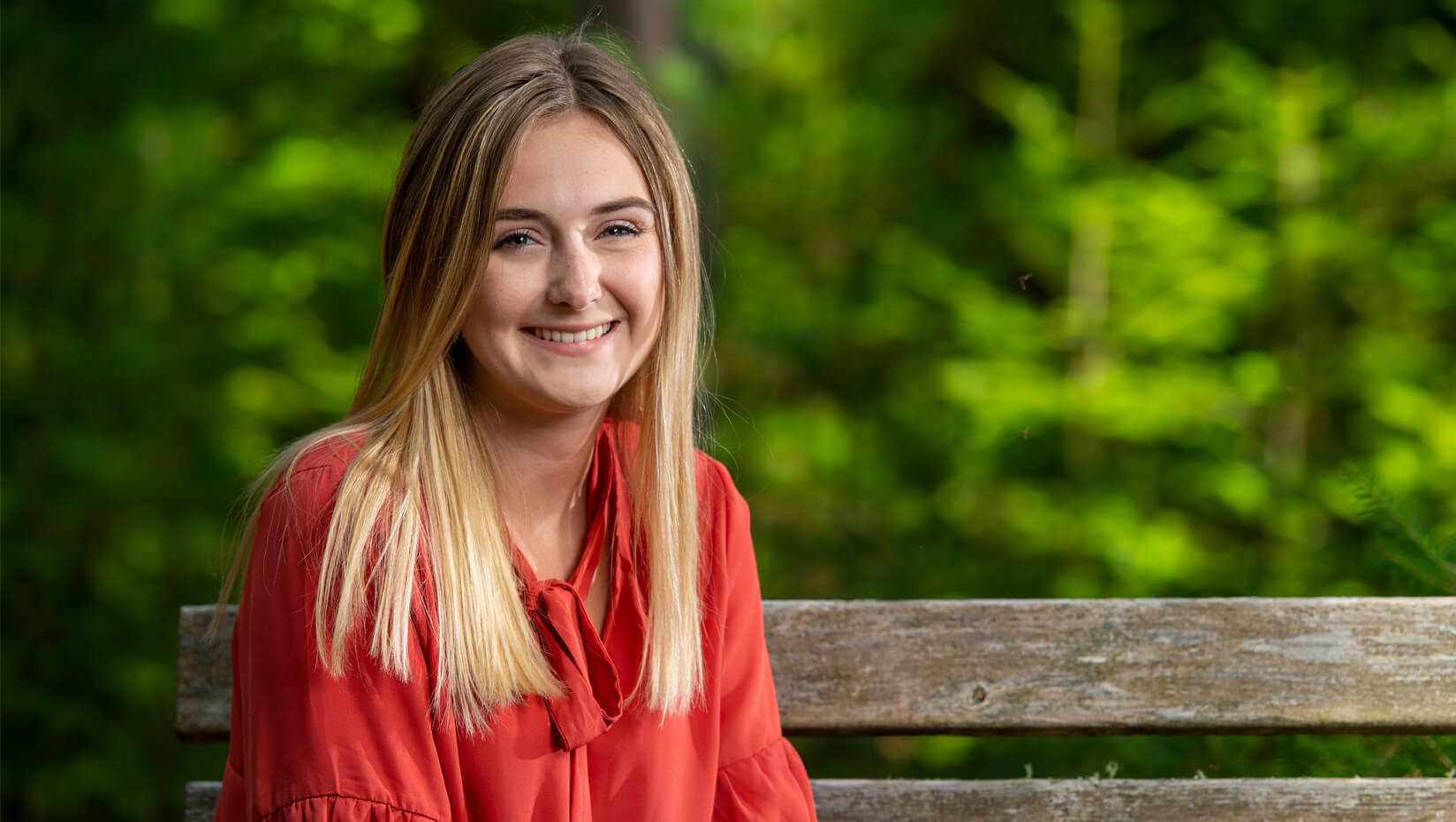 Emma Pooler: Political science, sociology student helps children, families as legal intern
Emma Pooler thrives on making a difference.
And that's what she did last spring as a legal intern for the Child Protection Unit (CPU) at the Office of the Maine Attorney General in Bangor, helping represent the Department of Health and Human Services and caseworkers for child protection and custody cases.
"I was really lucky — they made it a huge priority to make sure that we're sitting right on the bench with them, and meeting the judges and the justices," says Pooler. "I've spent a good amount of my time (at the internship) in court, and being able to sit and watch the action."
The office serves the expanded greater Bangor area, with most cases in Bangor and the surrounding area but also covering towns like Skowhegan and Dover-Foxcroft.
"It's one of the biggest caseloads in the state," says Pooler, a political science and sociology double major with a concentration in crime, law and justice, and minors in religious studies and legal studies.
Pooler, who is passionate about the law and its applications, was able to experience what it's like to work with the law at the state level on cases that weigh in on real people's lives.
"It's like the state working for the state," she says. "It helped me really cement my passion for helping children, helping families that are in such terrible, terrible circumstances."
Pooler landed her internship through a connection with Patrick Downey, an adjunct professor of political science at UMaine and an assistant attorney general, who recommended the internship when she was a student in his health care law and international law classes.
As a legal intern, Pooler was right in the middle of the action. She accompanied one of the several assistant attorneys general whenever they had a case in court or a related meeting for a case. Sometimes this would be a half day, or sometimes a full day, and she went to court at least twice a week from January through May during the semesterlong position.
Pooler came to understand the pervasive extent of the foster care system's presence in Maine. Sometimes she would see a name on a case file, wonder why it looked familiar, and realize it was the child of someone who had been in the system themselves 20 years earlier.
"The cycle is there, and it's so important that the foster care system is reformed and we're able to try to help promote a better life for a lot of kids," she says. "The system is not perfect and it leaves a lot of kids behind."
In high school, Pooler took extra classes through Fort Kent Community High School's Early College program, a partnership with the University of Maine at Fort Kent, and entered UMaine with 36 college credits. She's beginning her third and final year of undergraduate study, with plans to graduate a year early.
Now she is applying to law schools and preparing to take the Law School Admissions Test.
"I'd love to go to law school and hopefully, I would like to move back up to Aroostook County," says Pooler. "And I'd love to help fill a gap in the community up here that's been struggling."
This goal is inspired by Pooler's roots and by what she learned during her time with the CPU office.
"Even doing filing behind the scenes or reading through cases or typing transcripts, all of it is something that I found so fascinating. So it really helped cement (my interest)," she says. "Even the down time that's not as exciting as sitting on the bench talking to the judge, I still have that same excitement and I know that this is definitely something that I'd like to push to do further and pursue as a career."
Outside of work and class, Pooler is the president for UMaine's chapter of Her Campus, a website that publishes articles written by, and for, collegiate women.
"I love helping encourage girls to really see their power, and that their voices should be heard," she says. "Even if you're discussing your opinion on a TV show or your opinion on a policy at UMaine, I think that it's important that you feel that you're heard and people want to hear from you. It's a great encouraging community — we're not all like-minded, but we definitely all support each others' different views and different opinions, which is something that I think is a little bit hard to find nowadays."
Pooler also enjoys spending time outdoors, especially activities like fishing, snowmobiling and kayaking. She was unsure at first about attending such a large school, one she says is twice the size of her hometown. But she wanted a challenge, so she made the leap and hasn't looked back.
She especially loves the flexible political science program that allows students to focus on their individual interests, the "amazing location" and the variety of opportunities on and off campus.
"I'm so glad I chose UMaine. I don't think there could have been a school that was a better fit for me. It's helped really expand my horizons and helped me become more open-minded," Pooler says. "It has helped me grow not only as a student, but as a person."
Contact: Cleo Barker, 207.581.3729