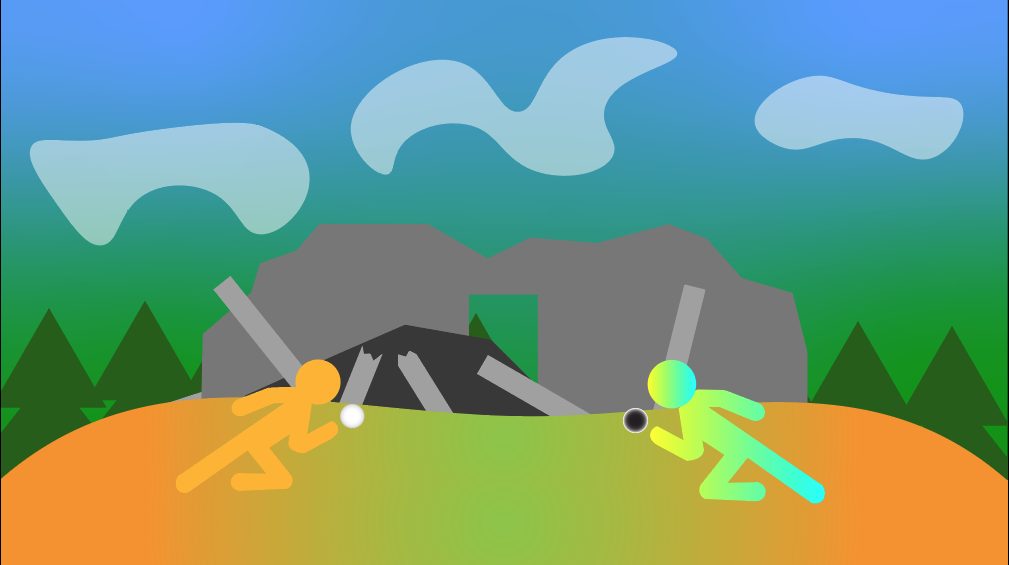 Tanner Matteson
When a student like Tanner says they are studying New Media, they could be talking about a multitude of things. New Media is not as specific or easily grasped as, say history or mathematics. While these degrees also have multiple aspects to them, New Media separates itself from other degrees by allowing more freedom of choice, and especially artistic freedom. Tanner Matteson is a perfect example of the freedom that New Media majors excel and individualize themselves in.
Tanner's New Media degree focuses on video game design, and creating a world that is its own and cannot be replicated. His capstone project is an interactive, create your own story game that gives the player as much freedom to do as they please as the art allows. Using the website Twine, an open-source tool that tells interactive and non-linear stories, Tanner has been able to create a story that, as interesting as it is, is only made stronger due to the beautiful art, drawn by Tanner himself, that accompanies every choice and intensely emerges the player in their own story.
Not only is Tanner a great story teller with text, he is equally as talented with video. Him and his friends have a YouTube channel that, while not racking in the views at this time, is only sure to grow over time and really exemplify his talents with media. The channel, named TheGuardWhales (link to their channel : https://www.youtube.com/channel/UCVyavYk_zNAHU-6WcY6IBrQ), is a great portfolio of his talents. For example, he is musically talented in a very special way. Using a website MuseScore, Tanner was able to create his own song using only sounds made from a water bottle! While it is certainly not a Grammy contender, it is again merely proof of his emerging skill and talent in the arts.
Tanner has always known in his heart that video game design was his calling. Ever since he was a young boy, his oldest memories were of playing video games with his brothers and friends, and the joy it all brought them. His goals moving forward are to (hopefully) be involved in the business, potentially moving to California / the west coast, where the studio(s) he hopes to work for are located. His experience with animation, video, game design, and character design make him a valuable asset to future employers, and his desire to improve his craft is a highly sought after skill, by those in his field and those who wish to work harder.