New Media celebrates the life of dynamic founder Owen Smith
The New Media program at the University of Maine is saddened by the loss of one of our earliest champions, Owen F. Smith. An art professor who was associated with New Media since its inception, Smith made extraordinary contributions to the program and the university.

A noted artist and scholar, Smith was part of an interdisciplinary group of faculty from art, computer science, journalism, and other fields that established a University of Maine "multimedia" minor in 1993. Since then, he helped the program grow into a New Media major (2000) and department (2006), acting as its chair in the 2000s.
Smith was personally responsible for an impressive set of resources that complement the New Media degree. In 2003 he spearheaded the launch of the Intermedia MFA, a graduate degree with considerable overlap with the undergraduate New Media program.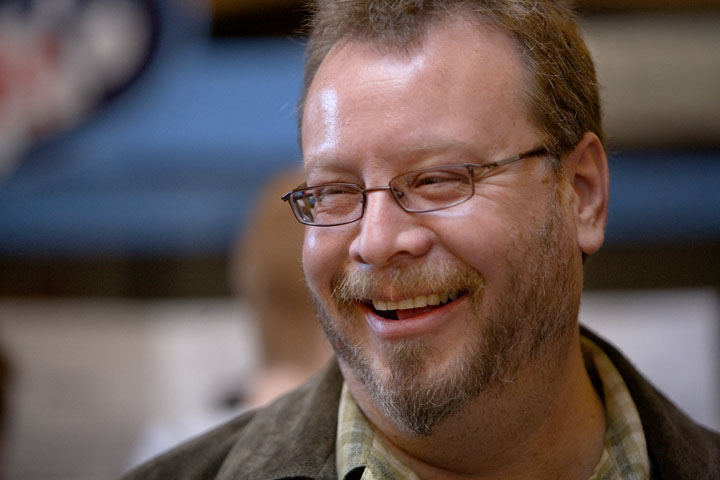 Smith was also the mastermind behind a $10 million facility dedicated to the creative use of analog and digital media that opened in 2013. Financed with a Maine state bond approved under Smith's leadership, the IMRC (Innovative Media Research and Commercialization center) remains a technology hub unmatched by any other in the State. The facility is chock-full of 3-D printers, laser cutters, and sophisticated wood, metal, and textile fabrication equipment. Its black-box multimedia space boasts 23-foot ceilings, moveable walls, a 360-degree projection space, and an immense projection screen that can be seen outside the building.

Smith was a strong supporter of student research and creativity, securing funds to support undergraduate New Media projects and regularly attending student presentations. He was also a fixture at talks by visiting artists; he always had a trenchant question at the ready, informed by his background as a scholar of and practitioner of avant-garde art, and delivered in his unmistakable, resounding voice.
As a historian Smith is best known for his book Fluxus: The History of an Attitude, which examines the influential movement of experimental performers in the 1960s and 70s. A fitting memorial at 3pm on Saturday, 23 October will echo Fluxus' participatory style of performance, as celebrants break ground to plant a garden next to the IMRC building he built. A student award in his name to recognize extraordinary creativity is also being discussed.
Faculty and students will miss Smith's fresh perspectives, illuminating ideas, and can-do attitude.