Creativity and Research
Research is crucial to any creative process, so it's an important part of our project-driven classes, if only to make sure you don't reinvent the wheel. Examples of recent student research and creativity include:
Creating a synthetic evolving ecosystem with artificial life.
Fabricating an interactive collar that releases scents associated with particular images.
Constructing an interactive model of a coral reef with 3-D printing to show museum visitors the effects of changes in water temperature and acidity.
Surveying students about memories associated with particular pieces of music, and visualizing these on a 360-degree kinetic typography installation.
Scanning micro-organisms from water bears to ants with an electron microscope to create 3-D models you can explore at gargantuan scale in augmented reality.
Apart from research's integration into our project-driven classes, there are many opportunities to get your hands dirty in research labs and other collaborations on- and off-campus. Students can also work directly with professors on their research in settings such as these:
ASAP
New Media's ASAP lab is one of the most productive research and development environments on campus. ASAP employs a dozen students working with real-world clients on projects ranging from phone apps to interactive wearables.
Still Water lab
The Still Water lab studies and builds networks for creative people. Its initiatives have included collaborating with Indigenous peoples on alternatives to copyright, and building a phone app to help farmers grow plants all year round in Maine by tracking greenhouse data.
Currently, StillWater Ripple partners students with local community clients to address sustainability goals via media, web and mobile apps designed to build local resilience. Our internships, course projects, and partnerships help our students put their skills to green uses in the local community.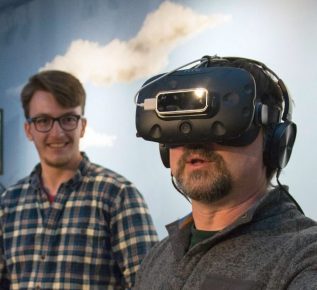 VEMI lab
The Virtual Environment and Multimodal Interaction lab investigates novel ways to navigate and understand virtual spaces, both through conventional Virtual Reality (VR) and Augmented Reality (AR) as well as unusual environments designed to appeal to non-visual senses.
New Media students have numerous other opportunities to collaborate with faculty on creative projects, from prototyping a plant sensor at the America East Hackathon to building a bubble chamber to catch cosmic rays at Digital Humanities Week. Working with faculty and fellow students in these settings gives New Media Majors the opportunity to work with graduate and undergraduate students from other departments, on projects that directly benefit local companies, clients, and ecosystems.