Sustaining Our Lakes
Modeling Resilience and Adaptation in the Belgrade Lakes Watershed
Institution: Colby College
Sponsor: National Science Foundation through the Sustainability Solutions Initiative
Maine's 5,700-plus lakes pump an estimated $2.5 billion into the state's economy every year. Human activity, however, is reducing water quality in many lakes, which affects everything from property values to tourism dollars to fish. Whitney King, Miselis Professor of Chemistry at Colby College, is leading an SSI team studying the Belgrade Lakes Watershed as a model for creating new strategies to improve and protect lake water quality and promote sustainability in surrounding communities.
Why This Project?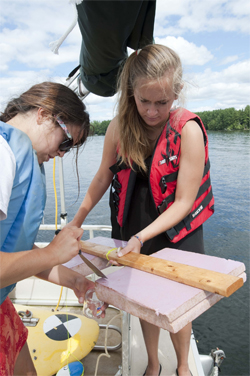 King's team is studying the effects of development on lake water quality and local economies in the Belgrade Lakes region, an important economic engine in central Maine that includes 7 major lakes and 13 communities. Water quality has been declining in these lakes for several decades.
The researchers are focusing on phosphorus pollution from development and other human activity, which can trigger unchecked algae blooms that can harm fish and other aquatic life, interfere with recreation and lower property values. Several of the Belgrade lakes are among the more than 50 Maine lakes that have experienced recurrent algal blooms and the nearly 500 more at risk. The problem is likely to worsen statewide as more lakeshore is developed.
The complex interactions between environmental, socio-economic, and biogeochemical factors that underlie the problem are not well understood. As a result, policy makers, nonprofits and citizens lack adequate tools to take a comprehensive approach to improving lake water quality and sustainability.
Connecting Knowledge with Action
King's team is investigating the main sources of phosphorus in the Belgrade lakes, evaluating best practices to prevent phosphorus runoff, examining the links between shoreline management and lake health, and finding the most effective ways to encourage property owners to help through such measures as controlling shoreline erosion. In addition, team members are compiling data on the region's changing economy and population, collaborating on a K-12 outreach program, and studying a sense of place among residents and visitors and its effect on motivating them to take action to protect the lakes.
The researchers will share their findings with communities, policy makers, stakeholder groups and the public through venues ranging from the Belgrade Lakes Sustainability Project blog to the new Maine Lakes Resource Center in Belgrade Village. They also will communicate results through detailed classroom curricula and hands-on student activities.
Findings from the project will inform efforts to improve water quality and promote sustainability in the Belgrade Lakes region and provide a model for similar efforts in other watersheds.
Update on the Research
SSI researchers at Colby College report progress in several areas that will help inform economic development and efforts to address water quality issues in the Belgrade Lakes Watershed, and other regions as well. Recent findings include:
Lake water quality continues to decline
SSI team leader and Colby chemistry professor Whitney King has found that water quality is slowly declining in the 7 interconnected Belgrade Lakes. His team is working to define the magnitude of the problem and find ways to prevent this decline from accelerating.
Lakes region population and economy are changing
A new report by Colby economics professor Michael Donihue reveals significant shifts in the 13-town region, including a decline in the year-round population and a rise in second homes. These and other findings will aid local and regional stakeholders in planning for sustainable economic development. The report is part of the team's ongoing research to determine the lake system's economic value to the region.
Identifying and evaluating parameters that influence shoreline biodiversity
Colby team members Cathy Bevier, associate professor of biology, and Russell Cole, Oak Professor of Biological Sciences, have identified parameters that influence shoreline biodiversity, and are evaluating their importance using established practices. This work will help determine whether or not improving shoreline quality could help restore native riparian and littoral biodiversity in local lakes. Findings will be based on data collected from 72 sites on three Belgrade area lakes (East Pond, North Pond, and Great Pond).
The researchers also made significant progress in education and outreach efforts in collaboration with community partners, including the Maine Lakes Resource Center. More than 500 7th and 8th graders visited the Center and collected sediment and water samples in research that is linked to K-12 curricula in area schools. Colby student team members volunteered as educators at the Center and completed the documentary "A Sense of Place" with team member James Fleming, Colby professor of science, technology and society.
Over the next year, the Colby team will continue to investigate ways to help reverse declining water quality in the Belgrades. Philip Nyhus, associate professor of environmental studies, will study best practices for making voluntary programs to protect water quality more responsive to landowners' needs. At the request of the Maine Department of Environmental Protection, the team also will evaluate the effectiveness of shorefront rain gardens in preventing phosphorous and other pollution from washing into lakes.
Team Members:

Whitney King (team leader)
Philip Nyhus
Russell Cole
Herb Wilson
James Fleming
Catherine Bevier
Alice Elliott
Lauren Lessing
Michael Donihue
Partners:
Resources
Supported by National Science Foundation award EPS-0904155 to Maine EPSCoR at the University of Maine.