Sustaining Our Lakes
Maine's 5,700-plus lakes pump an estimated $2.5 billion into the state's economy every year, according to the report The State of Maine's Environment 2010. But human activity is reducing water quality in many of our lakes, which affects everything from property values to tourism dollars to fish.
The Belgrade Lakes region is a crucible for these pressures—and an ideal place to learn how to contend with them. Interdisciplinary teams of faculty and students at Colby College and the University of Maine at Farmington are doing exactly that in an SSI project led by Colby chemistry professor D. Whitney King.
Colby undergraduate student Sylvia Doyle conducts a shoreline survey of Great Pond in the Belgrade Lakes region.
The researchers are studying the effects of development on lake water quality and local economies in the Belgrade Lakes region, an important economic engine in central Maine that includes 7 major lakes and 13 communities. They are focusing on a widespread and tricky problem: phosphorus pollution from development and other human activity.
A natural component of soils and a common ingredient in chemical fertilizers and detergents, phosphorus washes into lakes in runoff from yards, roads and faulty septic systems. Too much phosphorus "over-fertilizes" lakes, speeding up the natural aging process called eutrophication—sometimes with serious consequences.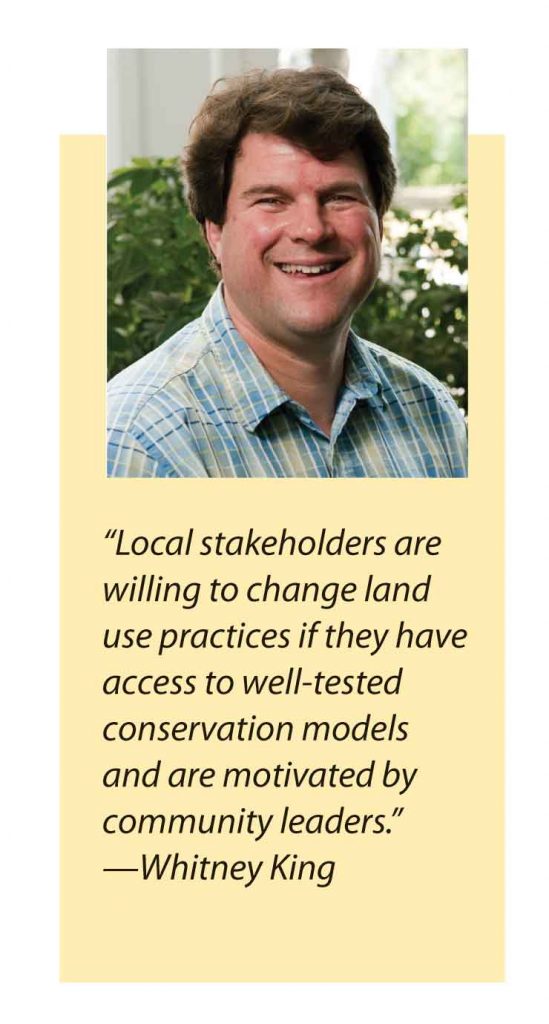 In the worst cases, lakes become fouled with unchecked algae blooms that can harm fish and other aquatic life, interfere with recreation and affect property values. A 1996 University of Maine study reported that property values drop as much as 10 to 20 percent with every meter decline in water clarity.
Several of the Belgrades are among the more than 50 Maine lakes that have experienced recurrent algal blooms and the nearly 500 more at risk. The problem is likely to worsen statewide as more lakeshore is developed, further increasing the risks for erosion and phosphorus pollution.
King and his colleagues are using the Belgrade region as a model to create new strategies to remediate and restore lake water quality, anticipate and address future changes in the watershed, prevent further pollution and engage communities and landowners in becoming part of the solution. The team's solutions are based on a three-pronged approach: figuring out the main sources of eutrophication in the Belgrades, evaluating the best practices to keep phosphorus runoff out of the lakes, and finding the most effective ways to encourage homeowners to help through such measures as controlling erosion on shorefront property.
The researchers will share their findings with communities and stakeholder groups including the Maine Congress of Lake Associations and the Belgrade Regional Conservation Alliance (BRCA) to educate the public about protecting the lakes. "Local stakeholders are willing to change land use practices if they have access to well-tested conservation models and are motivated by community leaders," King says.
That access will improve dramatically when the Maine Lakes Resource Center opens in Belgrade Village this summer—the culmination of a campaign called "Docks to Doorways" in which community members and stakeholder organizations raised $2.5 million to restore historic docks, create green space and build an education center. The new center will educate landowners and visitors about best practices for protecting lakes, such as planting rain gardens to absorb runoff, building buffer strips of vegetation along shorelines and using porous paving materials.
Mel Croft, BRCA president, says the new center will help bring years of hard work to fruition. "Much progress has been made," he says, "but we hope a more concentrated effort will decrease the decline of water quality and eventually reverse this trend."
Input from community stakeholders like BRCA is key to developing truly sustainable solutions, King observes. "Community engagement in the research process takes a lot of time, but the outcomes can be much more significant than traditional research programs," he says. "It's important to define outcomes to include changes in how people interact with lake ecosystems in addition to the generation of scientific knowledge."