Nested Ecosystem-Based Fisheries Management
Institution: University of Maine
Sponsor: Senator George J. Mitchell Center for Sustainability Solutions
Co-locating opportunities to integrate locally-produced social-ecological science into ongoing efforts to forward ecosystem-based fisheries management in the Gulf of Maine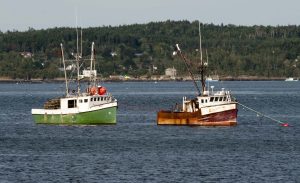 Ecosystem-based fisheries management (EBFM) has been widely touted as the future of fisheries conservation and stewardship, appearing prominently in an array of highly visible policy documents in the United States and internationally.
The shift towards EBFM parallels similar interests in coastal and marine spatial planning, general acknowledgement that single-species management consistently fails to sustain living marine resources, and widening recognition that marine systems are highly complex and dynamic.
In an effort to transition EBFM from theory to practice in Maine, the National Marine Fisheries Service (NMFS), Maine Department of Marine Resources, and the Maine Center for Coastal Fisheries are in the final stages of developing a Cooperative Research and Development Agreement (CRADA), which will serve as a platform to co-develop a scientific framework to support an inter-jurisdictional, co-managed, ecosystem-based fisheries pilot area in the Eastern Gulf of Maine.
The CRADA will focus on the Eastern Maine Coastal Current and its associated watersheds because it is a Distinct Ecological Production Unit that overlaps with one of NMFS' Habitat Blueprint Focus Areas and is an important habitat recovery unit for Atlantic salmon. Further, the coastal communities in the region are highly dependent on marine resources, making it socioeconomically unique relative to the rest of the state.
A key feature of the CRADA is that it acknowledges upfront that a scientific framework to support EBFM must be interdisciplinary, accounting for both the human and natural components of the system and their complex and dynamic interactions.
Project Goals
This project focuses on how the CRADA can best be integrated into broader EBFM initiatives underway at the regional and national levels. Simultaneously, our work to effectively integrate the CRADA will help to ensure that the information produced through this agreement will be used to inform fisheries management and decision-making in the near- and long-term.
Team Leader:
Joshua Stoll, University of Maine, Assistant Professor of Marine Policy, School of Marine Sciences
Team Members:
Robin Alden, Maine Center for Coastal Fisheries, Executive Director,
Heather Leslie, University of Maine, Darling Marine Center, Director
Yong Chen, University of Maine, School of Marine Sciences, Stock Assessment Scientist
Outcomes:
Mitchell Center News, Nov. 28, 2017
Clearer Waters for Ecosystem-based Fisheries Management
Workshop Report, Sept. 27 & 28, 2017
Integrating Ecosystem-Based Fisheries Management and Co-Management