Clearer Waters for Ecosystem-based Fisheries Management
UMaine workshop explores future of fisheries conservation
In late September, the University of Maine hosted a workshop titled "Integrating Ecosystem-based Fisheries Management and Co-Management" at the Darling Marine Science Center in Walpole. Ecosystem-based Fisheries Management, or EBFM, has gained increasing interest among researchers, managers, and fishers themselves in light of current challenges to fisheries sustainability.
The workshop, with funding support from the Mitchell Center for Sustainability Solutions, was intended to bring clarity to the connections and tensions between the two concepts. EBFM refers to managing fisheries from a multi-species rather than single species perspective, whereas co-management refers to managing a resource in conjunction with community, government, and stakeholders as partners. The practical integration of these two strategies is still in its infancy, yet both strategies have generated a lot of interest among decision makers from the local to national level in the U.S. and globally.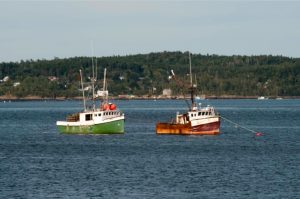 The workshop was co-organized by Mitchell Center Faculty Fellows Joshua Stoll, Assistant Research Professor in the School of Marine Sciences, and Heather Leslie, Director of the Darling Marine Center and Libra Associate Professor in the School of Marine Sciences (SMS).
Marina Cucuzza, UMaine SMS Master's student pursuing a dual degree in marine biology and marine policy and co-advised by Stoll and Leslie, led foundational research this past summer to set the stage for the workshop. Together with her advisors, she investigated existing EBFM efforts in the U.S., in order to understand how these ideas have played out in practice.
"To do that," she explains, "we identified five organizations that do EBFM. The questions I asked were: how do they operate; how do they function; what are their strengths and weaknesses; and what are the good things and what is really challenging about doing this work?"
The five organizations were the Florida Keys National Sanctuary, The Chesapeake Bay Program, the Hawaiian Islands Humpback National Marine Sanctuary, the Gulf of Mexico Alliance and the Puget Sound Partnership.
Cucuzza conducted interviews at each organization to elicit the perspectives of scientists, policymakers and managers.
In the wake of the workshop, Cucuzza says her biggest take away was that by defining more clearly what EBFM and co-management mean in particular places "we better understand how to operationalize them. And pulling from examples of where this is being done successfully is helpful in moving forward and thinking about that on a broader scale."
She adds, "This workshop was a great way to get people from different institutional settings, including academics and state and federal managers, talking. We now know each other better, and have begun some really exciting and productive conversations. We anticipate that these will lead to deeper collaboration and hopefully in-the-water impacts on fisheries and ocean sustainability in the future."
Read the Workshop Summary Report here.
—David Sims