Making Maine's Local Food System Sustainable: Opportunities to Address Hunger and Reduce Waste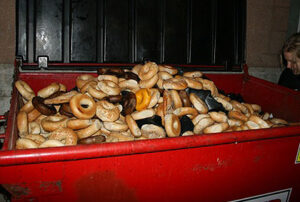 Institution: University of Maine
Team: Materials Management
Sponsor: Interdisciplinary Undergraduate Research Collaborative (IURC)
This project builds and expands on the 2018 Food Waste Reduction project funded by IURC and the Diana Davis Spencer Foundation. The earlier project focused on food loss, food waste, and barriers to establishing a circular food system and environmental sustainability while addressing food insecurity. This project will expand on the earlier project to include: a) University of Maine System (UMS) students' active engagement in an interdisciplinary undergraduate collaborative team (to include nursing, anthropology, engineering, economics, food science and psychology) led by undergraduate students who participated in the Food Waste Reduction project; and b) UMS students' participating in all phases of research (e.g., IRB proposal writing, data collection, analysis, and dissemination) within an interdisciplinary group.
The urgent need to continue research that involves and engages our future workforce is clear when we consider that most estimates indicate that approximately one-third of all the food produced for human consumption is lost or wasted. In the U.S., where 40% of food is wasted, there is a growing movement to prevent food waste, address food insecurity and ensure that nutrients are cycled back into our soils and food production systems. Specifically, New England is at the forefront of these efforts with states in the region implementing graduated organic waste landfill bans, establishing food waste reduction targets, making significant investments in food distribution, and investing in composting and digestion technologies. However, in Maine, food recovery, waste reduction, and composting efforts have fallen short of targets despite stakeholder support. To find solutions, research widely suggests the need to combine efforts across disciplines to motivate behavioral changes. Through this project, college-educated millennials have the opportunity to join an interdisciplinary team that aims to discuss problems, conduct research, develop solutions, participate in decision-making processes, and expand a youthful workforce in growing work sectors in Maine.
The interdisciplinary collaborative team will be open to all University of Maine campuses. Selected students will participate in multi-site collaborate meeting and activities, and will conduct mentor guided research.
Two students from the earlier Food Waste Recovery project will serve as co-leaders to coordinate and host bi-monthly undergraduate virtual, multi-site meetings to discuss interdisciplinary circular food economy research and provide opportunities for education through speakers. These co-leaders will be mentored by Materials Management faculty and a graduate student. This approach will retain students from the first phase of funding and foster leadership skills.
Two students at the UMaine campus will conduct research with Materials Management mentors. Jean MacRae, Associate Professor of Environmental Engineering and her mentee will continue her research focus on the effects of salty foods with different carbohydrate, fat and protein contents to develop guidance for operation of digesters that accept food waste, and develop a database of foods that are likely to cause interruptions in methane production. Balu Nayak, Associate Professor of Food Processing and his mentee will continue lab-based research developing cellulose nanofiber-based films to reduce bacteria adhesion so that the packaged food products can be preserved for a longer period, thereby reducing food waste. Results from the earlier project showed promising surface modifications using food grade oils that potentially help reducing  bacterial adhesion.
Team Leader
Debbie Saber, School of Nursing
Team Members