Enhancing the Scientific Basis for Predicting the Response of Coastal Maine Estuaries to Polluted Freshwater Runoff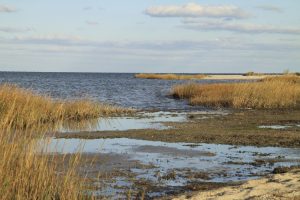 Institution: University of Maine
Sponsor: Maine Water Resources Research Institute (2019)
The Coastal Maine Estuaries (CoMEE) Response to Freshwater Runoff project aims to enhance the scientific basis for predicting the response of coastal Maine estuaries to polluted freshwater flows.
This collaborative effort between researchers in the UMaine departments of Civil & Environmental Engineering, Earth & Climate Sciences, and Communication & Journalism and the Mitchell Center for Sustainability Solutions will build on the knowledge base and framework created under  the New England Sustainability Consortium's (NEST) Safe Beaches and Shellfish Project.
The Safe Beaches and Shellfish project produced delineations of more than five hundred coastal watersheds that were compared in terms of vulnerability to bacteria pollution events based on in-water measurements and Maine Department of Marine Resources (DMR) bacteria sampling results.
Built from requests by stakeholders (i.e., DMR and the Maine Shellfish Advisory Council) for specific types of information and management resources, the Safe Beaches and Shellfish project provided a first-order approximation of residence times of freshwater entering into Maine coastal waters.
The CoMEE project will complement and advance the Safe Beaches and Shellfish model by providing a validation tool for initial land-sea connection estimates and a basis for better approximating freshwater flow dynamics in coastal watershed-estuary systems.
The project includes collecting field measurements and building idealized models in two Maine estuaries that represent a range of land-sea connection conditions (system size and freshwater discharge) and that are of interest to the DMR because of shellfish contamination problems.
This work will provide new information to push forward the frontier of knowledge among coastal stakeholder communities, expand the capacity to predict coastal pollution problems, and support the development of decision-support tools and mitigation strategies for problematic freshwater flows affecting coastal Maine estuaries and shellfishing industries.
Team Leader
Lauren Ross, Assistant Professor, Civil and Environmental Engineering, UMaine
Team Members
Sean Smith, Associate Professor, School of Earth and Climate Sciences & Mitchell Center for Sustainability Solutions, UMaine
Bridie McGreavy, Assistant Professor, Communication and Journalism & Mitchell Center for Sustainability Solutions, UMaine
Samuel Roy, Postdoctoral Fellow, Mitchell Center for Sustainability Solutions, UMaine
Gabrielle Hillyer, Doctoral Student, School of Marine Sciences, UMaine