Todd Presner, a digital historian and Professor of Germanic Languages, Comparative Literature, and Jewish Studies at the University of California, Los Angeles will deliver a lecture titled "Experimental Knowledge in the Age of Digital Humanities." Presner is also the Sady and Ludwig Kahn Director of the UCLA Center for Jewish Studies and the Chair of the Digital Humanities Program. Anne Knowles, UMaine Department of History, recruited Presner to visit UMaine. She describes him thus:
"Todd's creativity has found many outlets, from the path-breaking online project HyperCities to promoting hybrid forms of digital and print publishing and his leadership of Jewish Studies at UCLA. His warm support for digital scholarship does not inhibit his frank critiques of the problems digital work raises for humanists. His views on these trends are fascinating."
The October 2nd lecture will be a broad, deeply knowledgeable overview will explore how digital work is changing humanities scholarship.
In addition to the Monday event, Presner will be a guest lecture in Knowles's grad seminar, Tuesday October 3rd at 4PM in Stevens Hall, room 310. Todd will be talking about several of his digital projects. Visitors very welcome!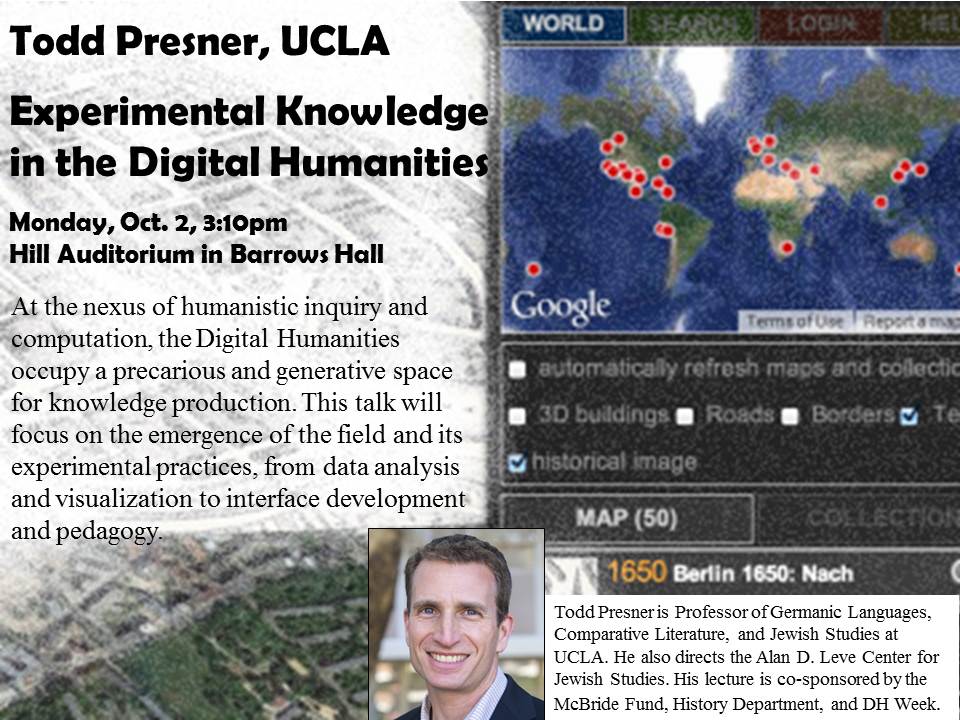 The event is part of the History Department's 2017-18 Symposium Series and the 2017 Digital Humanities Week.