2015 Team 4
About the project:

The Adapted recorder project is geared towards allowing a person(s) to be able to play the recorder despite the limitation of a disabled hand.  A disability can be a hindrance for doing things that those without disabilities know nothing about.  The ability to play music has been an inspiration for many throughout generations.  Opportunities to assist someone in need and allow for their personal enjoyment is an inspiration to create the best product possible.  Our Client is Nia.  She is from Old Town, Maine, enjoys music, and the color purple.
---
Updates:
Week of 2/27/15: ***Final Website Update***
After 9 Months spent on the project, and 655 hours later, Team 4 demonstrated our project in the UMaine MET Senior Capstone Presentation on Maine Day, April 29, 2015.  After a grueling neck and neck competition, Team 4 achieved First Place in the MET Capstone Design Competition!  Despite the many other unique and well designed projects from the other teams, Melissa, Nia's Music Teacher, chose our Design to best suit her needs.  This is a great honor showing our dedication and commitment to this project, and we thank all those who have donated to our cause and to Nia's future.
UMAINE MET SENIOR CAPSTONE MUSICAL PRESENTATIONS:
Note: Travis Sherman Preforming "Camptown Races" perfectly at time (3:03)
Week of 4/20/15:
This week marked our float deadline, we needed to complete any remaining tasks this week and put together all of the work we have done since September 2014.  This consisted of completing the sanitation and pad implementation portions and how it could affect the final product.  We will show off our finished product on April 29, 2015 in 137 Bennett Hall, starting at 9AM.  Any and all are welcome to view the UMaine MET Capstone Project.
Week of 4/13/15:
Destructive testing was completed this week along with delegating tasks for the Maine Day competition and compiling data for our poster and presentations.
Week of 4/6/15:
This week we completed the fingering chart for the lower nine notes completed with readability modifications for ease-of-use.  The report on the sanitation testing was completed including the recommended cleaning method.  Also, Pad testing was completed concluding in a pad that fits our needs.  Destructive testing was started but not completed.
Week of 3/30/15:
This week we ordered valuable materials for the final pad tests and case designs.  The case was assembled with only the logo decal to be completed by Caron Signs.  Spray coatings were experimented on to see if we can use the most recent ABS variant.
Week of 3/23/15: 
This week we revised the case logo designs through Caron Signs and decided on a new aesthetic case design.  The 3-D model of the mouthpiece was ordered to be printed.  A preliminary brainstorming session was conducted to get ideas for a fingering chart that will go in our brochure to Nia.  We also revised the pinky key drawings.
Week of 3/16/15:
This week, we met to discuss projects and action items moving forward.  Decisions on pad material was pushed back due to the need for new materials.  The case logo was received and a decision was made as to which of the two options we would choose.  We also received a newly printed recorder from Proto3000, however the coated finish was not to our liking as well as the tolerance of the mouth-piece to body diameter.
Weeks of 3/2/15 through 3/9/15:
*Spring Break Update*  Over Break Travis Sherman Represented Team 4 and the rest of UMaine MET in the Annual Engineering Expo at the University of Southern Maine's Gorham Campus.  MET representatives at the Expo detailed the project to hundreds of parents, children, peers, and professional representatives.  The project objective was described as well as the impact this project has on our Clients' way of life.
Week of 2/23/15:
This week further pad testing was completed and narrowed down our options to three different materials with a fourth being a prototype pad configuration.  We contacted Carol Signs, a professional sign maker, to design the decal to go on our case design.  With this week being a critical deadline, most tasks have been completed with the exception of finalized pad materials and sanitation testing.  A meet with Nia was also established and conducted to give the group valuable feedback from her about the functionality of the recorder and how she liked it.
Week of 2/16/15:
This week we conducted more spectrum testing using cork and felt material.  From this test we concluded that cork pads, unless modified, would not perform as needed with our current design.  Drawings were revised from notes taken during the spectrum test.  A new case design was drafted using the case give to us from Bangor Brass and Woodwind.
Week of 2/9/15:
Pad testing was set back this week due to the need to form the pads in order to get consistent tone.  UMaine's IMRC Director Smith was contacted in an attempt to use the facilities' laser cutter. Sanitation testing is in its early stages, the experiment has been planned including what chemicals or solvents to be used and what procedure to use.  The hard case case was acquired to retrofit and adapt to our project.  New key rods are being machined to optimize performance.
Week of 2/2/15:
This week, we began testing pads, we tested one material but with two different thicknesses and have come to the conclusion that we need to develop a way to consistently cut pads out of stock material.  We also revised drawings and forms for out first Logbook entry of the semester.
Week of 1/26/15:
This week the group met to discuss long range goals and projects and formed these ideas into a Gantt Chart.  This put the final stages of the project into perspective and we were able to map out the rest of the semester.  Pad materials came in this week opening the door to pad selection tests.  Also, the newest mockup was fully assembled and we began playing with it.
Week of 1/19/15:
This week we researched more into pad design finding new pad materials to order and test with the Spectrum Analyzer.  We also sent our .stl part files to L&K for processing and received our new mockup at the end of the week.  Travis prepared his skills with the recorder.  We also found a potential supplier for custom foam inserts to put into an aftermarket hard case.
Week of 1/12/15:
This week we began planning the final stages of the project including challenges we may face in the future.  The first Spectrum Analyzer Test was completed this week, this gave us insight on how effective an artificial pad is at sealing a hole on the recorder as opposed to using just a finger.
Weeks of 12/22/14 through 1/12/15:
*Winter Break*
Over Break, the group continued on Spectrum Analyzer functions and tests.  A test was design aimed to test how the pitch and frequency of our mockup compares to a recorder available on the market.  We also maintained contact with L&K Manufacturing to plan future work with them.
Week of 12/8/14:
This week marked the end of the proprietary element of the project allowing for more public disclosure of the project.  Our End of Semester Project Presentation was on 12/8/14 and was open to the public and can be viewed below this update.  Looking forward, we began to brainstorm ideas, tests, and action items executable when classes resume in January 2015.  Additionally, we researched possible ways to use a spectrum analyzer to optimize tone, usability, and endurance.  We also began researching thermo-molds to begin prototyping case designs in the spring.
Week of 12/1/14:
This week, we we researched possible aftermarket specialty cases that we could adapt to fit the recorder and also different features we may want to include.  We began revising our graded part files with improved dimensions all based on our new designs after conclusions from our first mock-up.  Additionally we created a class presentation and sales pitch for our project.
Week of 11/24/14:
Over Thanksgiving break the group considered design goals and ideas going forward with the project.  We also Considered a case design that was smaller and allowed for more specialized features.  We also tested did a tone test earlier this week using a guitar tuner to see it the mockup we made would produce the same notes as an angel halo recorder would.
Week of 11/17/14:
This week we met with Herbert Crosby who is a Professional Engineer, he gave us great feed back on our project and things to keep in mind in the design and testing phase.  We acquired a sponsor this week from L&K Manufacturing, Inc.  They offer 3-D printing services for mainly prototyping and precision molds.  Through L&K we were able to 3D print a new mock up at high resolution.  The finished product was clean, strong and had a superb surface finish.  More research was conducted on sanitation which will factor into our material choice.  Draft files were created for all of our parts and are now awaiting review.  Finally, Calculations for thermal deformation were made also ultimately being factored into our material choice.
Week of 11/10/14: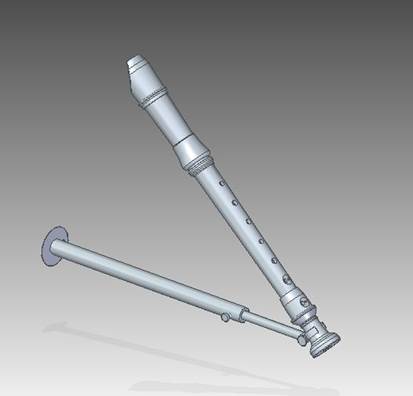 This week marked the start of the production of our model of recorder.  The 3D CAD model of the recorder was completed so that we could move to the next step in our design. Some 3D printing companies were researched and a quote was obtained in order for our group to decide on whether or not to attempt to use a 3D printer to develop our recorder, or outsource it to a company to achieve a higher level of tolerance.
Week of 11/3/14:
This week we began designing the case in which the recorder will be housed.  We began concepts for soft cases and hard cases and began considering environmental factors.  We submitted our logbook for review and compiled data for deformation and different plastics and metals.
Week of 10/27/14:
This week, Travis continued to dimension the angel halo recorder close to completion.  He also began a patent search with the USPTO to better understand how to patent a new design in the music industry.  Justin created the team logo in Adobe but was not completed.  Dylan continued to research how to design for human factors with children.  Aaron continued to build the mock up design and its CAD model.  Brian made a comparison table of our design against other designs currently on the market.  Corey worked on clarifying design goals for the project.  Gentry received the ordered recorders from the SET Office and researched materials to be used in the final product.

Initial Design
Week of 10/20/14:
This week Aaron began creating a mock-up of our design.  This doubled as a visual aid for the group to come up with ideas to solve problems we may face.  Aaron talked with Joe Shaw at Bangor Brass and Woodwind to attain parts and valve covers for the design process.  Justin created a second design for the project and the design was discussed at the group meeting on Friday.  Gentry ordered more recorders from Amazon for spare parts and testing.  Brian got in contact with Nia's music teacher for design considerations.  Dylan researched hand and finger strength charts for children ages 4-12 as well as for Nia's specific age.  Travis completed generating the dimensions on Solid Works for the lower half of the Angel Halo Recorder.
Week of 10/13/14:
This week, more research was done.  After meeting with Joel and receiving grades for the logbook #1, we planned steps to improve the logbook, chronologically and professionally.  Research is being continuously done as well as finding the dimensions of the recorder.  All group members read chapter 4 in Engineering by design in preparation of an oral report on the chapter.
Week of 10/6/14:
This week several administrative actions took place such as Sponsor applications being sent by Aaron and Dylan.  Travis began to dimension the existing Angel Halo recorder to give us specifications and design constraints.  More research was conducted about pre-existing musical mechanisms.  Also, an active logbook was created for easy of access for each group member.
Week of 9/29/14:
This week we began the conceptual design phase. We discussed which design we wanted to go with and then began thinking of ways to get it done.  We weighed the pros and cons of the design and decided to go with a design which limited the amount of bulky valve closing mechanisms and design considerations such as ergonomics and note change.  The website was edited and finalized and LinkedIn Profiles were added.
Week of 9/22/14:
This week we researched Different viable project solutions and discussed these options.  Options included using mechanical levers to actuate the bottom holes of the recorder, using a valve slider at the bottom of the recorder to change the frequency at the end of it to achieve the required note.  Sponsor research was conducted by Corey Dennis.  Aaron began researching musical prosthesis adaptations at various music shops in the Bangor area.   Two Angel Halo recorders were purchased to get a hands on view of the clients needs, altogether giving the group a better visualization of how to design an adaptive system.  Research was also conducted by all members of the group for fingering charts and other related musical information.
Week of 9/15/14:
First Group meeting 9/17.  Roles of each team member was discussed and roles were given.  Justin Dobrovich was assigned webmaster, Brian Kearns designated logbook keeper and meeting minutes writer, and preliminary researchers Aaron Koss, Gentry Burch, Corey Denis, Dylan Johnson, and Travis Sherman.  We also discussed potential ways to tackle the task, i.e. mechanical, electrical, or pneumatic system of operation.
---
The Team:
Team Biographies:
Brian D. Kearns is a transfer senior, studying Mechanical Engineering Technology, and is from small town Eddington, Maine.  He is responsible for team coordination on the recorder project, hasn't worked on a project of this criteria before but has worked with team members on other school projects.  In his free time, he likes to go mountain biking, watching the Patriots and Bruins, and working on cars and trucks.
Aaron Koss is a senior in the Mechanical Engineering Technology program at the University of Maine.  Before deciding to pursue a career in engineering, he worked in residential construction and built custom furniture for six years in his home state of Vermont.  Currently he is working at the Advanced Manufacturing Center where he helps design and manufacture custom machines.  Working at the AMC has given him practical experience working on a wide variety of projects from start to finish.  Aaron enjoys working on all aspects of a projects' development, from the idea to the 3D CAD modeling to manufacturing the parts needed in the shop.  In his free time, Aaron enjoys working on his custom made knives and straight razors as well as exploring Acadia National Park.
Corey Denis is a senior in the Mechanical Engineering program at the University of Maine.  He has grown up in a hands-on family in the town of Waterville, ME.  Growing up with a love for automotives and with his Maine State Inspection Licence, he has always been interested in gears and moving parts.  He saw joining the MET program as a step to expand his knowledge in the field he enjoys.  He worked as an Intern for Huhtamaki in the summer of '14, which allowed him to work alongside a team of professional engineers.
Travis Sherman is a 4th year student at the the University of Maine at Orono, and is expecting to graduate in 2015 with a Bachelor's degree in Mechanical Engineering Technology.  Travis is from Winthrop, Maine and has worked the past two summers at Midstate Berhsire.  He has experience  running Solid Works for Midstates' Design team and also has fabrication and construction experience with them.  He is currently the Treasurer and Vice President of Phi Gamma Delta.  Travis enjoys playing intramural Basketball, Hiking during the summer, and also participates in annual philanthropic events with his Fraternity.
Gentry Burch is a senior pursuing a B.S. in Mechanical Engineering Technology at the University of Maine.  He spent this past summer as an intern at Back Cove Yachts in Rockland, Maine and hopes to pursue a career in the Marine Industry.  He is from Owls Head, Maine and enjoys sports and being outdoors in his free time.
Justin Dobrovich is a fourth year student at the University of Maine pursuing a B.S. in Mechanical Engineering Technology and a Minor in Electrical Engineering Technology.  He has experience working with his team members from other school projects, as well as auto-mechanics and various CAD software.  On the project, he is the designated webmaster.   Justin is from Kennebunk, Maine and in his free time enjoys snowboarding, sports, mechanics, and hiking.
Dylan Johnson is a Fourth year senior in Mechanical Engineering Technology.  He chose the Technology program because it offered a hands on ways to learn and work.  He is from Bennington, NH and likes to snowmobile in the winter and hike and golf in the summer.  After graduating he hopes to design aircraft or naval vessels.
---
Sponsors:
L & K Manufacturing, Inc.
L&K Manufacturing, Inc. is an additive manufacturing service provider that engages in the development cycle of new technologies and consumer products. Their mission is to drive innovation by helping people bring life to their new ideas and technologies while decreasing their time to market.
Bangor Brass and Woodwind
Bangor Brass & Woodwind Repair is located at 611 Hammond St. Ste. #3 Bangor. Joe Shaw, owner is a master instrument repair technician who has spent over 20 years mastering his craft. Our team would like to thank Joe Shaw for giving our team materials to use and for evaluating our mock up.
https://www.facebook.com/pages/Bangor-Brass-Woodwind-Repair/393749294002264?sk=info&tab=overview
Caron Signs:
Caron Signs was crucial in our effort to create a aesthetically pleasing, neat, and well designed case.  The prints we received from them were perfect in dimension, color and overall print quality.  Our primary contact was Kayla Mahar, and she assisted us with everything we needed.  We thank them for their time and dedication to the Notes for Nia Project and ensuring the visual appeal was unique and professional.
---
Donations:
Kenneth Sanders
Kenneth Sanders is a retired manager at Huhtamaki in Waterville, ME. He constantly donates his time at the soup kitchen in Fairfield, ME and even helped them in building a new building for them. He takes care of his wife and family as his wife has ovarian cancer. He brings her to her chemotherapy and always looks to the positive side of things. Kenneth started out as a security guard at Huhtamaki and ended up working hard enough to be one of the managers at Huhtamaki. He was kind enough to give Corey Denis, a member of our team, a design related internship at Huhtamaki over the summer so he could gain some engineering skills out in the field. He is a great man and he now donated money to our project. Team 4 thanks him for supporting us in our capstone project and for all of the other time that he spends helping other people in the community. Thank you Kenneth Sanders.
---