Team members left to right: Owen Dutil, Chase Nelson, Greg Viola, Lucas Hayden
About this Project
Our Senior project is to first identify and manufacture different types of soft robots that perform certain tasks by using designs that have already been created. Once some robots have been created, we will then work with the Bioengineering Department to design and manufacture a robot that can be used to assist in "arm swing" movement. This robot could be used to help assist unable people to walk by forcing them to move their arms in a swinging motion.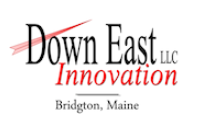 Weekly Updates
4/23/2018 – 4/29/2018
Our group spent time this week putting the finishing touches to our prototype. We completed the backpack frame so it could hold a robot on each side and started to assemble the new cuff design. We should have the prototype completed soon and will start working on our presentation for Maine Day which is May 2, 2018.
4/16/2018 – 4/22/2018
The Bio group and some of our MET group showcased the project at the Umaine Research Symposium. Our project won the Innovation award! We have put in a purchase order for a few more solenoid valve parts to get the other arm assembled and moving.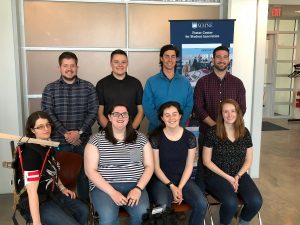 A special thanks goes out to Downeast Innovation LLC of Bridgeton Maine who liked our project and donated a "special forces black" backpack frame to our group. Downeast Innovation LLC manufactures military style backpack frames that they mostly sell to the US Military. You can check out their website and products they sell from the link down below.
4/9/2018 – 4/15/2018
Attached two robots to the backpack frame and the arm cuff and got the mannequins arm moving! At 50 psi the arm had about a 20 degree range of motion in the front and a 15 degree range of motion in the back. This is satisfactory for out total 40 degree range of motion requirement.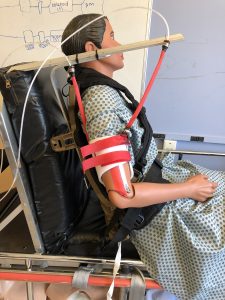 Our group was also interviewed by a news writer from the University of Maine, WFVX Bangor and WABI 5 news stations to showcase our project. The links to these articles are here below
https://www.foxbangor.com/news/item/24827-umaine-engineering-student-projects-featured
http://www.wabi.tv/content/news/Senior-Engineering-students-showcase-capstone-projects-479703453.html
4/2/2018 – 4/8/2018
We assembled the backpack frame by cutting our yoga mat to fit the back of the backpack. After gluing it on with resin, we mounted 2 aluminum bars bent at a 90 degrees to the back in a v shape. Then we zip tied one aluminum bar on top of the 90 degree bend for testing mounting points for robots. We will soon mount the robots to this frame and hopefully move the mannequins arm. 
3/26/2018 – 4/1/2018
Had meetings all week to discuss ways to mount the robots to the backpack as well as an arm cuff to attach to. The Bio group finished the programing for the solenoid valves using the Arduinos. They will also try to start measuring the torque a robot applies to the mannequins arm. 
3/19/2018 – 3/25/2018
We ordered parts for the backpack so we can start assemble the backpack. Team will start building the backpack and attaching the muscles to the frame. 
3/12/2018 – 3/18/2018
Spring Break Starts, project will resume when we return
3/5/2018 – 3/11/2018
We made a final designed robot named "Final Robot Design A" which has machined aluminum ends for the intake valve and I bolt end.
This robot design may be used in the final prototype assembly. Group had a design review meeting with all advisors, bio team and Babak. During the meeting we talked about ways to improve and characterize our design.
2/26/2018 – 3/4/2018
More items were ordered to assemble more robots. We also worked on Interim Report 3 which will be posted below in the website section "Photo Album/Other Documents" when finished.
2/19/2018 – 2/25/2018
We attached two new robots to the wooden arm to get the arm to move. The robots were hooked up to a solenoid valve which ran to our air compressor. The solenoid valve could be powered on and off with a battery. We ran the robots at around 50 psi.
We decided from this test that we will need to reduce the air flow to the robots to reduce the inflation rate. 
2/12/2018 – 2/18/2018
All the materials that were ordered arrived except for the Arduino. Lucas built a wooden arm structure that we will use to test our robots.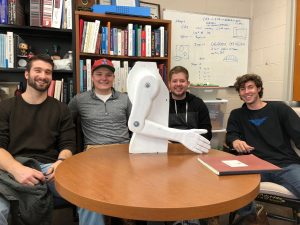 This way we don't have to test or mount our robots to the mannequin until the final product is ready
2/5/2018 – 2/11/2018
Sent in a purchase order for our big item things. This includes and Arduino, solenoid valves and Raspberry Pi relays. These items will be used for our final design in order to program the muscles to move with the arm movement. We also met with the Bio group and had a artificial muscle building session. They were given a hiking backpack frame that we will use for the mounting of the muscles to the dummy. 
1/29/2018 – 2/4/2018
Interim Report 2 is finished and will be posted below in the website section "Photo Album/Other Documents". We met with the Bio group and decided we would work on the project together from here on out. They will work on the mounting section for the robot and we will look at the Air system for the robot. 
1/22/2018 – 1/28/2018
Had group meeting with Professor Ellis to discuss the future of the project. Our group is starting to focus on the Air system to power the robots and the mounting system to mount the robots to the body. 
12/11/2017 – 1/21/2018
Winter Break Starts, project will resume when we return
12/4/2017 – 12/10/2017
Had a meeting with the bio team and they purchased 4 new sizes of natural rubber tubing. We made a new robot with this new tubing and the 1/2 inch flex mesh.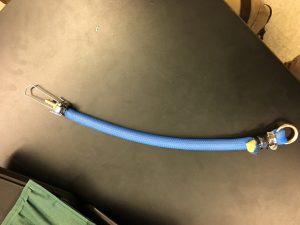 In order to start real data testing, we calibrated a pressure transducer and LVDT. Once calibrations were completed we tested all robots made, testing displacement vs pressure wile adding different loads to the end of the robots.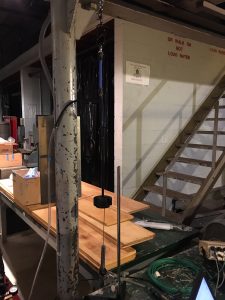 Results of this testing will be posted into Interim Report 2.
11/27/2017 – 12/3/2017
We purchased more natural rubber tubing. We got 3 ft of 3/8 inch and 2 ft of 3/4 inch tubing. With the 3/4 inch tubing and our 1.25 inch flex mesh we created a new artificial muscle.
Preliminary testing could be done with the three robots we built using a air compressor, pressure gage and a bike valve connector. All that was tested was displacement vs pressure. 
11/20/2017 – 11/26/2017
We worked on deriving an equation to find the relationship between force and pressure for the artificial muscle robot. The equation we derived came from the article "Measuring and modeling of Mckibben pneumatic artificial muscles".
We will use this equation to characterize and model our artificial muscles we make. 
11/13/2017 – 11/19/2017
We used 6 inches of latex tubing and 6 inches of 1/2 inch flex mesh to create an artificial muscle robot. The robot failed testing because we pressurized the robot to around 60 psi and it blew out the solid end so we had to scrap the robot. Another robot was made to that could hold pressure of around 60 psi or more.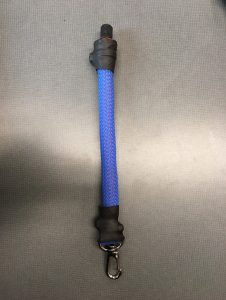 11/6/2017 – 11/12/2017
The Ecoflex robot casted ran into some issues with holding air pressure because of holes in the Ecoflex and the air intake valve leaking. Changes were made to the air intake valve on the robot to hold pressure. Once more of the holes are patched and the robot is pressurized we will begin testing. 
10/30/2017 – 11/5/2017
An octopus robot was casted and created with the Ecoflex 00-30 and is ready for testing.
Both flexible ½ inch and 1 ¼ inch flexible tubing arrived and we will make 2 different artificial muscle robots soon.
10/23/2017 – 10/29/2017
Interim Report #1 is completed and a copy of the report is below in the website section "Photo Album/Other Documents". The Ecoflex 00-30 arrived and a new robot will be casted and created soon.
10/16/2017 – 10/22/2017
More focus was dedicated to completing the Interim Report #1. Sent in a purchase order for Ecoflex 00-30, ½ inch Flexible tubing and 1 ¼ inch Flexible tubing. We will use the Ecoflex to create a "octopus robot" prototype to test and use the flexible tubing to create two different sized artificial muscles.
10/9/2017 – 10/15/2017
Had a nice October break. Talked more about materials needed and testing methods. Focus was put on our Interim Report #1 and roles were assigned so we could start on completing it.
10/2/2017 – 10/8/2017
Meeting #4 with Brett Ellis. Talked about fail fast fail cheap and multiple testing options. Meeting #2 with bio team. We are in building and testing phase. Bio team is in background research stage. Discussed a purchase order to get our Ecoflex to make more robots and start testing again.
9/25/2017 – 10/1/2017
Meeting #3 with Brett Ellis. Talked about our budget and how much we will spend. We made a silicone robot with hardware store silicone and it failed due to the molding process not being secure. Researched some options for different silicone and Ecoflex series is an option. Also created an artificial muscle made out of latex tubing and mesh netting. Can contract and lift a 25 lb bag of books.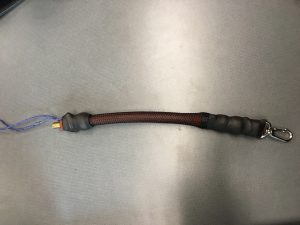 We will do more testing with these types of robots. Acquired dummy donated from the bio engineering department and named it Susan.    
9/18/2017 – 9/24/2017
Meeting #2 with Brett Ellis. Talked about what we wanted to build for our first robots. Assigned team roles for lead editor and webmaster. Had a Team meeting and discussed two options to build. One is the four-legged octopus robot. The other is coil wire around fishing line that contracts. Discussed a rough draft materials list for all our needed materials for this semester. Bio kickoff meeting occurred with introductions to team members and big picture ideas.
9/11/2017 – 9/17/2017
Meeting #1 with Brett Ellis. We will contact our sponsor for kickoff meeting.
Acknowledgments
Professor Caitlin Howell
Professor Brett Ellis
Professor Keith Berube
Professor Vincent Caccese
Downeast Innovation LLC
(Bioengineering Team)
Victoria Courchaine
Marinna Smith
Elizabeth Gendreau
Rachel Detwiler
Team Biographies
Owen Dutil
My name is Owen Dutil and I am from Winslow Maine. I am a senior student at the University of Maine and will graduate with a B.S degree in Mechanical Engineering Technology in the spring of 2018. Some of my favorite things to do outside school are fishing, playing and watching football and hanging out with friends and family. I worked as an intern at Somic America in Brewer during the summer of 2017 and will be looking forward to getting a job in manufacturing after graduation.
Lucas Hayden
My name is Lucas Hayden, and I transferred to UMO two and a half years ago. I commute from Hartland Maine where I have lived for most of my life. During the summer I had an internship at Poland Spring in Kingfield Maine Working on ways to make the maintenance process on the equipment more efficient. In my free time I like to be outside hiking, kayaking, going for motorcycle rides, or working in my shop on home projects. After graduation I hope to find a job somewhere in New England, however I am always up for something new.
Chase Nelson
My name is Chase Nelson, I am a fourth year Mechanical Engineering Technology student at the University of Maine at Orono. I am from Skowhegan, Maine where I've lived my whole life. I have worked at a paper mill and water district during the summers while in college. I enjoyoutdoor activities such as camping, hiking and fishing. I enjoy playing and watching all sports. After graduation I want to find a job in the New England area.
Greg Viola
My name is Greg Viola, I am a fifth year student at the University of Maine at Orono studying Mechanical Engineering Technology. I ran track at the University my Freshman and Sophomore years and was lucky enough to study abroad in Birmingham, England my Junior year. I grew up in Scarborough, Maine where I still live and work during the summer time. For jobs I have worked at Old Orchard Beach Parasail & Jet-Ski as Manager and also at Siemens as an Engineer Intern in the Building Technologies, Maine Division, in Scarborough, Maine. I enjoy playing sports, hiking, jet-skiing,snowboarding, and anything else outdoors with friends and family. After graduation I hope to find a job somewhere in New England or out near Los Angeles, California where my brother lives.
Project Sponsors
Dr. Babak Hejrati
University of Maine Bio Engineering Department (BEN)
A point of contact
Owen Dutil – Soft Robot Team Member
Owen.dutil@maine.edu