WELCOME TO UMAINE'S LANDFILL MOWER 2017 TEAM 11 CAPSTONE PROJECT

Overview:
Background
Pine Tree Landfill (PTL), which is located in Hampden, ME, is now closed and in its 6th year of Post-Closure. The Post-Closure process, put together by the Maine Department of Environmental Protection, list specific requirements that must be followed for 30 years after a landfill is closed. One specific requirement of the Post-Closure process is to mow the landfill annually.
Mowing the landfill and its 2 ½ to 1 slope is not an easy task, but is an integral part to properly maintaining it. Mowing annually helps discouraging deep rooted plants for damaging the synthetic cover system, allows personnel to easily monitor settlement and drainage, and allows personnel easy access to gas system infrastructure while performing routine gas sampling.
Due to steep and rough terrain, PTL staff currently use several different means to mow the entire landfill. In 2012, after trying out roughly 6 different machines, the company purchased an Aebi tractor. The machine is built in Switzerland and designed to maintain vegetation on steep terrain. Paired with the tractor, is an 8 foot flail mower that can be mounted either on the front or the back of the tractor. This combination works well on the majority of the landfill, but several areas are still too rough for the machine. For this reason there is still a lot of mowing that needs to be done with brush saws.
---
Project
Our Senior project is to design/redesign a sickle bar mower or string trimmer to attach to an Aebi Tractor owned by the landfill. The purpose of this modification is to assist in mowing along landfill downspouts, ditches, and fencing. The attachment must be able to be attached quickly and be reliable. Attached are pictures of the machine, troublesome mowing areas and manufactures specification sheets. Attachments made will need to be within the specification of the manufacture. Other ideas are also open to suggestion.
AEBI Mower:

Landfill Mowing Trouble Areas (Rip Rap Down Spouts)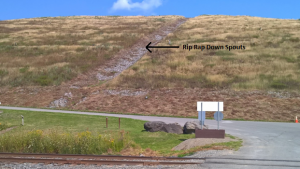 Along Roadways and Fencing
For more photos: Click Here
---
Project Timeline
Table 1. Over all tasks
Figure 1. Orange represents the time-frame, and the blue line represents our current progress.
---
Updates
03 May 2017: The big day
We presented our project, ending the build. We had a small malfunction, attributed to a new component that was not properly broken in, but other than that, everything went well! Pics of the day Here.
Week of 19 April 2017 to 24 April 2017
Main body and boom came back from powder coat and the main electrical is 98% complete.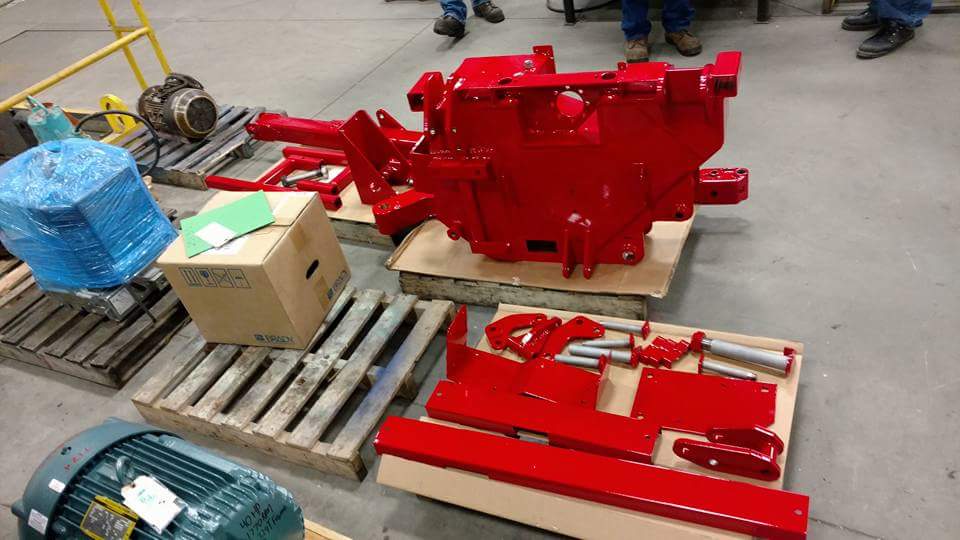 For photos click here
Week of 26 April 2017 to 01 May 2017
It's almost the end of our Capstone project, however, the presentation is about to be ready to display in the American Society of Engineering Educators gathering.
Week of 12 April 2017 to 17 April 2017
for this week, we will finish pressure test with the air on the tank by using our new electric over hydraulic bank valve assembly then power coat after.
For photos click here
Week of 05 April 2017 to 10 April 2017
This week, we had an opportunity to build some legs that will support the weight of the mower. Some accomplishment we did was being able to build the tank's legs, in which will support the boom mower's weight, we mounted an electric over hydraulic bank valve assembly.
For photos click here
Week of 29 April 2017 to 03 April 2017
The teams' timeline is still on track finishing our project on time. As for to date, all the parts which we ordered last week got here on time from Portland Rubber Company.
Week of 22 March to 27 March 2017
We had a meeting at UMaine Public library and get some updates on our project. As for today, the project is still on schedule to be done on time.
16 March 2017
Chris Schmidt of Portland Rubber Company came to visit the project and to discuss our hydraulic needs and to quote us on electric over hydraulic valves.
15 March 2017
We met at the landfill to begin dry assembly of the boom, tank and hydraulics. We assembled the hydraulic system and adapted the hydraulics to the tractor. During testing, we blew a hydraulic line somewhere on the tractor, we found this was the result of a chaffed line on the tractor.
For photos click here
08 March 2017
We began reassembly of our tank and welded on a tab which was butchered by the previous owner and was re-manufactured. We continued to clean hoses and sort our parts. We had to re-machine our tab as our new pins arrived and they were the wrong size.
For photos click here
07 March 2017
Kyle finished machining the tab and knuckle for our tank and boom assembly to correct damage by the previous owner. Bushings are now installed.
For photos click here
During the spring break, from 06 March to 20 March 2017
Some of the pictures we took during testing the hydraulic system
Week of 22 February to 28 February 2017
We had a meeting at UMaine Public library and get some updates on our project. As for today, the Hydraulic Cylinder is ready to pick up from PRC (Portland Rubber Corporation), and AC Electronic Company will finish sand and ground some of the parts that was hard to be reached.
For photos of the part/orders can be seen here
For Machining photo can be seen here
Week of 16 February to 20 February 2017
This weeks progress was slowed down due to snow days we had but we managed to clean the all the motor parts and ground them as much as we could.
Week of 09 February to 13 February 2017
During this week, our team met at UMaine public library for project review. With that being said, we were able to finish up grounding tank reservoir. We did some research on what parts needs to be ordered.
More photos of the reservoir can be seen here
More photos of the part/orders can be seen here
Week of 30 January to 06 February 2017
This week, our team met at UMaine public library to to discuss long range goals and redefine positions for this year. Kyle and Jeff (Hands on/Mechanical), Scott (Information Organizer), and Cooper ( Website Designer). Also, our team has completed cleaning all smaller components from the flail mower and paint them. Whit hat being said; the project is going to be done on time as projected.
More photos of the painting can be seen here
Week of 19 January to 27 January 2017
Jeff and Kyle got together to sandblast smaller components from the flail mower.
More photos of the sand blasting and painting can be seen here.
Week of 14 November 2016 to 1 December 2016
Boom section had all hydraulics removed to prepare for the repair of a damaged joint by a professional. We decided to go this route as we couldn't effectively test the mowers capability on the tractor, nor did we feel we had time to devote to such a repair. This repair is expected to take a week. After the repair is complete we can move forward with designing and testing concepts for a new mower head attachment.
Photos of the disassemble process are here.
Week of 26 October to 11 Nov 2016
Our team met at the landfill where the mower is currently stored for inspection and began disassembly for transportation to another location. Upon this inspection, we discovered it had a rack mounted to its base by the previous owner for front mount operation, something we will not be using. Also, a joint which is heavily damaged, may need to have its repair outsourced due to the severity of the damage and complexity of the repair needed.
Photos of the day: Click Here
Week of 16 October 2016 to 23 October 2016
Purchased a boom-mounted flail mower. We will be using this as our base of our mower as it has a reach of over 10 feet, PTO driven hydraulic pump to power the current flail head (which we may not be using) and the base is mountable to our tractor with little modification.
Photos of the day: Click Here
---
About the team
Jeff Pelletier
My name is Jeffrey Pelletier and grew up on a potato farm in Frenchville, ME. After graduating high school in 2003, I enlisted for 4 years in the United States Airforce, working as an F-16 Crew Chief. After completing my enlistment, I attend Wyotech in Blairsville, PA to receive and Associates Degree in Automotive Collision and Refinishing. After working several years in the field, my wife and I relocated to the Bangor area so that I could pursue a degree in Mechanical Engineering Technology UMaine.
During my freshman year at UMaine, I got a job as an engineering intern working for Casella Waste Systems. From 2011-2013, I worked at both local Casella landfills, which are located the Hampden and Old Town Maine. In 2013, I accepted a full time career with Casella as an Engineering Technician. In 2014, I was promoted to Facility Manager and now provide oversight for the Pine Tree Landfill's Gas to Energy Facility and monitor the closed landfill.
Oswald J Cooper
Life has been a big journey, At age of 15, moved to United States form Tanzania in which I lived in Louisville, Kentucky for four years before moving to Maine. I am currently studying Mechanical Engineering Technology under Military Science at University of Maine. I am passionate about technology, and design random stuff using solid edge ST6, ST8, Solidwork and Auto CAD. With encouragement from friends and family, I was able to join Army ROTC program At University of Maine. In my free time, I love to go play soccer with friend. I also like painting and watching TED talks.
Scott Henderson
My name is Scott Henderson, I was born in Boston MA. I grew up in Braintree MA living with my parents and younger sister. Ever since I was young I enjoyed taking things apart and building contraptions with whatever I could find around the neighborhood.
I am now aged 21, and pursuing a B.S. in Mechanical Engineering Technology at The University of Maine, Orono. I look forward to graduating and beginning my career as a full time engineer. I will never lose my passion for going on adventures and traveling.
Kyle Guerrette
Greetings! My name is Kyle Guerrette, I am a 4th year Mechanical Engineering student with an AS in Automotive Technology, a Certificate in Precision Manufacturing Technology and Certificate in Aircraft Structural Maintenance achieved during my 8 years as a maintainer of the KC135 at the 101st Refueling Squadron located in Bangor, ME. My hobbies include fireworks(see picture), motorcycles, taking long walks through junkyards and using knowledge gained from the above to create machines to make the world a better place…or to find a better way to open a beer.
For questions on this site or for more info about our project, please contact me at oswald.cooper@maine.edu. Thank you!
---
Our proud sponsors:
Casella Waste Systems.
358 Emerson Mill Rd.
Hampden, ME 04444
207-862-4200
Portland Rubber Company.
337 Perry Road
Bangor, Maine 04401
207-947-4772
Edwin Pelletier & Sons Inc.
360 US Route 1
Frenchville, ME 04745
207-543-7702
AC Electric Corp.
40 Target Industrial Circle
Bangor, ME 04401
207-945-9487