Solar Thermal Energy Laboratory
Welcome to the Solar Thermal Energy Laboratory
The Solar Thermal Energy Laboratory, directed by Prof. Justin Lapp, is housed within the Mechanical Engineering department at the University of Maine. Use the links to explore our people and research. Below you will find our mission, contact info, and general information on solar energy.
Mission
In one hour, the earth receives enough solar energy to provide all energy that humans use in a complete year. Our laboratory seek new and innovative ways to harness clean renewable solar energy for thermal applications, and to optimize heat transfer processes to conserve energy. With a vast range of energy intensive processes which require thermal energy, like chemical processing, power generation, and mining, there are grand opportunities for direct application of solar thermal energy in place of the current fossil fuel use. We use a combination of simulations and experiments to develop new ideas into commercially viable technology.
Contact
Laboratory Director: Dr. Justin Lapp, Assistant Professor
Email Address: Justin.Lapp@maine.edu
Phone Number: 207-581-2167
Laboratory Location: Crosby Lab, University of Maine, Orono, Maine
Mailing Address: Justin Lapp, University of Maine, Department of Mechanical Engineering, Boardman Hall, Orono, ME 04469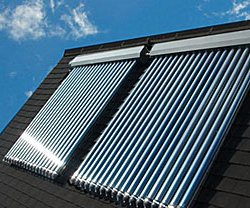 Solar Thermal Energy
Solar radiation has been recognized as a useful energy source long before it began to be harvested by modern technology. For over 100 years it has been used for heating water and buildings. Increasing concern over climate change has driven a push to increase the use of renewable solar radiation to provide for energy needs. In addition to the use of solar energy for photovoltaic power, modern solar thermal applications include power generation by driving steam or gas turbines, desalinization, heating and cooling buildings, and waste treatment. Concentrating solar power allows for higher efficiency and extremely high temperatures (>1000°C) by concentrating solar energy using mirrors or lenses. Advancements have recently been made to store solar energy in thermal storage, allowing solar power to be used at night. Research is currently underway to use solar energy to produce hydrogen renewably, to process biofuels, to drive cement and metals production, and to supply energy to chemical reactors.