Fishing communities need to prepare for gentrification challenges, say UMaine researchers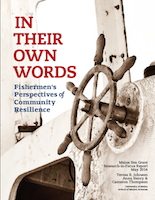 August 23, 2016 Maine is home to numerous rural fishing communities that contribute to the state's economy and culture, but many are face challenges due to regulations, stock depletion, rising fuel costs and climate change.
In addition, researchers at the University of Maine also have identified gentrification as a leading threat, which they say is responsible for the displacement of community members, including fishermen.
"In Maine, gentrification is driven by amenity migrants — or the 'people from away' who come to Maine and buy coastal property because they are drawn to its beauty and rural way of life, and because they can afford it," says Teresa Johnson, an associate professor of marine policy at UMaine.
"Along with fishermen and marine businesses losing access to waterfront property, rural gentrification also alters the social character of Maine's communities."
Gentrification is a complex process involving displacement of the working class and lower income residents by wealthy citizens who can afford high-priced property. Usually gentrification is studied in the context of urban areas but it's equally a threat to rural communities, explains Johnson.
The researchers used an ethnographic research approach — which involved semi-structured and oral history interviews, focus groups and household surveys — to understand how gentrification is impacting rural fishing communities.
"Most communities want to maintain their identity as a working class fishing community because that is what they have always been. They recognize that being a fishing community attracts tourism revenue, but not all of them want it," says Johnson.
"But such an identity is hard to sustain when fishermen can no longer live and work there. Through stories shared from fishermen and other community members, we found an identity crisis in communities undergoing gentrification."
Former UMaine graduate student Cameron Thompson says amenity migrants and long-term residents characterize the community as a fishing-dependent, while recognizing the industry has declined while tourism and the service sector continue to grow.
"Thus, the community is attached to the fishing identity for cultural and historic reasons, but not necessarily for economic reasons," he says.
The study found that gentrification increases the vulnerability of Maine's fishing communities through the displacement of fishermen and loss of working waterfronts, says Johnson.
But researchers also found evidence that gentrification sometimes can increase resilience.
"Amenity migrants that care about the communities they now call home can be powerful allies for the fishing community and can bring additional social and economic resources to support local fishermen and ensure access to the waterfront," says Johnson.
"After all, it is usually the quaint working waterfront that attracts them here in the first place; it's no wonder they can be willing to help protect it."
The study, published in the "Journal of Rural Studies," was co-authored by Thompson and faculty members Teresa Johnson and Samuel Hanes.
The study was part of a larger research project led by Johnson and funded by Maine Sea Grant, which aimed to understand vulnerability and resilience in Maine fishing communities. The research was conducted in four rural fishing-dependent communities in Maine — Eastport, Lubec, Rockland and Port Clyde. The project description isonline.
"Communities need to plan and prepare for gentrification. A dialogue is needed between the fishing community, amenity migrants and community leaders about what they want their community to look like and how to address their challenges," says Johnson.