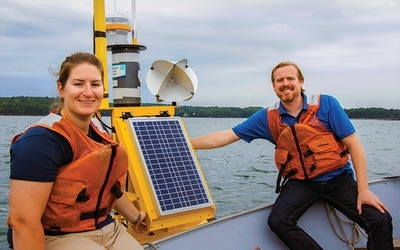 UMaine scientist's tech sees-the-unseen in potential aquaculture sites
AUGUST 22, 2016
Darling Marine Center researchers Katie Coupland and Damian Brady use buoys, sensors and other technology on the Damariscotta River and elsewhere to lessen risk and potentially boost productivity when locating new sites for aquaculture. Darling Marine Center is part of the University of Maine.
Realtors will tell you buying property is all about "location, location, location." The same is true for finding the best site for aquaculture, though varying conditions largely invisible to the human eye have till now made picking an area to grow oysters or other sea animals largely a trial-and-error process.
And what happens when you discover, after spending two years getting a lease and three years growing your animals, that the site you chose has too much current or pollution, the water's too cold, there's disease or it is exposed to too many storms — any of which could diminish or even ruin your yield? Researchers at the University of Maine, Orono's Darling Marine Center in Walpole are trying to take the risk out of selecting aquaculture sites by using buoys, sensors and other instrumentation to monitor water conditions for optimal growth of particular species.
"The aquaculture industry in Maine in the last five to 10 years has been expanding," says Damian Brady, assistant professor at Darling, who is mentoring Katie Coupland, a doctoral candidate in oceanography, on the project. The aim is to better know the physics and biology of the estuary environment where aquaculture sites are set up and use the added information to make the industry more sustainable, both economically and environmentally.
Brady says more than half of the oysters harvested in Maine come from the Damariscotta River, which is why that river is such a good laboratory for researchers to learn about optimal conditions for the animals.
"Part of the impetus of our research is to find more Damariscottas in Maine," he adds. There are some promising areas, such as the New Meadows River that flows into the northern end of Casco Bay. There are six new oyster farms there already, Brady says. The Kennebec, Penobscot, Machias, Cobscook and Saco rivers also are among points of current and future study.
He adds that the number of sites and the number of people engaging in aquaculture are increasing.
Aquaculture, which typically is sited within three miles offshore so the operations are easy to get to, is a growing business in Maine, and is especially being looked to as an alternative source of food as well as an economic driver for the state.
"The economic impact was $75 million to $80 million in 2014," says Chris Davis, executive director of the Maine Aquaculture Association, based at the Darling Marine Center in Walpole. That's according to early numbers being pulled together in a new, updated report scheduled to be released by the association in mid-September. The multiplier effect of related industries brings the total economic impact to $135 million to $150 million, he says.
Davis said that economic impact is on par with that of 2007 because 2014 was part of a three-year cycle when salmon have not been as plentiful. Salmon is the largest aquaculture product by far, he says, much bigger than shellfish and sea vegetables.
While the report is still being completed, Davis noted some interesting trends, like a quarter of the respondents interviewed are startups in the pre-revenue stage.
"About one-fourth started in the last two years and another 20% started in the past three to five years," he says. These small farm sites tend to be prototype farms for pilot studies, he says.
"A lot of the people are self-funded," he says. "They're keeping their day job. But there's a lot of potential growth sitting out there."
The most difficult part of the process is getting a new lease, according to Brady at Darling, and then seeing if the area has pollution or is otherwise prohibited.
Another issue is social, that is, residents in the area not wanting a working farm near their property. That can be largely an educational task, including the residents seeing that the farms are clean and attract tourists, the scientists say.
One issue around aquaculture, notes Coupland of Darling, is that finfish aquaculture, particularly salmon, was known several years ago for polluting water and depleting oxygen levels in waters to the point where other animals couldn't survive. That was mostly due to overfeeding of the salmon, which now is monitored closely so a similar problem with detritus doesn't occur, she says.
As for the work at Darling to apply science to the siting process, Davis says it's a good idea, because it can take a total of five years to get a license and then grow product to get to market. The idea is to get away from trial-and-error siting to decrease risks for the farmers.
The Darling work is part of a five-year, $20 million National Science Foundation project that started two years ago. It is part of the Experimental Program to Stimulate Competitive Research, or EPSCoR, a federal program that gives a financial leg up to states that typically don't attract as much federal funding as others. The grant established a Sustainable Ecological Aquaculture Network, or SEANET, program in Maine.
Involved in the SEANET program are UMaine, University of New England, University of Southern Maine, UMaine at Machias, Bowdoin College, Maine Maritime Academy, St. Joseph's College, Southern Maine Community College, Bigelow Laboratory for Ocean Sciences and the Cobscook Community Learning Center. There also are dozens of other partners and stakeholder groups collaborating on the project's research, education, workforce development and economic development activities.
"In aquaculture, we're at a point where there isn't enough information out there to decrease risk, so what we're pursuing in the SEANET program is bringing new information to this field so we can make better decisions and decrease the risk," Brady says. "It's like farming on land. You benefit from more information."
Brady and Coupland are employing tools typically used to test drinking water quality and applying them to the shellfish aquaculture industry such as buoys, handheld sensors, computer models and biweekly boat trips to gather water samples that they hope will improve understanding of shellfish growth in different areas of the Damariscotta River. They also want to study the potential for climate to impact the aquaculture industry.
Right now there are six buoys deployed, three in the Damariscotta River and three in the Saco River. They will be moved to other rivers next year to see if other Maine rivers can top the hospitable environment for oysters in the Damariscotta.
For Coupland, the project is a dream for a grad student, as she gets to scour Maine's 3,500-mile coastline for good areas to study.
"We have the latest and best technology and tools," she says. She is developing a water current model to estimate the temperature, salinity and the speed of currents in five estuaries in Midcoast Maine.
Coupland spends a fair amount of time in her lab working on her computer to analyze the water samples she collects during her river research cruises.
"Just being out there and feeling — physically — the differences in temperatures between the upper and lower river is a lot more meaningful than just seeing the numbers being read out from the buoy," she says. "I love being out there in the field and seeing those differences firsthand and being able to get an idea and that instinctual feeling of how the system is different from the head down to the mouth [of the river]."
http://www.mainebiz.biz/article/20160822/CURRENTEDITION/308179996